When it comes to metrics for tracking call center performance, service level is the undeniable king of the hill. It's a measure of how quickly calls are answered by agents. The most typical target is "80/20" which means 80% of calls are answered within 20 seconds.
Although many industry experts criticise this target – no one even knows exactly how it was originally chosen! — it continues to be the default. A new survey from Call Centre Helper confirms that the reign of 80/20 continues, but there is more to the story.
About the Report
The report surveyed over 250 contact centers, asking questions about how companies are delivering customer service over voice, email, chat, and social media. It was sponsored by Natterbox, NICE InContact, Jabra, and Serenova. You can download it here.
Cool Scatter Plot of Service Levels!
One chart from the report really jumps out: It's a scatter plot of all the service levels that call centers are using. I haven't seen a chart like this anywhere before! It would be great to see how it evolves over time.
If you find the chart in the report (which you can get your hands on here), you can see that "80/20" is still the most common service level target. But that doesn't tell the whole story. There are actually a wide variety of service levels in use, ranging from "50/40" to "100/180." You can also see that companies are experimenting both with "relaxed" (i.e. longer) target answer times and stricter percentages.
In a post on CallCentreHelper.com, the authors reflect on why companies might be willing to relax the target answer times (i.e. leave callers on hold longer):
Well, firstly, there are the obvious cost benefits, in that you'll likely need fewer [agents at] … a lower SLA. The company might have also investigated how varying their SLA impacts their customer satisfaction. If they found low correlation between the two metrics, there is a business case for lowering SLAs … [but] If you were to do this … look at the impact service level has on your abandon rate, to ensure that you won't lose too many calls.
Regarding the abandon rate issue mentioned in that last sentence, frequent readers of the blog probably know what I'm going to say next. A great way to reduce (or even eliminate) abandoned calls is to replace hold times with a call-back.
Here's a great case study on a company that reduced abandonment rate: First Service Credit Union.
The Case against Service Level as "North Star"
Is it wise to put so much weight on service level? Many contact center analysts and industry veterans have made the case that this metric is overrated, saying placing too much attention on optimizing for this metric leads other facets of the call center to suffer.
Harvard Business Review put it this way: "Instead of worrying about typical customer satisfaction measures … organizations should look at the number of new value-adding service ideas put into practice. It's not that conventional metrics are unimportant … but because they are 'lagging indicators' they can bog down efforts to achieve rapid, dramatic change."

So that's a broad strategic reason to de-emphasize service level. If we get more tactical, there two other problems worth mentioning:
The very nature of the service level metric means that variability can get swept "under the rug." Let's say your call center successfully met your 80/20 target all day. So you know that 80% of the calls were answered in less than 20 seconds, but what you don't know is how bad the other 20% were. Were their wait times 30 seconds or 10 minutes?
If you have multiple skill groups in your call center, another issue arises. Averaging across the groups to get a single service level can obscure problems in specific groups. Measuring each group separately is smarter, but that leaves you with too many numbers to interpret. This is actually an argument against dividing your workforce in to skill groups.
Further Reading:
Read: "Contact Centers Focusing Less on 80/20 Service Level"
Read: "Is an 80/20 Service Level your Call Center's North Star?"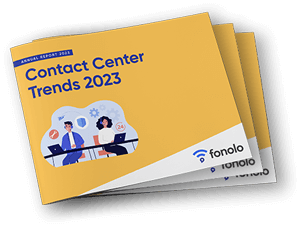 Trend Alert! Contact Center Industry Predictions for 2023
This report offers perspective on where the contact center industry stands today, plus our trend predictions for 2023.