If you were to check your company's social media mentions right now, there is a very good chance you would find customers trying to get your attention. According to J.D. Power, 67% of online users are leveraging social media to get in touch with companies for support.  There is no question that ignoring them is a major customer service faux-pas. If your team is going to engage with customers on social media, there are a few best practices to keep in mind before you get started. 
Here are five tips for cultivating successful interactions with your customers and clients on social media. 
Manage Responsibilities and Workflow
There are many individuals within a company who might have a hand in managing social channels: The strategic marketing team; the creative team producing visual and written content; and the social media manager who schedules posts. 
This raises a very important question: Who should handle customer service inquiries on social channels? Often, the community manager or the customer service team is responsible. It is important to clearly establish responsibilities among the various team members who handle social content. If several people are responsible for managing comments and inquiries, constant communication is required to ensure that nothing falls through the digital cracks.
Establish a Consistent Brand Tone
Now that you've established who will interact with the customers on social, it's important to establish how they will do so. One key component to nail down is brand tone. Some brands are funny on social media. Some others can be a little sassy and sarcastic. Still others maintain a serious tone. Whatever brand tone you choose, when dealing with an unhappy customer, it is critical to keep the tone both friendly and personable. If a customer complains that they found your product return process frustrating, begin your response by using the customer's name. For example: "Hi Jane, we're sorry to hear you found our return process frustrating." A kind and personal tone can go a long way in diffusing a potentially volatile interaction. 
Offer a Seamless Omnichannel Approach
While a complaint might originate on social, it may need to be escalated to a different channel in order to be properly resolved. If this occurs, ensure that there is a seamless integration of the various customer service channels in play. This means that all of the relevant information is passed on to the next agent so the customer is not forced to repeat their questions or concerns all over again. 
Don't Ignore Positive Comments
While it is true that the squeaky wheel often gets the grease, it's also important to ensure that positive comments on social media don't go unnoticed. Good customer service doesn't just involve resolving complaints, but also engaging happy customers and then turning them into repeat customers and brand evangelists. Ensure that your customer service team is engaging with those who are leaving positive comments as well as those who are posting complaints. 
Listen and Analyze
Social listening involves monitoring online conversations to get a sense of how customers are responding to your products and/or services. It can also help you assess the overall sentiment they hold towards your brand. This is an important part of any company's social media strategy. Sprout Social GMO Jamie Gilpin recently discussed how General Motors effectively carries out social listening: 
General Motors monitor social media to gather feedback from customers and then route that feedback back into their engineering teams. They are finding that they are able to identify technical issues with their products before any issues are reported. This is affording them all sorts of opportunities around their products, their development and how they service their customers.
Some brands even use analytics tools to create Emoji clouds to see which icons customers are using most often in conversations about their brand. This helps them gauge overall sentiment towards their brand. 
There is no question that social media has become an important tool for brands to build relationships and community with their customers. With a strong social strategy in place, brands have an excellent opportunity to set themselves apart from the competition.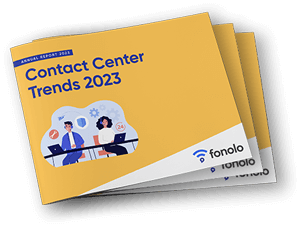 Trend Alert! Contact Center Industry Predictions for 2023
This report offers perspective on where the contact center industry stands today, plus our trend predictions for 2023.