After the grounding of all Boeing 737 Max 8 aircraft, calls to Air Canada's customer service prompted a recording that said call volume had "temporarily exceeded the company's capacity to answer or even place callers on hold." While this was an extreme event, every call center faces the same problem at one time or another: Unpredictable spikes in call volume. These causes can be understood, even anticipated. However, as in the case of Air Canada, these peak periods can also come as a shock to the system.
While today's tech-savvy consumers are using more non-voice channels to connect with businesses, the act of picking up the phone to quickly and verbally resolve an issue (complex or otherwise) isn't going anywhere anytime soon.
The problem is that when calls spike, hold times spike, too. The effect of this on the customer experience is significant: 60% of customers will abandon a call after just one minute of waiting on hold. A quick glance at onholdwith.com confirms how much hold times infuriate consumers. If you want to improve customer loyalty and keep your CSAT scores healthy, you'll need to make sure you have the right safety nets in place.
Are you prepared for unpredictable spikes in call volume?
Even call centers that diligently forecast volume and establish strict SLAs can experience spikes in call volume. The result is an increase in average wait time, an escalation in abandon rates and, worst of all, frustrated customers.
In this one-hour webinar hosted by the International Avaya Users Group, you'll learn the number one way to manage call center spikes. Fonolo CEO Shai Berger will discuss how call centers can reduce abandon rates, improve the phone call experience for customers and agents, and seize the opportunity to better manage spikes in call volume.
Join Fonolo and IAUG on Wednesday, October 30th at 11:00 AM ET / 8:00 AM PT for the live webinar.
We talk about:
Managing Spikes in Call Volume
Improving Customer Satisfaction
Lowering Abandon Rates
Plus so Much More!
Who should watch:
VPs & Directors of Customer Service
VPs & Directors of Contact Centers
VPs & Directors of Web/Social Media
VPs & Directors of Customer Experience
Speakers:
Shai Berger, Co-Founder and CEO, Fonolo
Shai is the Co-Founder and CEO of Fonolo, a leading provider of cloud-based call-back solutions. As an innovator in the space, Shai is on a clear mission to educate the call center industry on how to improve the customer experience.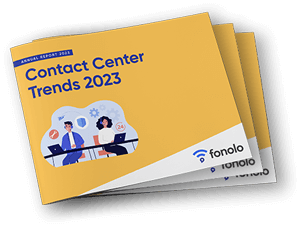 Trend Alert! Contact Center Industry Predictions for 2023
This report offers perspective on where the contact center industry stands today, plus our trend predictions for 2023.