It's the most wonderful time of the year! For most retail companies, the fourth quarter of the year is the busiest and most crucial part of the year for business. This can put a lot of pressure on customer service workers who are not only dealing with a higher volume of tickets but also, potentially, a more stressed shopper. 
It's important for retail companies to have plans and strategies in place when heading into the holiday season to ensure that customer service workers have the tools and resources they need to maintain a high level of customer satisfaction despite the influx of calls, chats, and emails from consumers looking for the perfect holiday gift (often, at the last minute!). 
Create a Crisis Team
A crisis plan is only as good as the team that implements it. This is why it's so important to identify key personnel you can count on during a critical time. The team should consist of individuals that offer a variety of technical, organizational, and communication skills. They need to be comfortable addressing the crisis using the protocols established in your crisis plan and focused on restoring operations back to normal as quickly as possible. The team must also be accessible 24/7, as crises don't always strike between nine and five.
Remain Empathetic and Understanding
While some associate the season with joy and positivity, for many, the holidays bring on financial stress, difficult travel schedules, and family tension. Customer service managers need to remain empathetic to their employees and, in turn, employees must be empathetic towards customers. The holidays are a great time to find inventive and proactive ways to keep morale high. For example, having themed-days where everyone brings in a treat, or having frequent breaks to ensure no one gets burned out. If employees are motivated to be efficient and effective this will, in turn, result in more positive interactions with customers. 
Technology Is Your Friend
The good news for customer service workers today is that there is plenty of new technology to help support them, especially during high volume periods like holidays. For example, call center managers can use call back technology to ensure that customers are not forced to stay on hold while they wait for an available agent. Even simple Frequently Asked Questions (FAQ) pages can help customers find answers to their questions without the need to contact an agent through live chat, email or phone. 
Empower Your Employees
High volume spikes are a great time to give employees more autonomy to make decisions and resolve tickets on their own. With a bit of flexibility, tickets can be closed more rapidly and customers experience less frustration without having to wait for their situation to be continuously escalated to higher levels of management. Even providing agents with some extra budget to go above and beyond for customers can be helpful as well. 
Go The Extra Mile
The holidays are an excellent time to go the extra mile for your customers. Often, we think of customer service as dealing with a situation once it has gone wrong. But, good customer service is far more than that. The holidays are a great time to show as a company you understand this. You can take this opportunity to reward your most loyal customers or surprise new customers with a special add-on. For example, you might seek out customers who have been singing your praises on social media and send them a gift card as a thank you. 
The holidays are a challenging time for retailers. But, with proper planning and the right strategies in place, the holidays can be a pleasant (and profitable!) time everyone.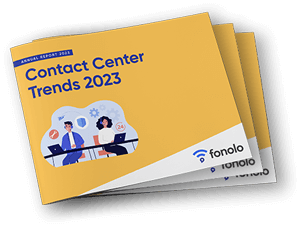 Trend Alert! Contact Center Industry Predictions for 2023
This report offers perspective on where the contact center industry stands today, plus our trend predictions for 2023.