Zappos. Apple. Wistia. Netflix. Whatever your business or its size, the first place your customers go when seeking help is your website. And if they can't find the information they need there, you're going to lose them.
You don't have to be reachable by phone 24/7, but you do have to give your customers a way to solve their problems or get in touch when they can't help themselves.
Here, we look at some major brands that are doing customer service in all the right ways, but most especially on their websites. We take a magnifying glass to these websites and give you the means to up your website game, too.
What is "Doing Customer Service Right"?
To understand customer service offerings on each of these websites, we've broken down the customer's journey into three stages and posed a question to represent each stage:
How easy is it to find the customer support or contact details pages?
Can you find the answers you need on the support pages?
How easy is it to speak to a real person?
In the last 20 years, Zappos and excellent customer support have become synonymous, so it's no surprise to find them on this list.
Let's review those questions:
How easy is it to find customer support pages on Zappos.com?
Zappos' customer support pages aren't just easy to find; they're front and center. They're not just pointing you to where it is. They're practically begging you to get in touch.
The first thing you see on their website is their customer service menu. It's placed in the header, so it'll appear on every page, along with a drop-down menu of related pages such as 'Live Chat,' FAQs, Contact Info, and 'Give us Feedback.'
Right next to that menu is the Zappos phone line, which we are told 'is available 24/7'. When it comes to customer service, it doesn't get much easier to find than that.
Can you find the answers you need on Zappos.com?
While Zappos scores top marks for accessibility and navigation, their FAQ pages don't score quite as well. Their online help center is just an FAQs page, which is pretty simple and easy to navigate. The questions tackle the typical questions people might ask well enough, and there's no need for a search bar because there are only a few questions.
Zappos' focus is on human-based customer support. They don't need such a comprehensive knowledge base so you can find the answers yourself; they'd much rather you call them so they can help you in a personalized, humane way!
How easy is it to speak to a real person on Zappos.com?
From the moment you first land on Zappos.com, their telephone number is front and center. The contact page is self-explanatory and provides detailed information on the ways you can get in touch.
Zappos does a great job of directing customer support inquiries to the right place. They've made their name with a human-centric approach and clarifies that speaking to a real person is the easiest and best way to get help.
Considering that more than half of the developed world owns an Apple product, they do a pretty good job keeping their customers happy. Their online support is key to this.
How easy is it to find customer support on Apple.com?
Apple's support pages are easy to find and right where you'd want to see them: in the main navigation menu. The website footer is also loaded with useful, well-organized links to help you find what you need. Although there isn't a 24/7 telephone number listed, they have a number displayed in the footer, which takes you to a robotic call tree.
Can you find the answers you need on Apple.com?
Apple's support center is one of the best we've seen. It's surprisingly easy to navigate despite the wealth of information in there.
Their search bar is in the center of the page, which gives you suggested searches to narrow down your question. Immediately below the search bar are their various products. These take you to product-specific pages, smoothly guiding you to the answer you need.
How easy is it to speak to a real person on Apple.com?
There are multiple phone numbers available on their website, but Apple also offers live chat and in-store appointments. You can either call a robot answering system or click through the website prompts to request a phone call, start live chat, or submit a repair or appointment request.
Apple makes it very easy to use their support pages because they want you to figure it out for yourself. They do, however, offer several ways to get in contact with a real human almost immediately. This combination of easy-to-find answers and real-human support is a win-win for Apple's customers.
The secretive streaming platform has done a great job with its online customer support, including a smart way to personalize results.
How easy is it to find customer support on Netflix.com?
Even if you're not logged in, the Help Center is still straightforward to locate, alongside several other useful links in the website footer. Before you even get to the homepage footer, you'll see their top FAQs and, directly below them, a toll-free telephone line too.
Can you find the answers you need on Netflix.com?
The search bar front and center — with its suggested searches — is the quickest way to find answers in their extensive help center. Beneath are several common questions neatly categorized by need, alongside other useful links.
One innovative feature of Netflix is that it asks you to log in before accessing the Help Center. This results in prompts related to your devices and habits, designed to help you faster.
How easy is it to speak to a real person on Netflix.com?
Netflix makes it easy to talk to a human. Contact options — both phone and live chat — are available. The 'Call us' button is just that but has one exciting feature: Asking you to log in for faster service. As a paying customer, this is reassuring.
The live chat dialogue box asks a couple of questions about your issue. If you select 'change password' or another basic problem, it'll take you directly there — a smart way of dealing with simple queries.
If you do have a more specific inquiry, you will be directed to a live chat-box with a human on the other end.
Netflix has done a great job with its customer support pages. They have both a comprehensive knowledge base that makes it easy to find answers and easily accessible human support.
As a digital-only platform, — and they have risen to the challenge.
How easy is it to find customer support on Wistia.com?
Wistia's customer support center is very easy to find in several places on the main navigation and footer.
Alongside their regular support pages, they also have a 'Learning Center,' which contains other resources helpful to someone with a non-technical issue.
Can you find the answers you need on Wistia.com?
Wistia's support page is very well designed, guiding you to the right answers without hiding contact details. Their knowledge base is simple but answers the most common issues.
The search bar is front and center, but it could benefit from including suggested searches. The four categories boxes below help sort inquiries, as developers will want a different type of support than a subscriber.
How easy is it to speak to a real person on Wistia.com?
Wistia encourages you to reach out to their 'Customer Happiness Team' for help in multiple places on their website. This link takes you to a basic contact page with one method of contact: A webform for either sales or support, which could be frustrating if you have an urgent issue: No indication of response time is given.
Overall, Wistia's support pages are easy to navigate and provide the user with detailed answers to resolve their issue. Their website would benefit from another contact method, but there's enough information elsewhere to make up for this.
Controversial or not, Chick-fil-A is a brand that has been known for its incredibly friendly customer service. But does this extend to its website?
How easy is it to find customer support at Chick-fil-A.com?
Their customer support page is easy enough to find in the footer, which is pretty standard for many companies. Those seeking quick answers can also find other useful links there, such as nutritional information. Once you arrive at the Customer Support page, both phone line and online support are readily available, as well as a physical mailing address.
Can you find the answers you need on Chick-fil-A.com?
Although a little sparse and not the easiest to navigate, Chick-fil-A's support page will help most people answer general questions themselves.
The real magic is behind the 'Contact us online' button. This transports you to a proper portal that filters inquiries by need and handles requests that don't need a human touch, such as general feedback or questions.
How easy is it to speak to a real person at Chick-fil-A.com?
Although their contact details aren't hidden, they don't exactly encourage calls. The phone number on their website goes to a normal IVR voice-tree that gets you through to a person, and they would benefit from transparency and a live chat option.
There is room for improvement in Chick-fil-A's online support, but it's a good experience for a brick and mortar restaurant. If you have an urgent complaint, the chances are you've either just left one of their restaurants, or you're still in one, where they can help you very quickly. Their website is more of a backstop and does an excellent job at that.
Every brand will handle customer inquiries differently, and there is no guaranteed way to get it right. To get an idea of how well you're doing, ask yourselves the same three questions we ask here. The answers will tell you if you're making it easy for your customers to find answers and get in touch when they need to — and whether your website customer support is being 'done right.'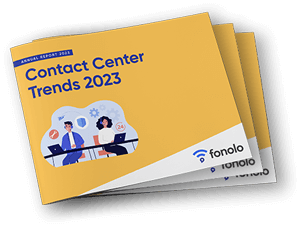 Trend Alert! Contact Center Industry Predictions for 2023
This report offers perspective on where the contact center industry stands today, plus our trend predictions for 2023.