People often hear the word 'bots' and immediately think about some dystopian science fiction flick they've seen where robots ultimately take over the world and usurp humanity. There is still a lot of misunderstanding and miscommunication in the marketplace about bots, and artificial intelligence generally, which explains in large part the resistance some people have in adopting bots for their lives and businesses.
The truth is, artificial intelligence, machine learning, and messenger bots are a new frontier in technology that can be an excellent tool to support our businesses, particularly when it comes to customer service. When used and integrated into your call center and customer service strategy correctly, messenger bots have the potential to relieve backed up call center queues, assist busy customer service agents, and ultimately help serve more customers and increase sales and revenue for the long term.
This is how Messenger bots can increase the operational efficiency of your call center, improve customer satisfaction, improve the workflow of your customer service and call center agents, and increase the overall value of your company.
What Is A Customer Service Chatbot?
Customer service bots, such as chatbots in a live chat, open up a conversation with the customer on behalf of your business. Customer service chatbots are programmed to be on your website or integrated it into platforms like Facebook Messenger or SMS. Having chatbots on your social media platforms is becoming more popular as companies see the potential of having their product/service where customers are spending most of their time.
Chatbots enable customers to get answers to their commonly asked questions much faster, and without having to explain the situation to a call center agent. Customers often appreciate this "online self-serve" approach because they can basically go "in and out" to get the answer they need. The bot can tap into a predetermined knowledge bank to answer customer questions and requests.
Chatbots Quickly Gather Relevant Customer Data
Chatbots are a great initial step in the customer service process and strategy. They can begin to gather relevant information from customers, which can assist a live, human customer service agent to best help the customer without having to ask all those questions all over again, which can be extremely frustrating for customers seeking assistance.
A customer would reach out to your company by sending a message to your customer service chatbot through a messaging service like Facebook. Based on the rules you determine, the messenger bot will decide whether it can resolve the issue or if it should redirect the query to a human call center agent, and pass on all the relevant information it collected to the customer service representative.
For example, a chatbot can be programmed to auto-respond to common questions such as:
Are you open on holidays?
What is your return policy?
Does this product come in blue?
Depending on how complex the chatbot technology is, it may be able to answer questions that begin with the word "how," outlining processes with more context. However, if this isn't possible for specific chatbot technology, this is the ideal time for a human agent to step in and help the customer, using the data already gathered by the chatbot to inform the rest of the conversation.
Chatbots Are Available 24/7
Chatbots enable your customers to be able to reach out to customer service any time of the day or not – as more consumers are expecting some level of 24/7 customer service support. Just as they no longer want to be put on hold, and would prefer a call-back, chatting in real-time with your company's customer service chatbot is quickly becoming an expected part of the customer service process, so it should be made to be as enjoyable and seamless for the consumer as possible.
Chatbots aren't going to take away the need for smart, kind human agents, it's only going to make their call center jobs that much easier, more efficient, and frankly, more enjoyable, as they don't have to follow customer service scripts as tightly, asking the same questions over and over, simply to get relevant information from customers. Chatbots allow humans to tackle more complex customer service problems, without wasting time on common concerns that can easily be handled through smart technology, making them an excellent addition to any customer service and call center strategy.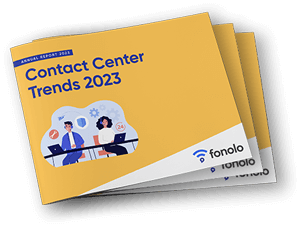 Trend Alert! Contact Center Industry Predictions for 2023
This report offers perspective on where the contact center industry stands today, plus our trend predictions for 2023.