People are busy, often going from meeting to meeting at work, chasing after their kids, running errands, or out and about with friends and family. Moments when they have to get in touch with the customer service call center of a company is met with dread, because they don't have the time or energy to call, wait on hold, and be passed around from one customer service agent to another to solve their problem. Sometimes, even a simple phone call can seem inconvenient, and the best way to stay up-to-date, or to communicate with a company, is through a simple SMS, or  Short Message Service, text message. 
Here is why and how your company can implement simple, convenient, and effective SMS call-back technology into your customer service and call center strategy. 
Communicate With Customers on Mobile Devices
While telephone communication has dominated the customer service sector for decades, and in the last decade, social media has made quite the leap, the way of the future is SMS messaging. Studies have found that in 2020, nearly 48.7 million people will opt-in to receive text messages from brands, and not just use SMS to communicate with personal contacts. Perhaps this is because other than calling, text messaging is the second most people use of smartphones around the world. And, with a whopping 98% open rate, compared to just 20% for emails, your messages and alerts are highly likely to be seen and acted upon. Companies of all sizes should harness the power of SMS messaging by integrating it into their customer service strategy, particularly as it relates to call-back technology and call centers. 
Send Convenient SMS Alerts
The average person will check their phone at least 47 times per day, which means that for brands integrating SMS alerts to their customers for call-back, they are far more likely to capture their attention, and get an increase in engagement and closed tickets. Rather than having a customer wait on hold to speak  with a customer service representative, or even wait for a call back, they can get real-time alerts and information about where they are in the call-back virtual queue, and move on with their busy lives. This is a great additional feature for your call center, as it allows customers to build trust with your customer service team, and feel like their time and energy is being respected. 
Additionally, there is still a large portion of the population that does not own a smartphone, however, their mobile device still allows them to send and receive SMS text messages. This is highly advantageous for brands and companies, as they don't have to worry about a customer, such as a senior citizen, to have access to WiFi or even a wireless data plan. They can still participate in your call-back strategy and join the virtual queue to receive convenient call-back notifications even on a flip phone. 
Create the Best Experience for Customers
Aside from SMS text messaging being a great addition to your customer service strategy, integrating it into your call-back technology at call centers creates the best, most convenient experience for your customers. By enabling them to continue on with their day – their priorities and tasks, you're showing respect for their time, energy, while ensuring that their concerns are met in a timely manner. This level of thoughtful communication, coupled with a seamless strategy, will build a high level of trust, loyalty, and repeat business from customers who have had a positive experience with your customer service. Not only will this lead to referrals, as more customers share about their experience with friends and family on social media and through word of mouth, it'll give your brand greater exposure, lead to increase sales, and boost revenue for your company and employees. 
Offering a fast, effective, and convenient customer service and call center experience through smart, call-back technology, paired with SMS alerts, will give your company a leg up on customer service. Use this method to reach and delight new and existing customers, and be a part of the future of call center communication.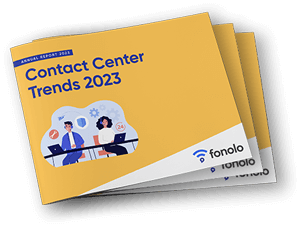 Trend Alert! Contact Center Industry Predictions for 2023
This report offers perspective on where the contact center industry stands today, plus our trend predictions for 2023.