Good customer service can be hard to find. Conversely, bad customer service is easy to spot and, when especially ugly, it can go viral. With social media becoming a worldwide connector and a general display of the way modern generations communicate, the performance of customer service agents is increasingly hitting the internet as a result.
Whether it was good, bad, or ugly, 2019 was a heck of a year on social channels. From outbursts in restaurants, to caring agents looking after customers in airports, to racial incidents between customers that agents have to diffuse — all have had a place on the world stage, serving as instructive examples.
In this article, we round up some of the good, the bad, and the ugly customer-service interactions of 2019, and detail what people and companies can learn about the incidents to do better in 2020.
The Good
Everyone has been in a restaurant or service establishment where a crying baby or toddler has had a meltdown. In many cases, people become uncomfortable and customer service reps can ask the parent(s) of the child to leave the establishment because they're disturbing the other patrons. It's unfortunate and it's grossly unfair but inexperienced customer service agents look to extricate because they mitigate.
In this clip, a Trader Joe's employee looks to do the latter by trying to cheer the child up. A toddler was having a meltdown in the checkout line and they attempted to turn their frown upside down. Naturally, the video was shared on Facebook and Instagram and both the agent and the store were celebrated for their approach:
Next up is a touching story about an internet technician who was making an in-home service call in South Carolina. The boy, who was born blind and has a rare-brain condition, reached up to the technician and he held the boy for 45 minutes while he did his work. He knew the boy had an ailment after speaking to his mother but showed a great deal of compassion and caring for the customer and her son. In turn, she posted it to Facebook and the technician as well as the company received accolades and applause worldwide.
Last but not least: One of the top moments of the year comes from a customer service employee at a Denny's in Las Vegas. A server named Bianca was captured on camera feeding a disabled customer who had cerebral palsy. The server and her co-workers regularly took turns feeding the customer, cutting up his food, feeding him, and checking on him often. The moment was captured by another customer who was in the restaurant and was subsequently picked up by news outlets. Read more about it here.
The Bad
In one of the worst incidents of the year, a McDonald's employee was fired after throwing a blender at the face of a customer in Ohio. The victim, Britany Price, suffered a broken cheekbone and broken nose as a result of the incident. The argument allegedly began when she came into the store to complain about a mistake with her drive-thru order. Surveillance video of the incident shows Price waiting more than 20 minutes before going back to her car to get her food and asking for a refund. She accuses McDonald's staff of ignoring her. The video shows that Price started throwing the food towards the manager before a blender comes flying out of nowhere and hits her in the face and sends her to the ground. McDonald's immediately begun doing damage control and is currently looking into the matter.
The Ugly
Everyone has dealt with irate customers if you're in the service industry. From the customer who explains about their meal to the customer who assaults employees for improper service, it's a situation that you've either seen or heard about. But when it gets racial and slurs are tossed without incident, things can get really scary for everyone involved. This was the case for when a customer at Burger King began hurling racial insults at employees for speaking Spanish behind the counter. The customer told the employees to go back to Mexico and the manager came to their defense, leading to a heated exchange that immediately went viral:
Customer service agents, their managers, and customers play a huge role in bringing attention to the good work they do. Social media has also brought light to just how difficult a customer service job can be at times, especially in foodservice and hospitality. Bringing attention, whether good, bad or ugly, will go a long way in changing the way we all interact with people. Let these serve as a example for better relationships and communication in 2020.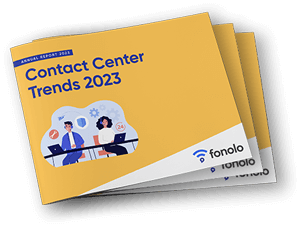 Trend Alert! Contact Center Industry Predictions for 2023
This report offers perspective on where the contact center industry stands today, plus our trend predictions for 2023.