HOLD IT: If you've ever sent a tweet complaining about being on hold, then chances are you've been featured on the Fonolo-powered website: onholdwith.com. It collects and curates the millions of Twitter complaints about being put on hold, and it has just released its annual list of hold-time offenders.
The site, launched by Fonolo a few years back, this year collected over a whopping hundreds of thousands of posts mentioning the phrase "on hold with" from Twitter. As we noted last year, Twitter has inreasingly become a go-to customer service platform for those wishing to air out their frustrating customer service experiences.
Tellingly, this year's list indicates that brands are still leaving their customers hanging by forcing them to wait on hold. Lessening hold times should be a priority, as it will no doubt grow customer loyalty and faith in brands.
This year, some big surprises: Virgin Media, Verizon, and United Airlines are among the top culprits in the annual list of The Worst Companies to Call in 2019.
Did your company make the list?
We noted many tweets like this, which you've probably seen the likes of before:
@virginmedia can someone help me activate my new broadband. Line went dead after being on hold for 35 minutes

— Bethy Brown (@bethyyb) December 4, 2019
So. I'm on my way to catch a ferry. pic.twitter.com/okfgDmAu9C

— Tara Williamson (@WilliamsonTara) December 4, 2019
Back on hold with @aircanada after 2.5 hours this morning! Why is it impossible to get through to your company! ?????

— Alliboo (@alli_swedberg) December 4, 2019
It's well known that leaving customers on hold is one of the surest ways to lose their business, and in this day and age, it's completely unnecessary.
There is absolutely no reason your customers should be kept waiting on the phone when there are plenty of solutions that can solve this.
The Fonolo Worst Companies to Call 2019 Awards
Now that we've been running awards and gathering tweets for a few years, we're starting to get a better picture of the landscape. This has enabled us to dole out some special awards this year, based (almost entirely) on our subjective reading of the data.
The aim of these is to call out the companies that appear to be making a genuine effort to reduce their call wait times; to let the worst repeat offenders know that we (and the rest of Twitter) are watching them and expect them to do better; and because it's fun.
So, without further ado: The Winners!
The Winners of The Fonolo Worst Companies to Call 2019 Awards
Most Improved Wait Time 2019: IKEA
The first winner of this award — our most coveted by far — has struggled with call wait times for several years.
But in 2019, they stepped up their game and sank from #6 in 2018, to #41 this year, an incredible feat.
Congratulations to…the DIY-furniture kings, IKEA!
Maybe they just made those instructions a little easier to read …
Special Mentions: Telus, Apple
We'd like to call out a couple more companies that improved significantly this year but missed out on the award by a fine margin.
Telus dropped from #5 last year all the way down to #34 in 2019.
After what we're assuming must've been a particularly bad year for their customer support in 2018, they've made a total turnaround this year and sit a long way off the top 10. Keep up the good work!
And secondly, Apple was notoriously bad when we first published this list back in 2016; they were sitting pretty (ugly) in the #1 spot.
But, we've seen consistent improvement over the last few years, and they steadily dropped down the rankings to #10 last year, and to #14 this year, well outside of the top 10.
Managing customer support for 1bn+ customers can't be easy, so we appreciate the improvements Apple is clearly trying to make.
Worst Company to Call 2019: Virgin Media
Virgin Media was the worst company to call in 2019 by a mile. Despite not even making the top 10 in 2017, Virgin Media jumped into #2 last year, and this year beat the notorious Verizon for the top spot.
And they didn't just beat Verizon, they trounced them. More tweets were sent about them than Verizon(#2) and United Airlines(#3) combined.
Virgin — get your act together and pick up that phone faster (or get a callback solution!).
Least Improved Wait Time 2019: Verizon
Verizon has remained consistently hard to get on the phone and is one of the biggest repeat offenders when it comes to call wait times. They went from #2 in 2017, to #1 last year, and they're back down to #2 this year.
Verizon has long been to be one of the worst offenders and it was beaten this year only by some very impressive numbers from Virgin Media.
Worst New Company to Call 2019: Disney+
Disney has never made the Top 10 before but it seems like the launch of Disney+ has caught them unawares. They're only ranked #20 this year, which doesn't seem too bad; until you remember they've been open for business less than a month!
In that time, they've managed to accumulate about the same number of complaints as old #onholdwith favourites Comcast and BSkyB each did all year.
We're expecting to see Disney ranking highly in 2020's list; unless they pull together their customer support systems pretty quickly.
Worst Industry to Call 2019: Airlines
Airlines and telecoms giants have been slogging it out for number one spot for years. In 2019, Telecommunications wins it in 2019.
Here's the full list:
1. Airlines
2. Telecommunications
3. Financial
4. Retail
5. Utilities
6. Shipping
7. Government
8. Web Companies
9. Electronics
10. Food Services
And here's the full list of our Worst Companies to Call in 2019 by tweet volume:
1. Virgin Media
2. Verizon
3. United Airlines
4. Southwest Airlines
5. AT&T
6. IRS
7. Bank of America
8. PayPal
9. United States Postal Service
10. Delta Airlines
Winners and Losers 2019
Really, everyone's a loser when it comes to long hold times.
Customers lose their time — adding insult to injury — as well as losing their sanity.
Companies lose their brand trust value and ultimately, lose customers.
We hope that these awards play a part — however small — in improving the customer support services provided by some of our biggest brands.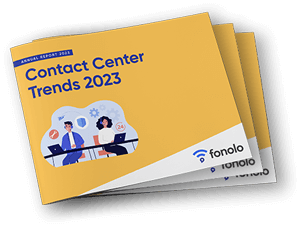 Trend Alert! Contact Center Industry Predictions for 2023
This report offers perspective on where the contact center industry stands today, plus our trend predictions for 2023.