Advances in communication technology are forcing rapid change in the contact center.
To accommodate consumers' growing expectations and provide 24/7 omnichannel customer support, we're expecting to see a mass exodus, with as many as 70% of contact centers moving 'to the cloud' in the next 12-24 months.
Will your contact center be left behind?
The Future of the Contact Center is in the Cloud
Over the last decade, technology has provided us with a multitude of new ways to communicate with each other and the companies we purchase from. Customers today expect to be able to communicate with a company seamlessly across at least 10 different channels.
Many businesses have been playing catch-up, trying to fit all these new communications channels into their contact centers and support plans, while maintaining or improving their service level. A tricky task at the best of times.
We're expecting the next decade to bring with it several rapid changes to the contact center, as it transforms into the 'customer experience hub' necessary to meet the demands of tomorrow's consumers.
Omnichannel Comms Require Cloud-Based Centers
One major change we're already starting to see is that omnichannel communication will become the standard. 63% of customers already expect to be able to communicate with brands via social media. Accordingly, companies are rushing to standardize and unify customer communications across multiple communication channels.
There's simply no way that a contact center on physical premises can provide the kind of 'always-on', personal level of service that consumers are increasingly coming to expect.
To be able to deliver this, we're expecting to see a mass migration of contact centers to the cloud in 2020; Will your call center be joining them?
What is a cloud-based contact center?
A cloud-based contact center is a modern alternative to traditional on-premise call centers that takes advantage of the latest communication technology.
Until recently, technology only gave contact centers very limited options. Many companies ended up locked into expensive contracts for software infrastructure that could only meet certain needs, was hard to update, and limited to the developer's upgrade roadmap.
There has been a rapid proliferation of cloud-based contact center solutions, but the essence of a contact center is this:
A cloud-based contact center is simply one that is not tied to a physical location. Its data, software, and communication networks are hosted 'in the cloud' by a service provider, eliminating the need for anything other than the computers and phones needed to access the system.
The cloud-hosted software acts as the 'hub' that brings agents and customers together, integrating multiple communication channels into a single system.
Its support agents will typically work from home, and the system will provide both the communication platform and the knowledge-base and CRM to support and personalize each customer interaction.
Due to its software-first nature, a cloud contact center can usually provide supervisors with deeper levels of insight and analytics, with many cloud software solutions offering artificial intelligence features to help with decision-making.
Why move to a cloud contact center?
There are a great number of reasons to move your contact center from physical premises to the cloud, but that doesn't mean it's an easy decision to make. With the right software solution, however, it can quickly pay dividends.
On the business end, cloud-based call center software can boost the functionality of the contact center as a whole, as well as improve the reliability and accessibility of local service. This is the core reason to move to a cloud contact center
A cloud-based contact center empowers your employees to deliver the best possible customer experience, wherever your customers are, and however they want to get in touch with you.
1. Improve customer experience
Ultimately, the aim of any improvement to a contact center must come back to this one goal: improving the customer experience. The move to a cloud-based contact center is the same.
Your customers are reaching out because they need help. They can't find something they want on your website or app. Whether they're contacting you at night, in the day, by phone, email, or tweet, they expect to be able to connect to someone who has the answer they need, and they're not expecting to wait for it.
When customers get stuck waiting on hold, or frustrated by ineffective automated messages, it directly impacts your bottom line. More than 50% of people cite poor customer service as a reason to stop doing business with a brand, and 66% will tell a friend about their poor experience too.
Legacy contact center systems make it hard to keep up with customer expectations as they evolve. Many of them do not offer the same advanced analytics and AI features that newer cloud-based solutions do. Providing an always-on service, or reaching international customers at a time suited to them, are also pretty tricky if all your agents are located in one time-zone.
2. Increased reliability of service
Traditionally, 80/20 was an acceptable service level for most contact centers, but technology has quickly made this number outdated.
A modern cloud-based solution can aggregate the requirements of tens of thousands of customers, providing much greater reliability than most call centers can guarantee on their own. Some API-based contact center software reports uptime that exceeds 99.99%, meaning that it was down for less than one hour per year.
For the customer, it means access to knowledgeable support agents who have access to real-time data about them and their problem, anywhere in the world, 24/7.
3. Quickly and easily scale and add new channels
One of the major limiting factors of legacy call center software was its inability to scale quickly. Businesses and their needs change over time, and it doesn't make sense to be limited in your growth because of your legacy infrastructure.
When you migrate your contact center to the cloud, scaling up (or down) is as almost as easy as clicking a button.
When you need to add a new communication channel, such as video or in-app chat, or upgrade your SMS messaging system, you don't have to replace your entire platform.
Trying out new channels or expanding successful ones becomes a simple matter, allowing you to flex to your customers' needs quickly and ably.
4. Reduce operational costs and improve ROI
Any experienced contact center manager will already be wondering just how expensive migrating their contact center to the cloud will prove to be.
But thankfully, one of the major benefits of the new-age of contact center software is that the costs are often significantly lower than with traditional solutions that are wedded to expensive and clunky hardware.
In fact, by moving your communications out of their restrictive hardware, you can likely handle several more channels for the same cost. Added to the massively reduced overheads from removing expensive physical premises from your balance sheet and it's easy to see why moving the cloud has become so popular.
Not only does the immediately reduced costs make moving to the cloud an attractive option, but the increased oversight that a cloud-based solution offers can help contact center managers reduce costs and find further areas to improve efficiency well into the future.
5. Take advantage of artificial intelligence
As you're probably aware, artificial intelligence is already here, and is coming to a contact center near you sooner than you think.
39% of service organizations already have a defined AI strategy and 56% are investigating ways to use it fruitfully. Whether it's using chatbots to collect basic data and handle simple enquiries, or using AI for better predictive modelling, we're expecting to see AI become increasingly important to the contact center.
Although it is always necessary to be in the cloud to take advantage of AI, the truth is that many legacy call center software just isn't able to integrate with much of the new-age software that powers emerging AI tools.
If contact center managers want to take advantage of some of the newer, more powerful algorithms out there — and ones that develop in the future — their contact center needs to be running on the kind of flexible platform that the cloud allows.
Contact Centers Are Moving to the Cloud in 2020
Whether your contact center has moved to the cloud yet or not, it will inevitably have to in order to stay competitive over the next 10 years.
This doesn't necessarily mean the end of physical call centers; it's likely they will continue to exist in some shape or form.
The majority of benefits that come with moving a contact center 'to the cloud' come from the change to an API-friendly, omnichannel, flexible software hosted on an external server. It's entirely up to you how you want to use those new capabilities, and how you change your contact center to best use them.
And that's kind of the point. A cloud-based contact center provides a level of flexibility and integration not offered by traditional physically-limited systems. You get to decide how to evolve your contact center to meet your customers' needs, not your software company.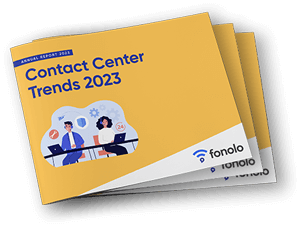 Trend Alert! Contact Center Industry Predictions for 2023
This report offers perspective on where the contact center industry stands today, plus our trend predictions for 2023.