Guest Author: Scott Miraglia, CEO, Elevation Marketing
Customer service isn't just a buzzword. When done right, it works to attract, retain, and convert more customers. 90% of Americans view customer service as a signal to determine if they should do business with a company.
Additionally, nearly half of Americans switch to a new company after having a poor experience with a vendor. This is why focusing on enhancing and improving the customer experience for your prospects and clients should be a key component of your lead generation strategy.
In this post, we'll provide five tips meant to help you bump your customer service offerings to the next level. 
Tip #1: Customer service is all about the experience
The first—and most important—tip when evaluating your customer service approach, is to tweak the language around what it means to deliver good service. In today's highly digitized buying environment, top-notch customer service is tied to overall customer experience across multiple touchpoints, particularly in the B2B space. 
Providing a good buying experience involves more than one tactic or initiative, but is baked into the corporate culture of companies that successfully deliver the best service to their customers.
Data by consulting firm A.T. Kearney revealed that companies who provide personalized, seamless customer experiences generate average revenue growth of over 8% — twice the rate of their competitors.
Tip #2: Provide relevant, easy-to-find information via multiple touchpoints
Salesforce's 2019 State of the Connect Consumer report, highlights the importance of providing contextualized engagement to consumers across multiple touchpoints.
The report surveyed 8000 B2B and B2C customers and revealed that 75% of them expect companies to use new technologies to create better experiences. 
Better customer experience goes beyond your company website. Preferred customer communication channels include Email, In-Person, Phone, Online Chat/Live Support, Mobile Apps and more. 
The following graphic from the Salesforce report lists the many channels that customers use to communicate with companies. Age matters when it comes to a preferred channel—as such, the chart is broken down into communication preferences for Millennials/GenZ, GenX, and Baby Boomers.
Tip #3: Ensure rapid response times to all requests
Both B2B and B2C consumers expect a fast response when they reach out to a business with questions, concerns, and issues. 
When a customer must wait on hold or go through a long series of prompts before speaking to a live person, they tend to view this as a bad experience.
Yet, a Harris Interactive report revealed that nearly 80% of B2B customers believe it takes too long to reach a live agent.
You can ensure that your customers will not sit on hold by introducing a variety of communication options in addition to phone support as follows:
Call Backs or Virtual Hold
Call back, or 'virtual hold' technology has been around for a long time but has only recently started to become commonplace.
This clever solution practically eliminates hold time for the call center, by offering callers the option of receiving a call back when an agent is available, instead of waiting on hold.
Your customers will be happier, your agents will get less abuse, and your contact center could see a drop in abandonment rates of up to 32%.
AI-Based Chatbots
AI technology has many positive customer experience implications, with Salesforce reporting that more than 50% of organizations plan to use chatbots in the coming years to respond to customers and 40% planning to leverage virtual assistants. This is one customer service trend you should expect to see a lot more of in 2020.
Robust Email Support
As noted above, email is the number one communication channel for customers reaching out to businesses. In the Salesforce survey, this was true of all age groups with very little fluctuation. Thus, ensure your email response process is streamlined and agile.
Create a Mobile App
The Salesforce report revealed that nearly 60% of millennials and GenZ customers prefer using mobile apps when engaging with companies. The popularity of mobile apps has grown with mobile usage.
It's convenient and accessible to reach out via an app when you're traveling or on the go. 
Keep in mind that over 70% of respondents in the Salesforce survey expect companies to communicate in real-time.
This starts when customers are in the process of browsing, with the expectation that important information such as pricing, inventory availability, and company information is easily (and instantly) accessible. 
Having a clear and competitive return policy is just as important as having a strong delivery process, says @msm360 #cx #policies #customerservice
Click To Tweet
Tip #4: Rapid deliveries and easy returns
In the retail space, companies like Amazon and Zappos have set the bar very high when it comes to delivering exceptional customer service.
Amazon launched in 2005, so consumers have had more than a decade to get used to expedited shipping, detailed product information and reviews, and easy returns.
Failing to meet these expectations can result in poor customer experiences and the likely loss of sales.
The Salesforce survey revealed that 57% of respondents are willing to switch to a competitor with quicker and cheaper shipping and 59% of customers will take their business to Amazon if a company can't match their shipping speed and cost.
Having a clear and competitive return policy is just as important as having a strong delivery process.
A study by ReturnLogic revealed that over 60% of customers review a company's Return Policy prior to making a purchasing decision. Offering free returns has the potential to boost consumer spending, plus nearly 60% of retailers currently offer free return shipping.
Consumers consider free returns to be a satisfying customer experience with 62% of consumers frustrated when asked to pay for return postage and packaging.
Tip #5: Establish trust
Consumers are hyper-vigilant about trust when they deal with businesses, with over 70% of respondents in the Salesforce survey indicating that trust matters more now than it did a year ago.
Trust must be earned, but when you can establish trust, you'll likely see immediate and tangible benefits to your bottom line in the form of increased leads and sales.
Trust increases loyalty, with 89% of customers showing more loyalty to companies they trust versus 65% of customers who stopped buying from companies they feel did something distrustful.
Clear communication is critical to establishing trust. Companies must communicate multiple trust-related factors in every aspect of dealing with customers including honesty, security, reliability, and privacy. 

Taking the time to understand the issues that may act as a barrier to trust will help you deliver a better overall customer experience. Additionally, addressing perceived or actual breaches of trust e.g., the compromise of customer data) quickly and transparently is essential to rebuilding trust with customers and prospects.
Looking to the future
There's no magic formula for delivering perfect customer service, but it's clear that consumer expectations are high in an era of instant gratification and digital dominance.
Recognizing that customer service is about delivering high-quality experiences at every point of interaction with customers and prospects will help you create strategies that increase customer conversion and retention.
By understanding how consumers research, discover, compare, and interact with your business and providing support at every stage of the consumer journey, you'll be well-equipped to deliver industry-leading customers now and in the future.
---
Author: Scott Miraglia
Scott is the CEO of Elevation Marketing. He is a balanced risk-taker with nearly three decades of experience starting and growing advertising and marketing agencies. His business acumen is matched with a drive to build creative teams that thrive in open, collaborative work environments.
Scott seeks out the best creative individuals, not only to provide quality service to clients but to also help shape the future direction of Elevation Marketing. He remains dedicated to helping his talented teams develop unique and effective integrated marketing programs that help employees realize their full potential while serving up impressive business wins for clients.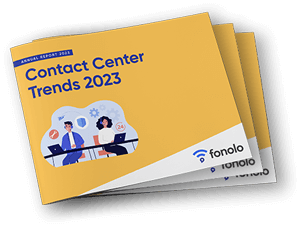 Trend Alert! Contact Center Industry Predictions for 2023
This report offers perspective on where the contact center industry stands today, plus our trend predictions for 2023.