Modern consumers want to be able to solve issues and get information immediately but keeping up with this demand can be an impossible task for live agents alone.
Even if you provide 24/7 live support, there are many situations where a customer can't get in contact or doesn't have the time to wait for an agent to become available.
Self-service lets users resolve problems without waiting for your response and lightens the load on your customer support team.
Getting self-service right can have a big impact on your NPS score, so here are 5 best practices for helping your customers to help themselves:
1. Review Your Support Tickets
When creating self-service content for your customers, it's helpful to know what customers are asking about. Reviewing support tickets for customer insights is one of the things great call centers do on a daily basis.
Besides adding to your Frequently Asked Questions (FAQ) this can also provide inspiration for blog posts, videos and tutorials.
There are a few ways to get this important information:
Take notes on live calls
For many reasons, it is always good practice for your live agents to make detailed notes on each customer's call. Spotting trends in customer queries is just one of them.
Sort inquiries into categories
Create categories for each subject or type of question clients ask. By sorting tickets into these categories, you can see topics your customers need more information about.
Use NLP to help categorize topics
Simple searches through your support tickets can quickly show you how often a topic is discussed. Natural Language Processing (NLP) software can then work out what the customer was asking, saving a lot of time manually reviewing each ticket.
Track support requests on competitors' social media
Tracking support requests and queries on your competitors' social media can also provide inspiration for self-service content.
When reviewing your support tickets, you may discover that a lot of customers are getting in touch about something you have already covered in a post or tutorial. This could be a sign that either you need to increase awareness of your self-service channels, or your self-service content was not helpful.
Include a rating system in your tutorial content so customers can tell you if a page solved their issue or not, with the option of giving more details if needed. This is a great way to identify and revise ineffective self-service pages.
2. Provide Self-Service on Multiple Channels
Providing useful self-service content across multiple channels is vital to ensuring customers can get help in any situation.
For example, a user might be unable to watch a tutorial video due to their internet connection, in which case they would need a written guide to avoid needing to call you.
When explaining complex features of your service or product, it is also important to remember that people absorb information in different ways. Some are visual learners, who can easily understand videos and infographics, while others learn better from text or even interactive content.
If you don't provide the same information in multiple formats, some clients may not be able to use your self-service content. Here are some examples of self-service channels that can help different types of users:
Chatbots or SMS, instant messaging apps and live chat
Blogs, tutorials and guides
In-app tutorials and interactive learning tools on your website
3. Get Users to Help Each Other
Your more experienced users are a fantastic resource when it comes to tips, tricks and troubleshooting steps for your products. Your most enthusiastic customers already want to talk about how they are using your services and swap tips and ideas. All you need to do is provide a place for those discussions, and let your customers know where to find them.
Instant messaging groups are a great way for customers to get quick responses to their questions from other customers. The fast, open discussions that instant messaging encourages means that answering a query or helping someone fix a problem often becomes a group effort. This not only provides your user with a range of answers from different perspectives but also ensures wrong answers are usually corrected quickly.
Customer support forums may seem a little outdated in the age of social media and instant messaging, but providing these in addition to other support methods can offer a number of advantages:
Forum posts appear in Google search results. If a customer's question has already been asked, they can find it easily even if they don't know you have a forum.
Forum threads stay available for years. In an instant messaging group, conversations move quickly, which can result in the same questions being asked again by newer clients.
Answers tend to be more detailed, and users expect to wait longer for a response. You can also amend and update them over time as the information evolves, reducing the risk of a customer getting an incomplete or unsatisfactory answer to their query.
Both of these methods work best with active moderation. By keeping tabs on the discussion, your agents can step in where necessary to provide extra information and show you aren't just leaving customers to figure it out themselves.
Promoting your most active members within the group or forum not only lets them help you with this but also marks their account so other users can spot posts made by the most helpful members.
4. Make it Easy to Find
Creating great self-service content won't help your customers if they can't find it. 67% of consumers won't spend more than 15 minutes looking for an answer online. Whether your customers are getting in touch via call or message, or simply browsing your site, make sure customers know where to find your support resources.
Include a Support section in your navigation banner, and make sure that customers land on a self-service page instead of going straight to a contact form or phone number.
Encourage agents to send users self-service content as part of their support, and let customers know they can answer future queries by searching on your site. If you are using a social media marketing agency, make sure they also know to link your self-service content where appropriate.
SEO matters for your self-service content as much as any other part of your site. Clients trying to solve a problem will often Google it before heading to your site, so optimizing your content to appear on the first page of search results helps them find an answer quickly, and avoids an unnecessary customer contact.
By making your self-service resources easier to find, you can let customers solve their issues with less frustration, and reduce the workload of your live agents.
5. Seamlessly Transition from Self-Service to Live Support
Self-service content should allow customers to get in touch with a live agent where needed.
Investing time and effort searching for a tutorial or troubleshooting guide only to be unable to fix the problem anyway can be a frustrating experience. If you make them fight to get through to a support agent to explain their issue, this is only going to add to their annoyance, particularly if they need to sit through a long hold time first.
Integrating live support into your self-service content can give your live agents all the information they need before they talk to a customer, resulting in a painless user experience. There are a few ways to do this:
Using SMS and instant messaging chatbots is a great way to automate your first line of support and handle simple queries quickly. Capable chatbots can answer 80% of user queries. You should also provide a button or keyword to connect clients with customer support so that your staff can join the chat with access to the full chat history.
Include triggers to involve live support according to the process your automated emails or chat are following. If a process or query needs the attention of a live agent, they can take over straight away without waiting for your client to request live support.
Put a callback button on your self-service pages. This lets customers talk to your support team quickly, and your team will know which page they made the request from. You can combine this with an optional form so customers can give you more information before hitting the callback button.
Good self-service ensures customers can get help regardless of the situation. To make use of it, customers need to be able to easily find information in a format they can learn from.
Enable users to learn from each other, and when self-service isn't enough, ensure a seamless transition to live support that doesn't make customers repeat themselves.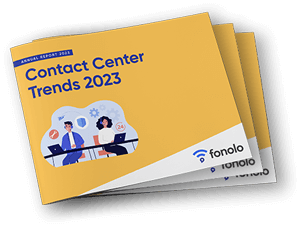 Trend Alert! Contact Center Industry Predictions for 2023
This report offers perspective on where the contact center industry stands today, plus our trend predictions for 2023.