We are living in a strange time. Almost every aspect of our lives has changed since Spanish Flu decimated the world's population 100 years ago, but it's at times such as these that humans typically revert to the same patterns.
We're already seeing some of that base behaviour in the supermarkets, as panic drives people into the lizard part of their brains, making poor decisions that ultimately make things worse for everyone. Yes, TP hoarders, I'm looking at you.
It's deadly not to run with a stampede, but sometimes being swept away in the panic is just as dangerous. Whether you supply customers with day-to-day essentials like food, or luxuries like cruise trips, how you respond as a brand in a time of crisis can make or break you.
Put Everything Behind Supporting Your Customers
If one thing has become clear, over the next few weeks we're all going to spending a lot more time at home. And that means we're going to be doing everything online, and calling companies up when we have an issue.
Big brands and startups alike are already feeling the impact, and there's more to come. Customer service inquiries are already more than tripling at some firms.
On onholdwith.com, we saw a huge leap in tweets complaining about being on hold starting from March 9 when it became clear that COVID-19 was going to widely impact travel and the economy, and peaking around March 12 — at more than 5x their normal rate. They're still coming through at more the 2X the normal rate.
The poorest-prepared — and initially hardest hit — was Expedia; but as quarantining persisted Chase Bank took the lead, followed closely by almost every other airline, Amex, and, of course, Virgin Media. Their customers are frustrated and confused, and they can't get a hold of them.
Travel-search tool Omio has seen booking reduce 30-40% in the last two weeks and a big spike in demand for customer service as worried customers look to cancel trips. "The whole company is actually stepping in to help customer service because we've seen a spike in cancellations," says CEO Naren Shaam.
Demand for customer support at TravelPerk — another travel-related startup — has also never been so busy.
"We actually are switching some of our sales team to customer support in the coming weeks just to support the volume of tickets," CEO Avi Meir told TechCrunch. "We're very proud that our metrics are not declining — meaning specifically service level; how fast we solve cases; our 'C-Sats', customer satisfaction. The metrics we really care about. "
That's the attitude we like to hear. Focus on your customers in uncertain times and help them when they most need it; they'll remember it for the rest of their lives.
Remember This Won't Last Forever
Plenty of people are trying to profit from the panic but one of the most important things to remember is that, no matter how bad it may seem right now, this won't last forever. Things will go back to normal. And people will remember what happened.
In hard times, some people take advantage. You may have heard about the man that bought 17,700 hand-sanitizers to peddle on Amazon; the latest update is that he donated them to people in need in his community after the Attorney General opened an investigation.
It clearly sends out the right message ?

Unlike last night @IdealWorldTV showed directly on ITV just after midnight… pic.twitter.com/JvD3ud0TdY

— Ash Kennedy (@Ash_J_Kennedy) March 16, 2020
Late-night shopping channel Ideal World TV was slammed yesterday for selling a bundle of household paper for $80+shipping. It was a big bundle, to be fair, but the atmosphere is currently tense enough. Twitter did not respond well.
And our own local lunch-time delivery app Ritual caught a lot of flak after sending out a promotional email recommending its services as a way to combat COVID-19.
Things may seem crazy in your contact center right now but I can assure you, it won't last forever. So you can pull out all the stops to make things easier.
Allow your agents to work from home if they can, and provide them with the extra resources if they need them. Get all your peripheral staff on the phones so you can give sick employees time off and handle the extra volume. Increase your hourly and overtime wages to keep your agents happy during an intense time.
Wow @ritual_co, in a time of pandemic with people ailing and dying? SMH. Oh and nice try w ~*sUpPorTiNg sMaLL bUSineSSeS*~~ in your apology, like you weren't self-promoting your app (which still requires people to go into public, crowded spaces). Mess.

— Amy Bartlett Kayuk (@riulake) March 12, 2020
Call on whatever new technology you can to mitigate the impact of this sudden rush of demand. Whether that's a new video chat platform to keep you on the same page or a new cloud-app to help handle and direct the extra calls.
It may seem crazy to start trying out new initiatives in such an uncertain time for business, but if anything, now is exactly the time we need to be looking for new solutions.
And when everything goes back to normal, people will remember the extra effort you went to keep them safe and informed.
Lend a Hand Where You Can
Our advice; play it safe. Lend a hand. Do what you can to help alleviate the pressure and support the economy.
Some Canadian distilleries have already pivoted to produce extra hand-sanitizers (the booze will keep coming — don't worry!); a BBQ restaurant in Indiana is giving out free toilet paper with every order; Starbucks has increased its mental health support, and fast-food chains are giving free food to NHS workers in the UK.
Dozens of companies have stepped up to discount their products in whatever way they can to help support each other right now. Fonolo has also got rid of all minimum contract terms and usage so that our systems can be used on a pay-as-you-go basis while they are needed during the crisis.
What Call Centers Can Do to Manage Call Spikes and Staff Shortages
As a contact center, this may mean allowing your agents to work remotely, and provide the resources they need to do it so they're not out of pocket. It may mean giving them extra support, both human and technologically. It may just be giving them a roll of toilet paper each on the way home. But the important thing is that we all lend a hand right now.
It may just be part of my British heritage to want to keep calm and carry on, but it seems to me some pretty sensible advice right now.
Businesses may be impacted by social distancing for the next few weeks, but it's important that we all help each other out during this confusing and scary time, so we can come out stronger on the other side.
Because how we act in this relatively brief struggle will be remembered long after it.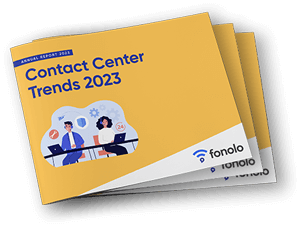 Trend Alert! Contact Center Industry Predictions for 2023
This report offers perspective on where the contact center industry stands today, plus our trend predictions for 2023.