At the risk of blowing our own trumpet, we've been hammering on about the necessity of preparing to handle call volume spikes for years now.
No matter what you do as a contact center manager, there's always going to be something you didn't prepare for. It could be a freak weather event. Or it could be a sweeping pandemic that sends half the world's population into quarantine.
And now that crisis is upon you, here are nine things you can do right now to handle call spikes in your contact center.
How to Manage Call Volume Spikes in a Crisis
1. Get other employees to help with calls
One of the quickest and easiest ways to handle call spikes in a crisis is to call in the cavalry. Depending on how the crisis has affected your business, you may have some employees working double-time, while others are left twiddling their thumbs.
Most of your employees — especially your sales team — are probably very capable of handling a customer call with minimal training — so get them in to help. Employees facing furloughing or worse will likely be happy to help out too.
If you're worried about call quality, you can always set them up as a 'Real IVR' to give customers some human contact while they're rerouted to the correct person; this is also a great opportunity to take some work away from your agents who can handle more complicated inquiries.
2. Keep agent morale high
Your survival during this tsunami of customer calls depends largely on your agents. Keep them happy in whatever way you can. And that doesn't just have to be a financial reward. A large part of keeping your employee's morale high is creating those opportunities to socialize that we lose when we leave the office; the 'water-fountain gossip'.
Here are some other ways you can keep your agent morale high throughout the onslaught of customer calls:
Send pizza/snacks/drinks to their home
Bonus vacation days (for after the crisis)
Get online yoga or fitness classes over zoom
Increase over-time (yes, money still helps!)
Help them out with office equipment
Hire a meditation teacher, breathwork course, or meditation app
Schedule daily coffees and snack breaks to chat about non-work
Try out some games like 'Jackbox' or 'Houseparty' in place of your normal end-of-week celebrations
Some of these might seem silly, but you may find that in strange times, people would prefer a more tangible benefit than money can provide; toilet paper, perhaps. 😉
3. Find out what's causing the spike and fix it
This one might seem obvious but the reasons for call volume spikes are not always as clear-cut as you might think. Of course, the pandemic created novel conditions, but these are subsiding and there are new protocols in place to deal with similar issues.
A large part of survival and keeping your employee's morale high is recreating those opportunities to socialize that we lose when we leave the office; the 'water-fountain gossip'. #custserv #remoteworking #managingremote Click To Tweet
The easiest way to do this from the start is to listen to what your customers are saying. What are they calling about? What issues keep cropping up and how can you fix that at the root to prevent these calls coming in the first place?
Another common mistake at any time that can cause call surges is bad messaging. If you provide customers with a number, they will call it. If you tell them not to call a number, they will also probably call it.
Look at where your messaging could be improved to reduce unnecessary customer calls. A bad webpage that fails to answer questions effectively can quickly be re-written, drastically reducing callers.
4. Use your IVR to prioritize and divert calls
Any contact center manager worth their salt has probably already tweaked their IVR to mitigate the incoming waves of calls. This may mean playing answers to FAQs while callers are waiting on hold, or simply asking them to call back at a later time if their inquiry isn't about a specific urgent issue.
You can also use your IVR to divert calls to other channels. Social media, a live chat on your website, or an email address are all good options. The most important thing to do is to offer your callers an option. Not all of them will take it but every little helps alleviate some of the pressure on your agents.
5. Improve your self-service options
As we mentioned in tip number 3, sometimes poor self-service options or explainer pages are the reason behind call spikes.
If you've published info that's supposed to be soothing customer concerns and easing the pressure from customer support, but you're still experiencing high call volume — reassess that page.
You may even find that you can implement a basic chatbot to help with simple inquiries. Remember, your customers don't want to have to call as much as you don't want them to. Provide them with easy to understand ways of fixing their issues and they won't contact you.
6. Open longer hours
This is a pretty easy tip to pull off, on paper at least. But it is possible, and with the right management, you won't necessarily have to stay open all night. In the current crisis, some call centers are stretching their day into a full 18 hours, split into 6-hour shifts to mitigate the impact on agents.
You're going to really need to sell the story to your team to get them on board, and you may even have to hire some temporary workers — there are a lot of students without classes or exams right now — and run them through an intensive course so they can handle simple queries.
7. Cut back on unnecessary tasks or processes
One simple way to take some of the pressure off your phone-lines is to temporarily reduce any tasks after calls that aren't absolutely necessary. There are probably some aspects of your agents' after-call work that isn't vital to the running of the business — these can be put on hold or postponed until the call volume subsides.
Another way to do this is to hand-off simple tasks where you can. Using AI — or other temporary support agents — to collect basic information or handle after-call work frees up some time for your more qualified agents to spend helping customers.
8. Outsource to a BPO
Not every business can afford to hire even temporary staff during a crisis. But that doesn't mean you can't get some professional help handling the flood of customer calls. There are a great many BPO companies that will be happy to alleviate some of the pressure from your team.
9. Invest in call-back software
It may seem too late in the game to be installing new technology to handle your call spikes but that's not the case. Many cloud-based platforms today have a native call-back feature, although we can't speak to their reliability.
Your survival during this tsunami of customer calls depends largely on your agents. Keep them happy in whatever way you can. #custserv #remoteworking #remotecctr #virtualcctr Click To Tweet
And if you need something guaranteed to work, set up super fast, and totally customized to your existing technology, reach out to one of our call-back experts here.
There is one school of thought that believes call-backs are not the answer to call spikes, because of the couple of seconds delay between the agent answering and the customer connecting.
But when you consider the time you save because the customer isn't complaining about being on hold, it hardly compares. And no matter the crisis, they will complain about being on hold. They always do.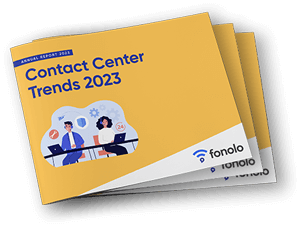 Trend Alert! Contact Center Industry Predictions for 2023
This report offers perspective on where the contact center industry stands today, plus our trend predictions for 2023.