There's always a script — a basic list of questions or responses to customers who have issues. Managers and business owners spend countless hours analyzing data and/or speaking with customers to be able to produce at least that: a script. But how effective is it?
Whether it's for existing products or new features, there are times when you have to teach your employees new skills that will help them fulfill their responsibilities.
While training is vital, it isn't enough to help employees grow professionally at your company or in their careers. It takes constant support and coaching to make sure that your customer service reps are staying on top of their duties while providing the best possible experience for the customers.
If you're just starting out or are building a new team, here are a few things to keep in mind when you're training, supporting and coaching agents.
Create 1-on-1 Time
You need to be on the same page as your employees. As a manager, you need to provide direction to allow your employees to develop their skills. Even the simplest training manual can be complex.
Making sure they understand the psychology, emotional awareness and the service mindset is the most important thing. These can't improve through training alone. Long-winded training sessions can be drab and there's only so much one can absorb in one session.
What's more, Training programs are not usually tailored to individuals either, so a lesson may not match an employees' goals or learning style. Coaching builds confidence and as a manager, it's your job to do that.
As a manager, it's hard to build confidence but it's easy to take it away. Keep your employees engaged in one-on-one weekly sessions.
Establish Expectations
When you're bringing in a new hire, it's important to let them know what's expected. Once that happens it's up to you to coach them to make sure they're doing what's expected of them. Always follow up. Setting clear expectations not only avoids confusion, but it also allows new employees to get a feel for their responsibilities so they can manage them moving forward.
Training Tools
While coaching is greatly encouraged, there are times when training tools can be to bridge the gap between your next coaching sessions. Whether it's tools or software, there are a variety of apps that can help you.
Be sure to set up your employees with the apps, tools, and memberships they need to communicate and collaborate with the team.
Your customer service agents should know your company and product or service offering better than anyone. Tools like Slack or Zoom are perfect for communication between employees and managers.
Team Building
Working in customer service is tough, and it can take a toll on employees and their team relationships. Creating team-building activities can give a huge boost to team morale.
Whether you focus on training tips or something a little lighter, you can help keep those relationships sound and ensure all distractions are resolved so that your employees can focus on their jobs. Chances are that if you have a strong team, you'll have a strong business.
Don't Forget the "Why"
Your customer service agents need to believe in what they're doing; they have to believe in the brand. If not stressed correctly, it will be harder to get your agents' buy-in.
Always remember to teach them the 'Why". This is WHY we're doing this.
Your brand goals and values must reflect in the work that they do so that agents will feel empowered in their role and enthusiastic about representing the brand well.
No Work Goes Without Recognition
Just like a team-building exercise, it's important to recognize employees for their talents and personalities. Create contests or top prizes for your top performers. Give them some incentive to perform. Not only can you keep them engaged but you can also instill important lessons and inspire some of your other agents to strive for the same. Be sure to explain why you're recognizing an employee and detail why those behaviors are important to the brand.
Get Customer Feedback
Try to create tools that will allow customers to rate agents based on their performance. You can learn more about your employees' strengths and weaknesses. You can also use this opportunity as a way to create focus groups or group training sessions. If more than a few agents are struggling in a particular area of service, these sessions will help the team focus on specific problems that are impacting customer satisfaction.
Giving your employees all of the tools to handle customer service issues are critical to the success of your business. Instead of strict scripts and rules, give them the knowledge, resources, and tools they need to take charge of the situation, find answers, resolve issues on their own, and make customers happy.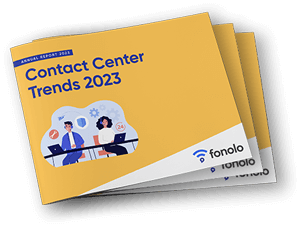 Trend Alert! Contact Center Industry Predictions for 2023
This report offers perspective on where the contact center industry stands today, plus our trend predictions for 2023.