The coronavirus has altered the way that contact centers reach out to their customers and will undoubtedly change the way business is done in the future. Companies are having to rework their business models to manage costs and expenses.
The Pandemic Has Already Changed Call Centers
Most recently, Toronto-Dominion Bank announced that they'd be moving almost all of its call-centre employees from 15 different U.S. and Canadian cities to their homes in response to COVID-19. The move is shocking for a big bank that surely wasn't prepared to move all of their staff home, but it's a growing reality for everyone working in the sector to even commercial real estate. Now, TD Bank has nearly 9,000 agents working from home. And that's unlikely to change much now. The customer service agents work 24/7 to serve Canadian banking, wealth and insurance at North America's sixth-biggest bank by assets, along with its U.S. lender TD Bank, whose branch network stretches from Maine to Florida.
The initiative is similar to other firms including American Express Co., Capital One Financial Corp. and Synchrony Financial — companies that are also rushing to equip customer service representatives to work from home amid a pandemic that has claimed thousands of lives and shut down businesses all over the world, some for good. The Bank of Montreal (BMO) also performed a similar move, allowing half of its employees to work from home. At Royal Bank of Canada (RBC), 85 percent of its call and operations centre employees in personal and commercial banking are already working from home.
Perhaps the most important skill for any contact center during this time is adaptability? #cctr #postpandemic Click To Tweet
Industry-wide, a recent report by Contact Babel found that more than 70% of contact center agents are now working from home, compared to just 13% in 2019. Between the logistics, the risk component, the technology and the deployment, banks and other companies have had to make the same considerations, however, the blueprint hasn't been without its challenges. They've had to deploy all the laptops and monitors for employees to work but for the most part, businesses have found success
Adaptability is Key to Post-Pandemic Success
Perhaps the most important skill for any contact center during this time is adaptability. You may not have been in a business model to facilitate a pandemic but every day, companies are coming up with new customer service strategies to deal with customers and operate in a profitable way. Businesses are having to trust employees to be just as productive at home as they are in the office.
At TD, working from home has been embraced by the employees. Workers get an extra 10 personal days to help with daycare issues and the ability to change schedules and do split shifts. The question is: will companies maintain this flexibility when the pandemic dissipates?
Many have already provided provisions for their employees to work from home. Companies who have adapted to include employee input will reap the rewards of an empowered workforce with a vested interest in doing well. If you've involved some of your agents in setting up a requirements definition and evaluation stage – these are the people who will have to use the system on a daily basis and are well equipped to identify minor or major issues from their own perspective.
Even when regular business activity resumes, you will need provisions for staff to be able to work from home as you transition people back into a crowded office. Not only will this be safer, but it will also mean that staff will be more likely to make themselves available for work, as the danger to them is reduced, and it may also help in those cases where staff have to care for other family members who are ill or off school
More than 70% of call center agents are working remotely compared to just 13% in 2019. Is there any going back? #cctr #postpandemic Click To Tweet
With the influx of AI-tech centers, apps and technology, it's become easier for companies to invest and create new channels of communication to better assist its customers.
Use the Current Crisis to Prepare for an Uncertain Future
There's always a chance that the pandemic could return during flu season this fall but with the experience of the first wave, companies will have a better understanding of how to manage another crisis or shutdown, should it happen.
If you created a crisis team to monitor performance and problems on a daily basis throughout the pandemic, you can deal with any serious issues that may arise. You can look at this team as one you can empower to make decisions as quickly as possible. The issues they encounter, and their responses to them, should be captured and reviewed so you that you can take advantage of the lessons learned to galvanize yourself against an uncertain future.
We might have had no control over self-isolation or COVID-19, but you can steer your own ship having had the experience of the pandemic to survive through. Using the people and the technology around you will be critical to flexible workflows and steady productivity.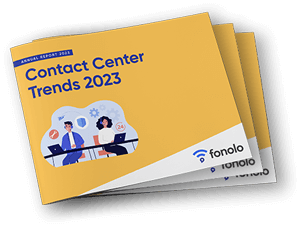 Trend Alert! Contact Center Industry Predictions for 2023
This report offers perspective on where the contact center industry stands today, plus our trend predictions for 2023.