A recent Brand Sentiment Report from Vesta has investigated customer perceptions during COVID with some interesting findings. More than half of the 6,000 people surveyed said that their perceptions of brands has changed since the COVID crisis began. Consumers rated empathy and responsibility as key factors in determining their perception
Why is consumer perception important?
Customer perception is important because it directly impacts profitability. This goes for anything from a product to an entire industry; changing perception has negatively impacted the entire dairy industry in recent years.
More than half (58%) of people surveyed said their perception of a brand has changed because of COVID reports @VestaSolutions #cx #brandsentiment Click To Tweet
Negative attention can quickly affect a company's stock price, as well as negatively impacting revenue in the long run. There are some pretty famous examples of this. And anything and everything from systemic fraud to consistently poor service will land a company in the nation's most hated companies list. The financial impact of this is immeasurable.
Customer Perceptions During COVID
Consumer expectations and perceptions change rapidly in times of crisis. A recent Brand Sentiment report by Vesta (formerly Social Media Link) found that 58% of consumers say their view of brands has changed since lockdown began. Here's how they've changed:
Consumers Don't Like Opportunism
Something that became clear early in the pandemic was that consumers will not tolerate opportunistic behavior during a crisis. People have been quick to call-out any opportunism they see online.
Quite a few of the larger chain stores have been the target of anger after bending rules about what constituted an essential service during in order to stay open during the lockdown. The full extent of this is yet to be seen.
When asked, most people said that showing empathy and responsibility were most likely to create a positive sentiment during COVID, reports @VestaSolutions #cx #brandsentiment Click To Tweet
Most companies managed to refrain from profiteering during the crisis. If you haven't, then your customers will likely let you know how they feel about it one way or another pretty soon (if they haven't already).
Consumers Appreciate Empathy and Responsibility
It seemed that people were most impressed (55%) by brands that shut down completely to keep customers and employees safe. They also rated empathy, responsibility, and providing support as key factors in determining their sentiments.
Interestingly, more than 30% of people cited clear communication as a key factor. Keeping your customers in the loop (even if there hasn't been a change) is sometimes all it takes to form trust and improve customer perception of your business.
Your customers like to know how you're making a difference; it will also make explaining certain changes easier in the future.
Customers Don't Mind Waiting in a Crisis — for some things
We all saw a lot of long wait times during COVID. Long wait times for pretty much everything. Interestingly, despite the long queues, most of the essential industries got a lift in customer perception.
Nearly half (49%) of the 6,000 people surveyed said they have a more positive view of their grocery store. Food, beverage, and cleaning businesses, as well as restaurants and pharmacies, all also got a boost in positive sentiment.
It seems that even when people were inconvenienced, they appreciate the extra effort and risk that these companies and employees took on so that we could all get essential supplies.
Despite longer waits and physical distancing rules, nearly half (49%) of people surveyed said they had a more positive view of their grocery store since COVID, via @VestaSolutions #cx #brandsentiment Click To Tweet
What's important to note here is that none of the industries that were most seriously impacted by long hold times (Travel, Banking, Insurance, etc.) are mentioned here. This likely because people expect to be able to get through on the phone if your physical office is closed.
Customers Expect You to Adapt Quickly
One interesting brand action that led to a large increase in positive sentiment was 'Recognizing the new normal' (38%). This is significant because it indicates that consumers expect brands to adapt quickly to major changes — regardless of their scale.
People look towards large brands to lead innovation during times of crisis. They're looking to you to solve the problems for them. It won't be too long before "Due to COVID" just won't cut it as an excuse.
Customers expect you to adapt. They're looking to brands to innovate us out of the crisis. Brands that are seen to be 'recognizing the new norm' instead of fighting it increases positive brand sentiment, reports @VestaSolutions… Click To Tweet
Call-Backs Saw Increased Usage
At Fonolo, we saw the full force of increased call volume from COVID. We saw complaints on Twitter about hold time triple overnight as we went into lockdown — and we're still seeing daily complaint numbers more than double pre-COVID.
Our engineering team has been working flat-out on quick tech tweaks and upgrades to help our partners beat their call spikes. We're proud to say that Fonolo has delivered a record-breaking number of call-backs during lockdown — saving consumers from waiting on hold for tens of thousands of hours.
Most customers are pretty understanding that COVID has brought with it restrictions and delays. Our higher-than-average call-back uptake demonstrates that people are willing to try something new or wait for a longer period, as long as they know someone will be getting back to them.
What makes people most frustrated is when there isn't another option. It may not have been possible to anticipate the kind of call surges that lockdown brought. But in many cases, they could have been prevented.
Customers may have been understanding of your long hold times the first or second time they call. But they'll become increasingly less understanding if you don't rectify your long hold times quickly — or give them another option, like a call-back.
Managing Customer Perceptions Post-Pandemic
One thing that's clear is that customers appreciate companies that are acting responsibly and adapting quickly in order to maintain service. If you want to ensure customer perceptions of your business doesn't take a downturn risky months ahead, the best thing you can do is to prepare to do the same.
Assess what went wrong this time and how it can be mitigated next time — and act on it! Put in place the technology and processes you need to ensure that those same mistakes aren't made again. You'll find people are less forgiving the second time around.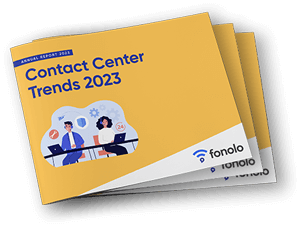 Trend Alert! Contact Center Industry Predictions for 2023
This report offers perspective on where the contact center industry stands today, plus our trend predictions for 2023.