Last week, our CEO, Shai Berger met with CUBroadcast and Trax Credit Union (formerly known as Railroad & Industrial Federal Credit Union at the time of this broadcast) to talk about how they handled their COVID call volume surge.
Watch the full video here.
The Response to COVID Call-Spikes
As we went into lockdown, pretty much every call center in the country was suddenly flooded with calls; there were no survivors. Insanely long wait times became the norm for many companies, particularly financial services like banks and credit unions.
A Deluge of Phone Calls
Trax Credit Union — one of the nation's oldest financial institutions — was no different. Daily calls doubled and tripled during the first few weeks, and stayed high.
In response to lockdown measures, they'd shuttered all branches except their drive-thru locations, sent most of their staff home, and set up additional lines so branch staff could handle the inbound calls.
But it was by a small stroke of luck that allowed Trax Credit Union to keep their customers and agents happy — unlike many others — despite the deluge of phone calls and long wait times.
A Case of Good Timing
Just a couple of weeks before the nation went into lockdown, Trax Credit Union launched a new feature to the phone IVR and website: Fonolo call-backs. So, when the phone lines started to jam up, their members had the option to receive a call-back instead of waiting on hold.
Despite being such a new feature, it was rapidly adopted by many callers — a lifesaver for many of their members. Their customers have already requested over 18,000 call-backs, and saved over 337,000 hours of hold time — that's more than 234 days — in the 90 days after lockdown began!
Positive Feedback Across the Board
It's always great when we see our product helping to alleviate real-life stress and pressure — it's great to know that it works and helps people in a tough spot.
The positive feedback Trax received has been overwhelming. Their members are delighted that they can request a call-back at a time of day that suits them.
Agents are happy because the members aren't frustrated because they can request a call-back at a time they can actually take the call — instead of spending their whole lunch on hold and not getting through.
Lessons Learned from COVID Call Spikes
We can all take the recent crisis as a learning opportunity. We'd like to double-down on the learnings that VP of Operations at Trax Credit Union, Anna Lampinen, mentioned:
You can never be too prepared
Act quickly and trust your instincts — have a plan but be prepared to tweak it
Sometimes you need a stroke of luck
There wasn't a great deal that could be done to prepare for lockdown, installing call-backs right before the crisis was incredibly lucky timing for Trax. There was an excuse to be unprepared before, but now that we've all lived through it, can we really be that ill-prepared again?
Short-term solution; long-term benefits.
Trax Credit Union turned to call-backs because they knew that their regular call spikes were harming their brand. COVID has helped that become a differentiator for them in the very competitive financial space.
Obviously many immediate benefits in dealing with increased call volume at that point. These can spin out into longer-term improvements in a lot of your key metrics, like FCR, CSat, ESat, and Service Level. Because it's priced on a usage basis, when volume subsides, they don't have to worry about overpaying.
In the long-term, it's all about reducing friction. The easier and faster a customer conversation is facilitated and resolved, the happier your customer will be — and the more they'll spend — and the more people they'll tell about your great service!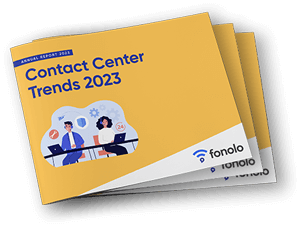 Trend Alert! Contact Center Industry Predictions for 2023
This report offers perspective on where the contact center industry stands today, plus our trend predictions for 2023.