The last few months have been a struggle for many companies, thanks to COVID-19.
Travel was particularly hard hit. With almost all flights cancelled, airline customer support departments were inundated with customers seeking refunds and cancellations. But few performed as poorly as easyJet.
Finding that they were unable to get in touch with support to cancel their flights or get information, easyJet's customers quickly turned to Twitter to vent their frustration. First, they came in a trickle…
@easyJet could someone please reply??? Spent hours on hold on the phone, in line and via Twitter and not a single reply.

— YesISaidThat (@YesISaidThat2) February 10, 2020
And then they came in a flood…
And I have been on hold for over an hour to try and find out information for them. You are putting my elderly parents at risk and causing them a lot of stress and anxiety. Shame on you @easyJet

— Olivia Davidson Millar (@livveyjd13) March 15, 2020
@easyJet been on hold for over four hours – and still can't get through. About to fly in 5 hours to an area that's just been declared a state of emergency and not sure what to do. Was offered change of flights and want to take up on this?

— Naz Mantoo (@nazmantoo) March 14, 2020
@easyJet just waited on hold for 45mins to be hung up on once I get through…..any danger of a call back?

— Daniel needham (@Needham1Daniel) February 10, 2020
Unfortunately, Daniel, we don't think there's any chance of you getting a call-back. Worse still, there's a good chance that you'll just get cut off — no matter how long you wait…
@easyJet We've been trying to get through to you since Wednesday. Several hours on hold, being cut off and no response to emails. Shocking service from a huge airline. How do I get hold of someone to talk to if you don't answer me and cut my calls off?

— SC (@seemachand1) March 14, 2020
@easyJet i was on hold with you for an hour and 40 minutes, just for the call to cut off on your end !!! this is ridiculous, i've been on hold this long twice now and still not been able to get through

— becca (@beccaswestun) March 14, 2020
What is with @easyJet hanging up on me. Ive spent a total of 8 hours on hold with them for them to end my call every single time! I need to get my flight sorted and cant get any further forward!!

— Emma?? (@EmmaJT93) March 14, 2020
The outrage on social media put easyJet under the spotlight in the UK and a number of media outlets picked up the story. Their handling of the situation was so poor that they were called out by the Civil Aviation Authority in a recent review of airline refunds during COVID.
"easyJet is one of the airlines that our review identified as not processing refund requests sufficiently quickly and as having a sizeable backlog of refund requests." – CAA, 2020
EasyJet resolved to add more staff to its call centers, open later hours, and streamline their processes to get customers refunded faster. Unfortunately, this wasn't enough. We saw a drop in complaints on onholdwith.com, but only temporarily.
The resurgence of coronavirus in several EU destinations, and the labelling of the UK as a 'high-risk' country, has put the airline back into a tailspin. Complaint numbers are back at the highs we saw in March. But this time, it's just easyJet customers complaining.
@easyJet can't take my flight tomorrow due to quarantine on France and I've just spent 2 hours on hold to see if I can cancel or reschedule but no response. Please DM me.

— James Barton (@bartagorus) August 14, 2020
@easyJet could anyone help me please. I've called 4 times over the last 2 weeks spending 6+ hours on hold. I'm awaiting a refund that should of taken 3-5 days but we're long past that now. Currently been on hold for 1 hour 20 mins and not spoken to anyone! pic.twitter.com/nO9mX4HMFK

— Tom (@toadtomj) August 18, 2020
90mins on hold with @easyJet Pretty sure the automated man has stopped telling me he's sorry anymore because he knows at this point it's blatantly obvious that he'd be lying.

— Jo Berridge (@JanaElbie) August 17, 2020
It appeared that most of the problem is easyJet's deflection tactic:
@easyJet this is a ridiculous response. Having been on hold for over an hour I think you may want to revisit this. If you cant handle incoming calls, why not make it digitally redeemable. Anyone who is opting for a voucher over a refund… DONT. You'll never get through. pic.twitter.com/IgMMMUYq8q

— Sam Rugman (@samrugman) August 14, 2020
It seems that easyJet handled this poorly at every stage. They were slow to react. Then they were slow to process the initial refunds, which left them with a backlog.
Then, they created a voucher refund process that forced customers to call them. This put unnecessary pressure on their team, and massively frustrated their customers.
As soon as European flights began getting cancelled again due to COVID, they were instantly inundated with angry customers. In the last month, easyJet has received more complaints than all the other airlines combined.
It doesn't look like things will be getting any easier for easyJet customers either: their recent closure of operations at three UK airports and the ending of several EU routes will only make things worse over the coming weeks.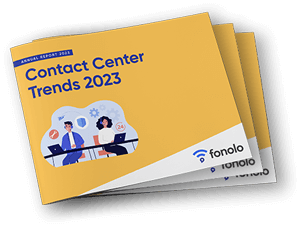 Trend Alert! Contact Center Industry Predictions for 2023
This report offers perspective on where the contact center industry stands today, plus our trend predictions for 2023.