Despite their community-conscious values and financial prudence, credit unions are struggling to win the wallets of Gen-Z because they're not meeting their expectations technologically.
It may not seem long since millennials started shaking -up the marketplace, but Gen-Z is already hot on their heels. 33% of the youngest generation have already entered the workforce, and around two-thirds already have bank accounts of some type.
33% of the workforce has already entered the workforce - are you ready for them? #gen-z #marketing Click To Tweet
Many refer to them as the 'True Generation', a reflection of their inclusiveness and egalitarian values. It appears that credit unions would be a great fit, but the numbers don't match the theory.
Gen-Z and Credit Unions Are A Great Fit
There has been much talk of Gen-Z as more socially aware, 'commune-aholics' who value diversity and inclusion. Their desire to use investing and spending to drive social change seems to be a great match for the values of most credit unions.
In addition, the personalized, localized services that credit unions are known for — down to the community branches — should also entice more Gen-Z members.
Gen-Z is far more concerned about their finances than previous generations and is looking for help to manage and understand their money. And they'll happily pay more for services that do this.
Why Gen-Z Don't Use Credit Unions
It appears that Gen-Z and credit unions are a great match. But only 19% of them use a credit union. And nearly half of them use the big banks. They say they don't 'agree' with what the 'big banks' represent but use them anyway because of the ease and availability of the services they provide. In other words, these banks make things that 'just work.'
Educating Gen-Z about your values and the social benefits of your credit union isn't enough if your technology isn't up to scratch. The ease and availability of the services offered by the big banks often outweigh any moral outrage.
If you need any further proof of that, look at the rise of P2P lending platforms and money-sharing apps. They make processes simpler and cheaper, and they've taken customers from the big banks by doing it.
Making 'Things That Just Work'
Gen-Z is a 'digital native' generation. In other words, they don't remember a time without the internet, when they couldn't solve any problem by turning to it.
That means their expectations of technology are much, much higher than previous generations. If your website or app is too slow, or too complicated, they'll simply find something simpler. Something that 'just works'.
The rise of the various new fintech apps and P2P Platforms indicates that there is a real desire to move away from the institutional banks. But unless your credit union creates technology that meets Gen-Z's expectations, you're going to struggle to win them over for good.
Here are some ways you can do that.
Make sure your contact center is fully omnichannel
Gen-Z sees your business as a single entity. They don't understand why you can't carry on the same conversation on two or more different channels.
To win Gen-Z over, your contact operations should be seamless and frictionless. Make things easy for them. #gen-z #cctr #cx Click To Tweet
Invest in making your CRM and contact center communications fully integrated, so every point of contact has access to a full member history and your agents can continue the conversation naturally.
Create a fully functioning mobile experience
Most companies that regard themselves as 'customer-centred' have been investing heavily in their mobile offerings, and with good reason: Gen-Z is a mobile-first generation.
If your mobile app has limited functions compared to your website, it'll be a huge turn-off for Gen-Z. Invest in your mobile offering now. #gen-z #cctr #cx Click To Tweet
If your mobile app has limited functionality compared to your other platforms (or worse — you don't have one!), it'll be a huge turn-off for Gen-Z. Invest in getting your mobile offering up to scratch, both in terms of product functionality and support accessibility.
Remove contact friction at all costs
Members of Gen-Z are not the shy, introverted souls that they may first appear to be. They may be quietly hunched over their screens but they're communicating all the time. And they expect you to be as ready to communicate with them as you are.
At this stage, live chat is a given. But you still need the voice channel. And if you want Gen-Z to use the voice channel, you're going to have to call them.
For the best chance of speaking with Gen-Z, you're going to have to call them. At a time they choose. So get Web Call-Backs up and running on your website. Pronto. #gen-z #ivr #cx Click To Tweet
Install a Web Call-Backs (formerly Visual IVR) on your website and app, so that when they need to speak to you, your Gen-Z customers don't need to pick up the phone and dial — because they won't.
Apple excels at removing contact friction like this. When you get to a point in their self-service where you must speak to a representative, they don't tell you to call them. They offer you the option of a live-chat conversation or a call-back.
It's simple, effective, and allows Apple to manage their call volume while maintaining the impression of a concierge service. After all, when you're selling the world's most expensive smartphone, you need to at least give the impression of a premium customer support.
Personalized Services that 'Just Work'
There's still a massive opportunity to win over Gen-Z from the big banks. They don't like them, and they're happy to switch providers to support a cause, but only if it 'just works.'
Credit unions excel at customer service and are well-known for making personal financing easier for their communities.
The key to winning the hearts and wallets of Gen-Z is to bring a detailed, personalized level of service and support into the digital realm. #gen-z # Click To Tweet
The key to winning the hearts and wallets of Gen-Z is to transfer this level of service and support into the digital realm. If you can make personal finance easier for Gen-Z AND they can support their local communities, you're bound for success.
Credit unions need to invest in upgrading their operations and technology to meet their higher expectations, otherwise, their great mission will be overshadowed by the ease and accessibility provided by the big banks.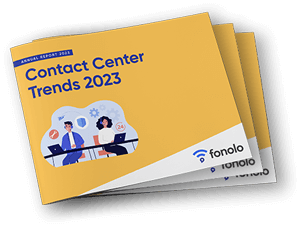 Trend Alert! Contact Center Industry Predictions for 2023
This report offers perspective on where the contact center industry stands today, plus our trend predictions for 2023.