You probably don't realize it, but your employees are losing you customers right now.
And that's because your employees don't just impact customer perception — they're the driving factor.
If you don't acknowledge this, your business will perpetually struggle. Here's how your employees affect the way customers perceive your brand.
Your Employees Heavily Impact Customer Perceptions
Billionaire entrepreneur Richard Branson once said:
"I have always believed that the way you treat your employees is the way they will treat your customers."
And we couldn't agree more.
We've probably all experienced this: an encounter with an employee that was so negative that you decide to take your business elsewhere in future. This 'moment of truth' for the customer will determine how they think and feel about your brand in future — and whether they choose to spend their money with you.
Over the last few decades, many researchers have proven this link between employee behavior and customer satisfaction and the tangible monetary cost of toxic employees.
Ways Your Employees Impact Customer Perceptions
There are dozens of daily opportunities for your employees to affect customer perceptions. And they're happening all over your business. Here are some of the top ways your employees can impact customer perceptions.
How They Resolve Conflicts
Most customer interactions start from a place of conflict; they feel that you're preventing their happiness. Your employee's ability (and desire) to resolve this conflict will affect customer satisfaction and loyalty from this point on.
Conflict resolution is a learned skill, which involves compromise. If your employees don't know how to do this or don't want to, the conflict will only escalate.
Their Approach to Solving Customer Problems
The way that your employees approach solving a customer's problems is a significant determinant of brand perception.
One of the things we love hearing from our happy customers is that we spotted a problem before they did. This is the best way to prevent damage and creates a very personal, attentive service; you make them feel special.
The best way to approach customer service is to be proactive: solve a problem before a customer notices and their respect and appreciation of your brand will get a massive boost. #CX #custserv Click To Tweet
Customers don't want to call you in the first place; they definitely don't want to call you twice. If you're proactive about solving problems, your customers will perceive you as a brand that cares and whose employees are highly competent and engaged.
Their Attitude and Manners
Your energy introduces you before you open your mouth. If your employees are rude, surly, or impolite, that's how customers will perceive your brand.
That doesn't just include the words your employees use to address customers — it's everything about how they handle themselves. It's only human nature to like people who are nice to us — and that's what all this is about.
How They Approach Upselling Opportunities
Upselling should be something that all your customer-facing employees should be doing — not just sales.
Each customer interaction is an opportunity to solve a problem and provide extra value, but too many employees view this as only another part of their' spiel.'
The best employees don't push random, irrelevant products. And they don't get irritable when the customer says, 'No.'
Teach your employees to actively listen to your customers and look for opportunities to solve problems with your products — not just push into buying regardless.
Happier Employees Make Happier Customers
One of the most prolific findings across our research was: when your employees are content, your customers will be satisfied too.
If your employees are happy, your customers will be happy too. #cx #cxtips #custserv Click To Tweet
That makes total common-sense. It's one reason why successful companies focus on the extra-curricular perks and benefits they give to employees.
Hospitality firms (think Disney or Ritz-Carlton) are masters at turning mundane customer service encounters into memorable experiences that nurture customer loyalty. And if you want your employees to help you improve customer perception of your brand, you have to start with them.
Giving your employees proper training and empowering them to solve customer's problems on their own will go a long way to help improving customer perceptions.
Even more important, though, is creating a pleasant workplace, with cheerful colleagues, where people have enough time to do their work and feel valued for it.
While it's impossible to control exactly how your employees communicate with your customers — and how they impact those customers' perceptions — the best and most efficient way to ensure that your employees are content — and happy customers will follow.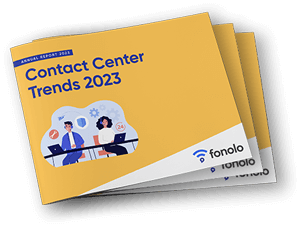 Trend Alert! Contact Center Industry Predictions for 2023
This report offers perspective on where the contact center industry stands today, plus our trend predictions for 2023.