We spent the last couple of months asking influencers and industry leaders how they thought the pandemic had impacted customer service.
Their insights were varied and detailed, but we kept hearing one word again and again: empathy. We had to listen to that.
Read the Full Industry Report Here:
The Crisis has Fostered a Sense of Empathy
A crisis drives people together, which fosters empathy. And that's the driving force behind most of this year's trends.
"I see the CX industry finding new, faster and more efficient ways to meet their customers' needs, maybe through the use of new technology, while also balancing a deeply personal, empathetic human connection."
— Shep Hyken, CS & CX Expert and NYT Bestselling Author at hyken.com
This increasing empathy will drive further change in how companies do business. And that includes placing increasing importance on employee satisfaction.
Contact Center Teams Had to be More Empathetic
This year, everybody got treated to a big helping of empathy. COVID-19 wasn't "somebody else's" problem. Nobody escaped the endless waiting times.
"Agents are responding with genuine empathy and care because they're as worried as customers about this pandemic and its impact on our lives." 
— Bill Quiseng CX Expert, Speaker & Consultant
The pandemic thrust contact centers on to the frontline. At their own risk, many agents worked long hours to ensure worried customers could reach someone. Many more suddenly found themselves offering emotional support and advice.
"Contact center agents had to up their listening and their empathy beyond what they had ever faced before.
I predict that all the leaders, managers, team leaders, and agents will look back and realize how much they grew from the empathy and compassion they gave and how it helped their customers — their fellow human beings."
— Kate Nasser, The People Skills Coach™, Author of Leading Morale, Customer Service & Leadership Consultant
Read the Full Industry Report Here:
COVID-19 Made Customers More Empathetic
CallMiner found that nearly 70% of customers said they were more empathetic and understanding of the challenges of agents and customer service departments during the pandemic. That will continue long after the risk subsides.
"Customers are savvier about health, safety, and employee treatment and will continue to be aware. They'll look for businesses that prove they are putting the health and safety of both customers and employees first.
Customers watch for ways employees are treated and how brands contribute to their communities as a basis for deciding who they do business with.
Younger generations are showing this as a primary driver for their decisions, so this trend will continue well into 2021."
— Jeannie Walters, CX Expert & Speaker, CEO of Experience Investigators
Consumer desires drive profitability. So, when they change, management tends to take notice. The companies that adapt the fastest will reap the benefits of improving their customer and employee experiences.
A More Empathetic Contact Center Should Be Our Goal
Contact centers will need to work hard to nurture this empathy — it won't 'just happen.' It will involve a concerted effort to listen to the customer and design experienced with their needs first – not the company's needs.
"Empathy will continue to play a larger role in interactions going forward.
While self-service channels and bots can handle basic inquiries and transactions, agents will increasingly deal with more complex issues and questions. In these situations, customers are looking for empathy and a sympathetic ear.
This will require a change in metrics and KPIs, as these calls and interactions will take longer, and metrics like Average Handle Time will give way to KPIs such as customer sat, NPS, FCR, etc."
— Blair Pleasant, Contact Center Industry Analyst & Consultant at BCStrategies
If your business is going to survive this global crisis, you must build customer experiences that engage empathetically. That will require a disciplined approach to designing and delivering customer journeys that foster empathy.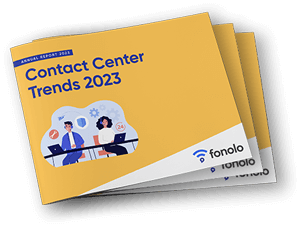 Trend Alert! Contact Center Industry Predictions for 2023
This report offers perspective on where the contact center industry stands today, plus our trend predictions for 2023.