Dangling calls,
Queues are stalled.
What's taking you so long?
I just want to know why you
have got my order wrong.
Hour two,
why have you
abandoned my concerns?
Why am I still wasting time?
When will they ever learn?
Dashing through the day
With my phone stuck to my ear
Endless songs on loop
I pray the end is near
I just want support
For the product that I bought
I wanna shout into the phone
"Can you help me out or not??"
Still in queue.
Waits ensue.
There goes my goddamn day.
Why am I still stuck on hold?
Isn't there another way?
Why am I
still on the line?
Is this 1958?
I'm hanging up – yes, I give up.
Just call me back, okay??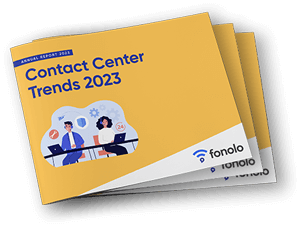 Trend Alert! Contact Center Industry Predictions for 2023
This report offers perspective on where the contact center industry stands today, plus our trend predictions for 2023.