AI has been making a relentless assault on the contact center for several years. But it wasn't until 2020 that its true role became clear. And — it's not quite what you'd expect.
Read All the Contact Center Trends Here:
Contact Center Execs Had Been 'Back-Burnering' Upgrades
Artificial intelligence has been around for a while now, but many contact centers have yet to integrate it. On top of that, many were also pushing back on hardware and core stack upgrades.
"I was surprised by how many call centers were unprepared for the move to work from home. I don't want to make light of a difficult situation, but all the managers and executives who had for years pushed back on moving to the cloud found themselves in a really tough place."
— Thomas Laird, CEO, Expivia
The expense — in both time and resources — meant that upgrades were kicked to the curb or filed under, 'fix when broken.' Lockdown broke everything. 2020 was 'the curb.' And it had many contact center managers wishing they'd invested sooner.
Lockdown Precipitated Rapid Development
The rapid move to remote work how unprepared contact centers were for the future — even though they should have been.
Suddenly, experimenting with new technology wasn't an obstacle; it was a life-saver. Rapid technological updates were forced upon execs like never before.
The long lines and endless hold times showed contact center managers that they needed to find better, more efficient ways to deliver customer support — fully opened executives' eyes to finding a solution. And let's be clear: the solution isn't fobbing customers off with clunky bots.
"Contact centers must understand that the omnichannel experience is important and AI is a part of the equation. But businesses that believe they are fooling customers with AI are kidding themselves. It is the quality of the entire service experience, not just the technology, that will define a customer's perception of an organization."
— Tony Johnson, CX Leader, Author, Speaker Founder at Ignite Your Service
COVID Demonstrated the Importance of Human Connection
People want a human connection, and when they're looking for help with something quickly, they're just going to reach out to a human straight away, especially when they're already anxious.
Read All the Contact Center Trends Here:
The endless waiting times demonstrated how unprepared most contact centers were to service their customers when they really needed help. And that's when the real role of AI in the contact center became clear.
"AI is bridging the gap in efficiency, keep everyone connected remotely, and providing real-time support for customer service agents and the managers who monitor and evaluate call quality data."
— Rana Gujral, CEO of Behavioural Signals
The True Role is to Bridge the Gap
RPA & AI undeniably has a role in the contact center. But it should be clear by now that AI technology can't replace human interaction. But it can facilitate and enhance it.
We can — and should — be using AI for certain things:
Understanding our data so we can be more proactive in solving customer issues
Optimizing our back-end operations to remove friction and improve accessibility
Providing customers with smarter self-service
Facilitating better service by providing agents with better data during conversations
"AI-powered applications help contact center staff work more efficiently by auto-transcribing and analyzing conversations to serve up contextual answers to help agents resolve a customer's request faster will be a growing trend. The lasting impact is going to be a new bar of customer service that surpasses pre-COVID benchmarks, which is great news for customers!"
— Amit Unadkat, Manager – Digital Transformation, Logic 2020
The Future of AI in the Contact Center
We must use AI technology to help customers solve simple queries themselves and contact the right person when they need to – not create a barrier to contact.
Businesses at the top of their game will use AI to anticipate a customer's needs before they do. And then perhaps offer to have an agent reach out to them. Later, AI will be there behind the scenes, equipping the support agent with the information they need to help that customer as much as possible during the interaction.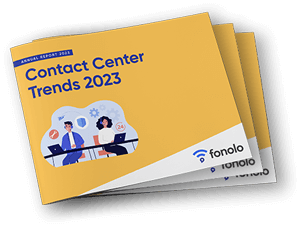 Trend Alert! Contact Center Industry Predictions for 2023
This report offers perspective on where the contact center industry stands today, plus our trend predictions for 2023.