If you thought you could automate the voice channel out of the contact center, you've got another thing coming.
The present and future of the contact center is voice. Ignore this advice at your (CSAT rating's) peril.
Discover all the latest contact center trends:
For many years, tech companies waged war on the lowly telephone contact agent. And for a while, it looked like they would win. But this year, contact center executives were shown just how crucial the voice channel is in a digital world.
The Voice Channel is a Crucial Connection in a Virtual World
As millions of people transitioned to sheltering-in-place, many picked up the phone to reach out for customer support. Those that had pushed it to the sidelines suffered the most.
Average hold times shot up to days — and sometimes weeks — as millions picked up the phone to ask, "Where the hell is my toilet paper delivery?" "Is my flight really canceled?" and other critical lockdown-related issues.
One trend we expect to see blossom over the next five years is the (re)growth of audio channels. And the return of the voice channel in a big way.
That's in stark contrast to our prediction that SMS usage would grow in 2020. But there's a good reason for that.
Why RCS Text Messaging Didn't Explode in 2020
It made sense that adding rich media to SMS would increase their utility. But the rollout has been all but forgotten in the last 12 months. And we suspect that it will never quite land.
We missed two major influences last year:
1. TELCOs are getting 'FAANGed'
First, Facebook, Apple, and Google are (quietly) at war with the TELCOs. They have no reason to let users leave their ecosystems and return to the incumbent communications giants of yesteryear. This battle between TELCOs & FAAANG will delay and limit the effectiveness of RCS rollouts.
2. Texting takes a lot of effort/attention
Second, we've noticed an increase in the use of recorded voice messages (via WhatsApp, iMessage, etc).
Discover all the latest trends:
This makes a lot of sense: It's easier and quicker—and has more bandwidth—than a text message. And that's part of the larger trend towards audio channels.
Audio Media is back BIG TIME
Did you know that the radio is the next big thing? It sounds crazy, but the media channel that started it all is back in vogue. Don't believe me? What's your favorite podcast?
The podcasting industry topped $1billion in 2020 and is still growing around 20% a year. And that's not counting audiobooks or listening to YouTube videos in the background.
Besides the personal voice-recording we mentioned earlier, audio-only social media is making a splash this year. There are already dozens of audio-first social platforms (Audlist, HearMeOut, Listen, Riffr, Clubhouse, QuarantineChat, Rodeo, Chalk, Cappuccino, Clyp). And that's just the ones we've heard about.
As voice-enabled technology improves and text-to-voice rendering gets more human, the audio channel will regain its place at the head of the media family's table. #cctr #cctrtrends #voicechannel Click To Tweet
The sister of Snapchat's founder has even launched an audio-porn site. And we all know that once porn gets on a platform, that platform usually takes off pretty quickly.
As voice-enabled technology and devices improve, and text-to-voice rendering gets more human, the audio channel will regain its place at the head of the media family's table.
A Voice is the Human Connection People Crave
The other place we will see a return to voice is the contact center.
Email, bots, social media, and live chat all have their place in the experience hub of the future. They're cheaper than voice and often all that a user wants. But it's dangerous to delude ourselves into thinking that we can replace the voice channel altogether.
Discover all the latest trends:
A phone call doesn't require as much attention; You can do something else at the same time. I can't count the number of times I've forgotten I was waiting for a response on a live chat and got cut off, only to have to start again. Sometimes, I would just call them instead of going through the live chat process.
Finally, lockdown showed that people want a human connection — all the companies that tried to 'bot' people out suffered big time. There's no substitute for a human voice when you have a complicated problem.
In an increasingly digital world, humans will continue to seek out a human connection. And the companies that embrace this — instead of rebuffing it — will reap the benefits in the next year.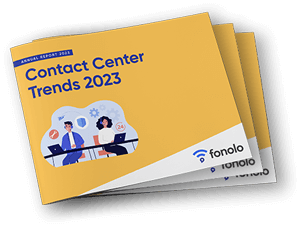 Trend Alert! Contact Center Industry Predictions for 2023
This report offers perspective on where the contact center industry stands today, plus our trend predictions for 2023.