Virtual queuing and automated call-backs may seem like new technology, but companies have just been holding out on you. Virtual queuing technology has a long history.
Before there were call-backs and virtual queueing, companies just picked up the phone when you called. That was all a long time ago, and it didn't last very long. Let's start at the beginning of hold time.
Virtual Queuing has a Long History
Back in the 50s, when companies started to receive more calls than their immediate staff could handle, somebody launched the first call center. Who? We'll never know — it's lost in the mists of time.
The first call center tech was analog wires. The circuitry was based on the same tech as air traffic control systems but converted to manage customer flow. As this was all relatively new technology, people had no idea what high call volume looked like or what to do with it.
The First Person Who Was Put on Hold
In the early days of the telephone, being put on hold was something brief that a sweet-sounding operator did while connecting you to the person you wanted to call. But it wasn't too long before companies started to use it as an overflow when call demand couldn't be met.
We don't know the first person who was kept waiting on hold, but you can bet they were pretty annoyed.
Virtual Hold Technology Creates First Virtual Queuing Solution
Waiting on hold was something that people just learned to live with. But as technology improved, call center managers began to look for a solution to reduce hold time.
Who was the first call center system or software provider to offer virtual queuing? We're not entirely sure, but Virtual Hold Technology (VHT) was there at the fore, with the first in-house virtual queuing call center solutions. The benefits of virtual queuing were obvious to some, but it would take some time to demonstrate its power to increase customer satisfaction.
VHT Sues Genesys for Infringing on its Virtual Queuing Technology
After VHT had built their business for a few years and acquired several patents for their technology, other call center platform providers started to take notice — and create their own products to compete with virtual hold.
We don't know the first person who was kept waiting on hold, but you can bet they were pretty annoyed. #virtualqueuing #callbacks #cctr Click To Tweet
One major player, Genesys, flew a little bit close to the sun and created a system that was remarkably similar to VHT's virtual queuing solution. It wasn't long before VHT said, "Hold on a minute," and sued them for patent infringement. Not prepared to back down, Genesys quickly counter-sued. A prolonged legal battle ensued.
Fonolo Creates Cloud-Based Call-Back Solution
Fonolo's call-back solution moved virtual queuing technology into the new 'Web 2.0' era around 2010. It improved on the existing service pioneered by Virtual Hold and made it faster, smarter, and more effective at solving real problems like managing call volume spikes in real-time.
Fonolo introduced a completely new way to add functionality to an existing call center: A cloud-based platform-agnostic approach that is easy and quick to deploy.
Fonolo Secures Major Corporate Contracts and Begins Sustained Growth
Despite being a relatively late entrant to the game, Fonolo has rapidly expanded its service due to the quality of its cloud-based virtual queuing solution and premium-level customer care.
Securing partnerships with major legacy call center platforms, such as Avaya, demonstrates the usability and cost-effectiveness of our call-back solution.
VHT Wins On-Going Lawsuit
After many months, VHT emerged as the victor of their lawsuit with Genesys, securing a considerable affiliate agreement with Genesys as compensation. Genesys would resell Virtual Hold instead of their own virtual queuing product, allowing VHT to tap into their vast network of enterprise customers. That agreement ended a couple of years ago.
In a recent plot twist: the VHT founder made an exit, making way for the incoming CEO —  the former CEO of Genesys, who was on both sides of the table during their lawsuit. All's well that ends well, as they say.
Fonolo Continues to Pioneer Technology in the Space
Fonolo has spent the last decade establishing itself as a leading call-back provider. Our virtual queuing expertise continues to grow, as we take on more Fortune 1000 clients and expand our product offerings and certified patents.
Virtual Hold Technology and Fonolo Rebrand product lines
In a strange stroke of coincidence, both VHT and Fonolo rebranded and renamed their product offerings in early 2020.
VHT's new 'Mindful' product appears to move away from call-backs and virtual queuing and compete as a more holistic call center management platform, including SMS services. The new product design and branding bring their software into the new age with aplomb.
Fonolo's rebrand focused on updating its image and website platforms while doubling down by giving our popular call-back offerings clearer names. We believe that our specialization and premium customer care is how we best serve our customers.
Fonolo continues to expand services to enterprise brands and local institutions, thanks to its unique and highly-effective intelligent virtual queuing management systems.
A Hold-Time Free Future is Close
One positive of the pandemic has been the realization by many execs that their call center technology fails their customers. There are better and easier ways to deal with high call volume, and we're now starting to see brands take notice of this.
We hope a future free of excessive hold time is ahead, and we aim to continue to forge the path to it.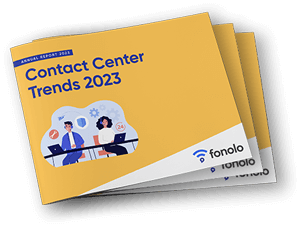 Trend Alert! Contact Center Industry Predictions for 2023
This report offers perspective on where the contact center industry stands today, plus our trend predictions for 2023.