Fostering an inclusive work environment is essential if you want a high-performing contact center team.
If you haven't been paying attention, agent attrition has continued to rise, according to our State of the Contact Center 2020 report. And high turnover rates won't just hit you in the wallet — it also impacts morale, which will affect any new hires.
This is why fostering a culture of inclusion, especially today when contact center workers are on the front lines of your business supporting your customers. By creating an environment where your agents feel appreciated, valued, and accepted, you set your team up for success even before they hit the phone lines.
1. Hire agents who demonstrate empathy
Empathy has been a hot topic in the contact center industry this past year. And for good reason — agents who demonstrate this quality are more successful in customer service roles and are great for fostering a positive and inclusive work environment.
When hiring, it's important to look beyond the job qualifications and look at their soft skills and personality. Ensure they align with your business' values, especially when it comes to diversity and inclusion. 
2. Train your leaders appropriately
You can't create an inclusive work environment if you don't have leaders willing to emulate those ideals. Better training for agents and leaders will be a big contact center trend in 2021 and beyond.
That's why it's crucial to provide additional training to those in leadership positions so they can demonstrate and speak to these inclusive practices. That will set the tone for new hires and sway existing team members in the right direction.
TIP:
Be as flexible as possible when providing training, and encourage your agents to share what they need from you to succeed. Not everyone will benefit from the same training tactics!
3. Vary your training styles
Training isn't a one-size-fits-all kind of deal. All individuals learn at different paces and in different ways. Don't just expect them to read from the training manual and be ready to hit the ground running. 
Offer a variety of sessions and materials that include roleplay, one-on-one coaching, and even quick tips and one-pagers. That will allow your agents to absorb the information more effectively and approach their role with confidence.
4. Provide sensitivity training
Your agents likely come from all walks of life, bringing unique and diverse experiences. However, it's essential to prepare them for customer engagements they might not have as much experience dealing with.
By providing regular sensitivity training, you can arm your team with the knowledge or tools they need to support your customers of all abilities, genders, cultures, and more with respect and understanding. 
FACT:
Language can be a huge barrier for customers. In the UK, approximately 40% of contact centres have started to support languages other than English. – WhosOn
5. Empower your frontline workers
Day after day, your agents connect with your customers and get real-time information making them valuable knowledge sources. The last thing you should do is dismiss their opinions! 
Create opportunities for agents to voice their suggestions and concerns. One great way to do this is to form committees and groups within your organization. But remember: agent empowerment only works if leadership listens and follows through on their feedback. So be prepared to listen and take action!
6. Offer support proactively
Often, individuals who require additional support and accommodations are expected to submit a request to management. However, by putting the burden on your employees, you convey that their accommodations are just more work for leadership.
Instead, train your leaders to be observant and offer support proactively in a sensitive manner. That may be as simple as saying, "I noticed you're having some trouble with X; what can I do to help make your work easier?" This question not only shows their willingness to go the extra mile but also alleviates any hesitation they might have had about requesting accommodations. 
TIP:
Encourage your agents to take the initiative and start their own groups to reflect diversity and inclusion in your workplace — for instance, a diversity and inclusion committee or an LGBTQA+ committee.
7. Alleviate key stressors
It's no secret that working at a call center can be stressful. Suppose your business is committed to providing an exceptional work experience for its agents. In that case, it's worth it to identify common stressors and find solutions to ease the burden off your agents.
One of the most common issues is high call volume, which can often happen unexpectedly! Consider adopting call-back technology, which defers less urgent queries to a later time so your agents can focus on serving the customers who need them most.
8. Create a nurturing work environment
Many contact centers boast competitive cultures, which makes sense, considering they often align success with goals and sales targets. With that said, it is still possible to create a nurturing culture.
Your business can do this by outlining measures of success other than sales, revenue, and KPIs. Start acknowledging agents who deliver exceptional service, solve challenging customer issues with patience, and support their fellow agents.
9. Practice what you preach
Of course, the above tips will do you no good if your business doesn't follow through. If your agents feel that this is all just a charade from management, not much will change. 
Shifting to an inclusive culture can be challenging, but it's absolutely worth it if you want to maintain agent satisfaction while providing exceptional support to your customers!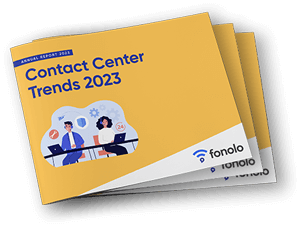 Trend Alert! Contact Center Industry Predictions for 2023
This report offers perspective on where the contact center industry stands today, plus our trend predictions for 2023.