Looking for a secret weapon to improve customer perception? Chances are, you already have one in your arsenal.
An unsung hero of the contact center, managers are typically known for overseeing daily operations. However, these individuals hold a lot of value and knowledge by virtue of their position, and often, their resources remain untapped and underutilized.
So how can contact center managers help your business shine in the eyes of your customers? We have some fascinating insights — read on!
FACT:
'Customer perception' is a term used to describe a consumer or a group of consumers' thoughts and feelings about a company. It's the beliefs and opinions that people hold about your business.
Why can contact center managers influence customer perception??
You may be thinking, "why contact center managers?" After all, they're not typically the primary decision-makers when it comes to strategy and operations.
However, managers hold a unique position within the contact center. They work closely with agents and keep a close eye on the ground while still maintaining a leadership role. In other words, they act as a bridge, relaying critical information and insights on customer interactions to those in executive positions, all while keeping tabs on any challenges that agents run into on a daily.
This information is essential when managing customer perception. By empowering your manager and providing them with the right training and tools, they can become your number one resource for improving customer experiences and processes.
The importance of 'informal authority'
So, if contact center managers are so influential, why is your customer perception rating so low? Unsurprisingly, not all managers have the skills and knowledge to impact customer impressions, especially if they weren't hired with that function in mind.
Managers who demonstrate 'informal authority' are best suited for these types of goals. They are more than just collaborators or team-oriented individuals — they are also adept at providing structure for team members and clients, resulting in higher productivity and healthier relationships.
FACT:
Informal authority refers to "the ability to inspire team members to want to play on your team and win, even if they do not functionally report to you."  Source: Revenue River
Tips to Help Managers Influence Customer Perceptions
Informal authority can be applied by managers in many ways to boost customer perception in the contact center. Here are just a few techniques for your team to try:
1. Set and adhere to company values
If your business prioritizes customer satisfaction and excellent service, make it known. Then follow through — your company values should resonate through all communications, decisions, and actions. If your agents buy into this culture, your customers will too.
If your business prioritizes customer satisfaction and excellent service, make it known. Then follow through. #custserv #cx Click To Tweet
2. Consistent communication
Messaging mix-ups happen, and they're not the end of the world. But for a customer, it can come off as inauthentic and shady. Managers should take steps to ensure that their agents are on the same page as leadership and clarify any issues before giving directions.
3. Adopt new tools and tactics
There's nothing worse than a business that refuses to change with the times. Today's customers are no longer content with navigating confusing processes or waiting on hold. Managers know the challenges their customers and agents face and can make valuable recommendations for improving the contact center experience!
4. Agent feedback
The best managers are the ones that validate their team members. By listening to their concerns and feedback and taking appropriate action, they play an essential role in retaining the agents who are committed to providing a top customer experience while encouraging others to follow their lead.
5. Align with marketing efforts
Customer perception is typically seen as a marketing issue, but that doesn't mean that your contact center has no role to play. In fact, by connecting with your marketing team, you can ensure that messaging is aligned when your agents connect with your customers, creating a more cohesive and consistent experience.
The best call center managers validate their team members by listening to their concerns and taking appropriate action. They play an essential role in keeping agents who are committed to providing a great service. #cx #cctr Click To Tweet
6. Encourage empathy
When aiming for sales targets and other KPIs, it's common for agents to forget about the job's customer service portion. Managers who can motivate agents to reach their goals while still prioritizing empathy are extremely valuable, as this will undoubtedly create a positive impact for their customers.
7. Engage with integrity
Honesty and transparency are huge factors when it comes to brand perception. Recognizing and rewarding agents who go out of their way to provide excellent service can help cultivate a culture of integrity, which will pay off in the long run.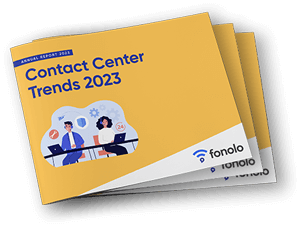 Trend Alert! Contact Center Industry Predictions for 2023
This report offers perspective on where the contact center industry stands today, plus our trend predictions for 2023.