This blog will give you a brief overview of all the virtual hold competitors.
Virtual Hold is the name of VHT's original virtual queuing software. Virtual Hold Technology is the grandad of virtual queuing and helped pioneer virtual queue management for the call center.
Genesys Virtual Hold Competitor
Genesys Virtual Queuing
Genesys virtual queuing is called Virtual Queuing, one of the original competitors to VHT's Virtual Hold product. So competitive that VHT sued them, and then Genesys sued them back; it was a whole thing. But that's all water under the bridge, and everyone is friends again.
Avaya Virtual Hold Competitor
Avaya Callback Assist
Avaya's virtual hold-type product is called "Callback Assist." It's come a long way from the early days and comes with an estimated wait time option before the callback offer message. We're pleased to see they also now offer conversation scheduling.
You may be interested to learn that Fonolo has Avaya-approved documentation. We're a paid add-on product with more data and reliability — and a team dedicated to helping you use them most effectively.
Cisco Virtual Hold Competitor
Cisco Courtesy Callback
Cisco's virtual hold competitor is called 'Courtesy Callback,' and it's sufficient for a free add-on, most of the time. After trying out CISCO call-backs, several of our customers have returned to us because they often fail under high-volume.
NICE's Virtual Hold Technology competitor
NICE Automatic Callback
NICE is one of the world's largest cloud-based contact center platforms. Their software comes with a virtual queuing functionality they call "Automatic Callback." NICE software is, and customers are a combination of companies they've bought over time, but Fonolo's solution works with them all.
Five9's Virtual Hold competitor
Five9 is another leading cloud-contact center platform, with a pretty good call-back feature. Their forum covers pretty much everything, and you get a lot of data with it. They don't have a unique name for it, but most Five9 customers are happy with the built-in offering from our experience.
Talkdesk's Virtual Hold competitor
Click-to-Call
Talkdesk is the final cloud contact center technology we're covering today. Their software comes with a virtual queuing solution, the same 'click-to-call' functionality as many other platforms (including Fonolo). They also have an 'intelligent queue' feature, where you can prioritize callers.
Fonolo's Voice Hold Technology competitor
Voice Call-Backs
Fonolo is one of the few call-back software specialists. Our voice call-back solution works with every contact center platform securely, and we've even got full Avaya-certified developer documentation.
Our advanced cloud-based call-backs and dedicated team will help you install and use call-backs to their full effect. Companies come to us when a built-in virtual hold competitor breaks under pressure or doesn't provide the data or feedback needed.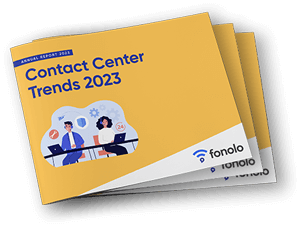 Trend Alert! Contact Center Industry Predictions for 2023
This report offers perspective on where the contact center industry stands today, plus our trend predictions for 2023.