This blog is for contact center industry newbies. It's a quick rundown of call centers and how contact center technology has developed over the last 70 years.
What does call center technology mean?
Call center technology refers to a vast range of software and hardware used to run the modern call center. That includes the front-end software that call center agents use to respond to serve customers and find answers. But it also consists of a vast array of underlying TELCO and networking infrastructure that we barely ever get to see or hear about.
And that type of call center technology has a fascinating history, which starts in an air traffic control tower…but we'll try and keep it short.
A Short History of Call Center Technology
Pre-1950, nobody had ever been left on hold for more than the time it took for an operator to say, 'Hold please' and connect them physically to the person they wished to speak to.
The First ACD Came from Air Traffic Control
But in the mid-1950s, all that changed. Some brilliant blokes — likely based in Birmingham, England — hacked the Air Traffic Control systems of the time to create the first Automatic Call Distributor (ACD). At the time, less than half of households didn't own a phone, so nobody cared.
Call Centers Start to Appear
Much later, the Birmingham Press and Mail launched the first call center in the world to handle incoming customer enquiries. Still, only about 60% of people even had a phone, so many businesses were skeptical of this new-fangled way of talking to customers and shunned it in droves.
The technology that allowed this transition was called 'Private Automated Business Exchanges (PABX), which were essentially smarter, more complicated ACDs.
The Dawn of the Toll-Free Telephone Number
Shortly after the first call centers started to pop up, AT&T created 1-800 'toll-free' numbers (1967).
That opened the door to various marketing opportunities and legitimized the practice of providing customer support over the phone.
Call Centers Become All Too Commonplace
In the early 1970s, Lloyd's Bank — the largest retail bank in the UK — opened a call center to handle balance inquiries and other simple complaints. They also found that it was a fabulous (very profitable) way to reach potential customers. The age of the pesky sales caller was born. Later in that decade, IVR (Interactive Voice Response) technology was first rolled out into call centers.
First Voice-Over-Internet-Protocols Established
The 80s were — for everyone involved — a blur of innovation and expansion for the contact center world. That also meant that hold-time became a popular way to defer annoyed customers, and outbound call center reps earned a bad reputation. Call center technology progressed incrementally but slowly.
In the early 90s, a strange new form of communication began to grow in popularity: the internet. With it, a new era of voice communication tech began, with the inception of voice over internet protocols — enabling the digitalization of voice.
One of the critical technologies that lead the charge was BT's Digital Access Signalling System 2 (DASS II), which laid the groundwork for modern telco including  many of today's PTSN and SIP technology.
First Virtual Queuing Technology
Later in the 90s, just before the tech bubble popped, the first virtual queuing solutions began to appear. Considering the ubiquitous and frustrating nature of long hold times, virtual queuing hit the scene with surprisingly little fanfare or adoption by the larger players. The message from many corporate players was simple: it's cheaper to leave them on hold.
Most Call Center Technology Runs on Amazon
As we ripped into the new Millenium, it became clear that the internet and digital technology would quickly become the standard in call centers.
And one very familiar name entered the space (through the back door). Not content with supplying you with cheap electronics, books, workout equipment, and organic quinoa, Amazon also supports most cloud-based contact center software today.
Fonolo Births the Cloud-Based Call-Back
At this point — around 2009 — call center technology was slowly moving to the cloud.
The year before Twilio had launched, it became clear (to innovators) that the AWS Twilio stack was the call center's future. Those pioneers included our founders: Shai Berger, Jason Bigue, and Mike Pultz.
After a short iteration as a consumer-based service, Foncloud (as we were known at the time) pivoted to providing a novel cloud-based call-back solution for contact centers.
Today, most contact centers run on a combination of Twilio and AWS. And even the old in-house legacy systems are slowly moving to the cloud and turning to AWS for help. This changeover was anticipated to be slow but inevitable. Up until March 17th, 2020.
The Great Contact Center Diaspora
We knew that cloud-contact centers were inevitable, but we didn't anticipate the switch to happen quite so fast. But the coronavirus pandemic of 2020-21 forced contact centers to upgrade their technology stacks to make them more flexible and resilient. The days of the single physical location are probably gone for all but the smallest call centers.
The Future of Contact Center Technology
The conditions brought on by the pandemic have fostered rapid change in call center security. Burgeoning AI tech is developing at an astounding pace. Data security and information privacy concerns will bring about many new protocols for backend call center tech, as well as many new features to help customers and agents get the answers they want as quickly and efficiently as possible.
The future of call center technology is most definitely ahead!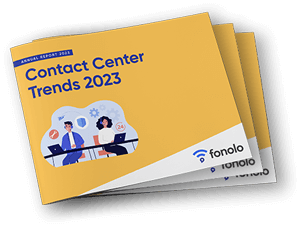 Trend Alert! Contact Center Industry Predictions for 2023
This report offers perspective on where the contact center industry stands today, plus our trend predictions for 2023.