We've all heard about customer satisfaction. But have you considered the impact of your agent satisfaction?
It's more important than ever to pay attention to your staff and motivate them on the daily. Yet less than 30% of contact centers track this metric, despite its direct impact on standard industry KPIs.
If you don't know the state of your agents' satisfaction levels, it can be difficult to create positive change. Satisfaction surveys are one of the best ways to gain insight into how you can improve your employee experience. This is one area of your business you don't want to ignore — read to find out how you can create your own!
Agent satisfaction is tied directly to other important KPIs in the contact center, including agent attrition and CSat. #CCTR #CSat
Click To Tweet
Why should you measure agent satisfaction?
Agent satisfaction is tied directly to other important KPIs in the contact center, including agent attrition and CSat.
The connection between agent attrition and agent satisfaction is obvious — the happier your agents are in their work, the less likely they are to leave your team. Replacing and training your employees is costly, so their satisfaction ties directly to your bottom line.
CSat, or customer satisfaction, is also impacted by your agent satisfaction. After all, these individuals are the first point of contact for callers and set the tone for their experience. If your agents are happy, they'll pass on those positive vibes to your customers.
How do I measure agent satisfaction?
How does one quantify their employees' experience? While tricky, agent satisfaction surveys can help you come close.
Before you measure anything, consider the information you want to learn about. You can use other KPIs to guide your goals — for instance, if your agent attrition levels are high, you may want to focus your efforts on isolating any factors that might be having an impact.
Once you have your areas of focus, you can begin building your agent satisfaction survey!
Structuring your agent satisfaction survey.
First, some quick basics.
Surveys are typically made up of two types of data. Quantitative data is made up of responses that can be expressed as a number value, while qualitative data is comprised of more subjective responses.
Ask your agents to rate the quality of training they received upon hire from 1-10 and you'll get a quantitative answer. Ask them to share what they liked and didn't like about the training process, and you will get a qualitative answer. Both types of data are essential for forming well-rounded insights into your agent satisfaction levels.
When structuring your agent satisfaction survey, consider the type of response you want to receive for each question you ask. You will get different information if your agents answer a multiple-choice question versus a short answer. Think of your areas of focus and consider the type of data that will be most valuable to you.
Important questions to ask in your survey.
Putting together your questions can be a bit daunting the first time around. The questions you select and the way you present them can directly impact the quality of the answers you receive from your staff. To guide you, here are some suggested topics:
Daily work.
This is a good place to start for any agent satisfaction survey. While you may have a sense of the daily operations in your call center, understanding the experience from your agents' perspective can help you identify the highlights of their job, as well as areas for improvement.
Consider asking these questions:
How would you rate your enjoyment of your daily work?
What would make your daily work experience better?
Do you have the tools and resources you need to provide excellent customer service?
Work-life balance.
When agent satisfaction is left unaddressed, agent burnout comes into play. This is a huge factor in contact center attrition rates, so it's in management's best interest to support their staff's well-being. A survey is a great opportunity to explore this.
Consider asking these questions:
Do you feel your shift schedule allows you to maintain strong work-life balance?
Have there been instances where you feel overwhelmed or overworked?
How would you rate management's efforts to support your mental health and general wellness?
Learning and growth opportunities.
When it comes to work, today's professionals aren't satisfied with a paycheck and a regular shift schedule. They are increasingly looking for learning opportunities so they can develop their careers, and they will prioritize working for business that provide them with those opportunities.
Consider asking these questions:
How would you rate the quality of training you received?
Do you feel you would benefit from a mentoring or coaching program?
Do you see yourself advancing your career with our business? Why or why not?
Perception of management.
Work politics can be tricky, and employees don't always feel they have a safe space where they can voice their opinions. Surveys are less intimidating than face-to-face conversations, so it's a good opportunity for you to understand how management is perceived by your agents.
Consider asking these questions:
Do you feel management considers customer service a top priority?
Do you feel supported and empowered by management to do your best at work?
How would you rate your working relationship with your supervisor?
How they perceive their value to the business.
Do your agents feel valued by management, or do they feel disposable? Intentions often get lost in translation, so it's important to understand how your agents feel about their contributions. If they don't feel valued, they won't hesitate to jump ship when given the chance.
Consider asking these questions:
Do you feel your daily work makes a direct impact on the company? Why or why not?
Do you typically receive positive feedback from your supervisors when you perform well?
How would you rate the value of your role to our business?
Once you gather the results of your agent satisfaction survey, take the time to read each response and identify trends that correlate with your original areas of focus. You may find some insightful knowledge that can help you improve the employee experience for your call center. Good luck!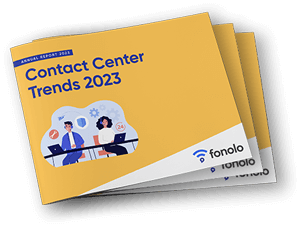 Trend Alert! Contact Center Industry Predictions for 2023
This report offers perspective on where the contact center industry stands today, plus our trend predictions for 2023.