Contact center reporting can be stressful for even the most seasoned managers and directors.
Even with modern technology, it's still impossible to predict call volumes and customer demand with full accuracy. But when your team's performance is being evaluated based on cold hard metrics, it can be downright nerve-wracking to explain the numbers to upper management.
The good news is, we have some great tactics you can use to boost your KPIs. Have a look!
First Contact Resolution (FCR)
FCR indicates the percentage of customers who had their issue resolved in the first engagement. The higher your FCR, the more efficient your contact center is at helping your customers.
DID YOU KNOW?
The average call center has an FCR of 72%. – SQM Group
This metric is one of the most common industry KPIs, as it also indicates the percentage of customers who need to reach out multiple times to resolve a problem.
Here are a few ways you can boost your FCR:
Provide additional training.
Often, customer issues take more than one interaction to solve because of knowledge gaps. They may end up asking the customer to call back or transferring them to someone else in hopes that they are better equipped to deal with their problem. By providing regular training, you can keep your agents in the know and empower them to better serve your customers.
Review your processes.
Is your IVR optimized to direct your customers to the correct agent for support? Consider reviewing frequent questions your contact center receives and ensure that there are clear and appropriate channels for your customers to navigate.
Prioritize FCR over AHT.
Many contact centers will track Average Handle Time, or AHT, as a performance metric for agents. The problem is, if agents are concerned about spending too much time on a single interaction, they will end up rushing process and increasing the likelihood of the customer reaching out again with the same issue. By creating a culture that focuses on higher quality customer interactions, you can increase FCR and save your team valuable time down the road.
Abandonment Rate
Here's another popular KPI in contact centers. An abandoned call is one where the caller hangs up before reaching an agent.
Nine times out of ten, abandoned calls are caused by long hold times. This can affect other metrics, such as FCR, since a customer will often need to reach out later to resolve their issue.
Here are a few ways you can lower your abandonment rate:
Smarter staffing.
By forecasting your call volumes, you can hire more staff or schedule agents strategically to ensure you have enough reps to handle customer demand. While this is one of the most straightforward ways to address abandon rates, keep in mind that it's impossible to anticipate call spikes with 100% accuracy.
Review your IVR messaging.
If your customers can't avoid the call queue, the next best thing you can do is ease their frustration. Communication is key — review your IVR messaging to inform callers that you are experiencing longer than normal hold times. Providing estimated hold times help with this as well. If they know what to expect, the chances of them staying on the line will increase.
Offer your customers a call-back.
Call-back technology is one of the most popular methods for reducing abandonment rate because it eliminates the customer's need to wait on hold completely! Simply offer the caller the option to receive a call-back. The software will wait in queue on their behalf as they go about their day and will automatically connect them to an available agent!
Occupancy Rate
If you want to measure the efficiency of your staff, Occupancy Rate is a great indicator. This percentage indicates the amount of time your agents spend performing call-related tasks versus waiting for calls (idle time).
A high occupancy rate is ideal, but realistically it shouldn't go higher than 85-90% (your agents need time to breathe between calls!).
Here are a few ways you can increase your occupancy rate:
Avoid overstaffing.
Overstaffing can be just as harmful to your contact center as understaffing. Monitor your call volumes and understand the trends so you can schedule the right number of agents. We don't want agents sitting around waiting for the phone to ring.
Utilize agents during quiet times.
Having a slow day? Consider having your agents focus on other tasks, such as outbound calls or other secondary responsibilities during quiet periods. This ensures they remain productive even when there are no customers to assist.
Manage agent wellness.
Productivity isn't always about having work to do. It's also about making sure your agents are motivated and able to focus on their tasks at hand. After all, if they're experiencing burnout, no number of protocols will change their efficiency levels.
Customer Satisfaction (CSat) Score
Finally, we reach the heart of the contact center: customer satisfaction. By measuring the level of customer satisfaction, CSat scores can help you understand the quality of service your team provides.
CSat is displayed as a percentage — the higher the score, the better your service is perceived by your customers. This data is typically gathered through surveys and questionnaires post interaction.
Here are a few ways you can improve your CSat score:
Review feedback regularly.
Customer feedback isn't meant to be stored away. If you aren't regularly reviewing what your customers have to say about your experience, you're setting your contact center up for failure. Look for trends within their answers and come up with action plans to address their most common concerns.
Take the customer journey.
Do you know firsthand what your customer experience is like? It's as easy as dialing into your contact center and navigating your IVR. You can do this with your other channels, including chat, email, and social media. If you run into issues, chances are your customers have as well.
Empower your agents.
If your agents don't feel encouraged and self-assured about helping customers, it can sour the experience. Therefore, it's in your best interest to improve agent satisfaction by empowering them to deliver the best experience — trust us, they'll pass on that love to your customers!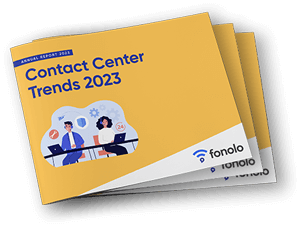 Trend Alert! Contact Center Industry Predictions for 2023
This report offers perspective on where the contact center industry stands today, plus our trend predictions for 2023.