Is your call center experiencing an increase in abandoned calls? Are your agents unable to answer an unexpected influx of inbound phone requests (otherwise known as call overflow)? If this scenario sounds familiar, and you lack the in-house resources to service every customer call in a timely fashion, you may consider hiring a third-party call overflow handling service.
Why use a call overflow handling service?
Whether they operate within a big enterprise or a small business, call centers engage overflow services to ensure that all voice calls are answered and all customers are serviced on the phone line — especially during spikes in call volume (expected or unexpected). Not only does this lighten the load for your live agents, it ensures customer satisfaction.
'Call overflow handling' refers to any solution that helps call centers manage the excess calls related to spikes in call volume. This includes helpful third-party services that assist in managing an overflow of calls on the phone line. Often staffed with savvy, trained agents, these overflow handling services are skilled in interacting with consumers on voice calls. They can help reduce wait times while maintaining the standard of customer service that your organization has worked hard to level-set.
Many call centers outsource this type of telephone answering service support because it:
Saves time and money related to training, and enables call centers to interact with more customers and thus increase the likelihood of making sales;
Ensures call centers are always prepared for seasonal spikes in call volume, as well as unforeseen crisis periods that lead to peak periods; and
Helps boost key call center metrics like CSat and Average Time to Answer, and helps reduce call abandonment rates.
How to avoid using a call overflow handling service
Call overflow services aren't for everyone. If you or the decision-makers in your organization are wary of outsourcing voice calls, fear not: there are other options. One such alternative is a call-back solution, which ensures your customers have an alternative to waiting on hold while reducing hold times in your call center.
Call-backs fit snugly into your existing call center's technological infrastructure. They also help you achieve immediate business results including reducing telco costs, lowering abandonment rates, enhancing customer experience, and boosting ROI. They are certainly a robust and trusted option for those looking for an alternative choice to outsourcing call overflow, too.
The Top 15 Call Overflow Handling Services for Your Call Center*
But who are these call overflow services we speak of? And what are the best call overflow handling services in Canada, the UK, or the US? Read our quintessential list of them below.
*These services are presented in alphabetical order.
Location: USA
Serving Jacksonville, Atlanta, Miami, Tampa, and other cities in Florida and the southeastern USA, absent answer provides receptionist staff who are available for 24/7 support, and allows you to transfer incoming calls to different numbers when your phone lines get too tied up.
Location: USA
This New York-based, bilingual answering service fits seamlessly into your call center's framework. Their trained teams of live agents are expert call-handlers who ultimately help customers avoid wait times, dropped calls, and the necessity to leave voicemails.
Locations: USA and Canada
Equipped to help call centers across the continent of North America, AnswerNet answers your overflow calls so you never miss a customer. And there's no risk of paying too much for this service: instead of handcuffing your call center to an annual contract, AnswerNet's plans are month-to-month, so you pay for what you use, nothing more, nothing less.
Location: Canada
Helping your organization to avoid spending more money on agents and office space, AnswerPlus is a Canadian answer to call overflow. AnswerPlus ensures that your customer service levels remain intact, and that your customers never have to face wait times or busy signals.
Location: USA
CMS offers multiple services including after-hours answering, call dispatching, and top-tier overflow help. And they know the business well: CMS has been providing answering services since 1967, lending a professional helping hand to thousands of call centers facing staff shortages, call surges, or other phone service challenges.
Location: USA
Too many calls during peak periods? Exhausted all your in-house options? E-Callcenter Services is there to provide American brands with the best in call overflow handling. By engaging them as an added resource, you may be saving on money, time, and customer and agent frustrations in the future.
Location: North America
In addition to providing web chat, email, and SMS customer service support, Go Answer provides 24/7 live help to answer your overflow calls. And, it doesn't hurt that some of their agents are HIPAA trained, some are legal experts, and all are customer service aficionados.
Locations: Serving the US, Australia, Europe, and Asia
Truly a world-class organization, Magellan Solutions supports call centers with overflow handling across the globe (and in multiple languages). Their skilled agents are equipped with know-how and strict guidelines so they can seamlessly represent your own brand's standard of excellence.
Location: USA
Numa is a call-answering service that easily connects to your existing business phone system and answers excess incoming calls. Ensuring they're providing customers with the information they need on their preferred channel, Numa also provides callers with a texting option and then texts customers to answer their questions via SMS.
Location: USA
The benefit of using this Utah-based service is all in the name: ROI (or, return on investment). They help you manage calls that would otherwise go unanswered, and in doing so, increase your likelihood of making more revenue. They also possess excellent customer relation skills, and work to best understand and emulate your unique customer service offering from beyond your office walls.
Location: USA
Signius provides signature overflow answering services to a wide array of organizations, including small businesses and Fortune 500 companies, and across industries (think healthcare and finance). Using them as a call overflow service lessens the likelihood of your customers waiting on hold or hanging up.
Location: USA
Bausch + Lomb, Fujitec, and Coldwell Banker are just some of the big brands that trust SAS for their varied customer service needs. Those who work with them can enjoy answering services, call center support, virtual receptionists, and other functions that ultimately keep your customers happy, and taken care of, regardless of channel.
Location: USA
When you choose to engage for call overflow handling services, you should have confidence in them. By engaging TeleDirect, you can have that confidence in them and their ability to build your brand reputation, increase inbound revenue, and decrease your call center hiring and training costs.
Location: Australia
Based in the land down under, TMC accommodates both small businesses and big brands with their ready-to-use call overflow handling services, no matter the reason. Whether your staff is simply too busy at a given moment, and you need to turn the service on for just a few short hours, TMC is available wherever and whenever it is needed – a truly customizable experience for their clients.
Location: USA
Last (on this alphabetical list) but not least, Unicom is well-versed in providing non-stop support from trained live operators. Companies who choose to work with Unicom can enjoy their exceptional approach to overflow handling, customer care and response, outbound and inbound calls, and more.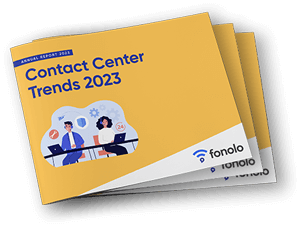 Trend Alert! Contact Center Industry Predictions for 2023
This report offers perspective on where the contact center industry stands today, plus our trend predictions for 2023.