Customer experience (CX) continues to be a hot topic in the contact center world. Now, more than ever, companies are evaluating their goals and priorities for the coming year in the context of our "new normal".
How can businesses position themselves for success when the future is so uncertain? Our resident expert and CEO Shai Berger sat down with seven leading experts and influencers in the CX space to find out what their predictions are for the coming year.
Watch the full video on YouTube ➜
Jeremy Watkin
"If you're not serving the customer, your job is to serve someone who is." - @jtwatkin #CX4Now #CX #CCTR
Click To Tweet
Jeremy Watkin is a contact center industry leader with over two decades of experience. He is currently the Director of CX at Number Barn and Co-Founder of customerservicelife.com.
This year, Jeremy says that the biggest overarching trend he's seen is focus on the employee experience and how we treat agents and other staff members who have shifted to remote work. AI is another big topic — specifically, how new technology in this space can help contact centers create a seamless customer support journey.
Watch Jeremy Watkin on CX4Now ➜
Blair Pleasant
"I think AI is really going to help agents feel better about their jobs and what they're doing." - @blairplez #CX4Now #CX #CCTR #AI
Click To Tweet
Blair Pleasant is a top unified communication and contact center analyst. As President & Principal Analyst at COMMfusion, Blair provides analysis and consulting services to industry leaders and has authored many highly acclaimed studies on the subject.
There are several trends on Blair's radar for 2021. One of the main trends she explores is the impact of AI in the contact center. She predicts that AI will play a supporting role to empower agents with the information they need to solve customer issues with confidence. This new dynamic could potentially benefit employee satisfaction in the contact center.
Watch Blair Pleasant on CX4Now ➜
Peter Ryan
"Personality types and profiles are very important... if you're looking to find someone who works well at home, often it will be someone who isn't well suited to the contact center and vice versa." - Peter Ryan #CX4Now #CX #CCTR #RemoteWork
Click To Tweet
Peter Ryan is a renowned BPO consultant who has been at the forefront of the services industry for over a decade. He has been advising contact center outsourcers, their clients, industry associations, BPOs and governments on everything from marketing penetration to service delivery since 2003. Check him out at RyanAdvisory.com.
In his segment, Peter discusses a wide range of topics, from the pandemic's impact on offshore call centers to the challenges of transitioning to a hybrid contact center model. He predicts one of the biggest issues will stem from finding the right agents for each scenario, the ideal remote agent won't necessarily thrive working part time in a physical call center, and vice versa.
Olivia Montgomery
"As businesses build more of that human connection, it will increase the expectations that customers have." - @AnalystOlivia #CX4Now #CX #CCTR
Click To Tweet
Olivia Montgomery is a highly experienced Project Manager and analyst who has a broad range of experience in a diverse range of brands. She has been a Sr. Analyst at SoftwareAdvice.com since 2018, where she is responsible for producing detailed surveys, thought-leadership articles, and detailed analysis of project management and small business technology strategy.
Human connection is one of the biggest trends Olivia has seen over the past year, and the customer demand is only growing. She predicts that customer support teams will begin to structure themselves in a more integrated fashion to better serve the customer and create a more human experience.
Watch Olivia Montgomery on CX4Now ➜
Kevin Horgan
"A lot of customers would much rather go in and do something really quick to get an answer, as opposed to waiting on the end of the phone... people want it here and now. - Kevin Horgan, @TCC_UK #CX4Now #CX #CCTR
Click To Tweet
Kevin Horgan is one of the industry's most experienced executives. Heled the charge at the UK's largest motor association and insurance brand, becoming Head of Sales and Service where he was responsible for over 6 million customers and several hundred employees. Kevin is now Head of Operations at The Contact Company, the UK's largest private contact center.
One of the biggest topics Kevin covers is the sudden shift to remote work and how quickly the contact center industry had to pivot while managing increased customer demand. Despite this success, the general public perception remains negative as hold times skyrocket and quality of service suffers. To bridge this gap, Kevin says contact centers need to invest in self-serve channels while ensuring they are communicating in real time with their customers.
Watch Kevin Horgan on CX4Now ➜
Justin Robbins
"Perception is based on someone's reality. For a lot of customers, they don't know what it takes to get service right. So, you just need to get it right." - @justinmrobbins #CX4Now #CX #CCTR
Click To Tweet
Justin Robbins is the Chief Evangelist of CX Effect, a leading optimization consultancy. He started his career at 12 years old as a call center agent for a newspaper carrier. Since then, he's gone on to lead operations at several major hospitality brands, such as Choice Hotels, UBM, and Hershey. He has also advised industry leaders such as 8×8 and Talkdesk.
Justin's word of the year for 2021 is "integration". This relates to a few different areas in the contact center. The first addresses the workforce and how businesses will approach the new remote work dynamic as we transition back to the workplace. Second, businesses will have to manage work-life integration for employees, especially for those working remotely. Lastly, Justin discusses how businesses will have to integrate their service models to accommodate how their customers access their resources and goods.
Watch Justin Robbins on CX4Now ➜
Kristyn Emenecker
"If I can attract better humans and make my workplace a place that's desirable, I'll have a huge advantage over my competitors... it's about creating the workspace people want." - @LIVinEden #CX4Now #CX #CCTR
Click To Tweet
Kristyn Emenecker is a long-time customer advocate and customer experience thought leader. After a rapid rise to Vice President of Client Services at TPG, Kristyn moved on to VP roles at Verint and NICEinContact. Today, Kristyn works as Playvox's first-ever Chief Product & Strategy Officer.
In her segment, Kristyn covered a range of topics, from the importance of empathy in the contact center to the rise of the gig economy and its potential impact in the call center space. She also discussed the importance of employee engagement, especially for remote workers. One of the biggest challenges contact centers will face is creating an appealing work environment for remote agents so companies can attract and retain the best talent.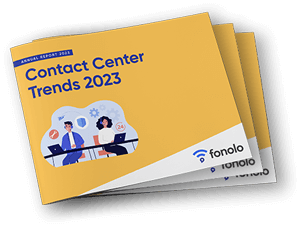 Trend Alert! Contact Center Industry Predictions for 2023
This report offers perspective on where the contact center industry stands today, plus our trend predictions for 2023.