FCR — or First Call Resolution — is a key call center metric for addressing customer satisfaction. A high FCR score indicates that your agents are resolving most of your customer queries in the first interaction.
A low FCR rate is often associated with poor agent performance, but it's often more complex than that. Operations, customer experience, and quality of training are also huge factors that should be considered by management.
By analyzing your contact center's historical data, you can pinpoint areas to improve first call resolution. Then, use the following tips in your strategy to empower your agents and improve your FCR score.
1. Set clear and achievable expectations.
Your agents' performance goals should always be aligned with management's. If improving FCR is a priority for your contact center, let them know.
Don't overwhelm them with performance goals or set expectations that contradict one another. Setting unrealistic expectations will inevitably backfire, lowering agent satisfaction and motivation.
2. Train them on techniques and best practices.
Once your agents are clear on their expectations, you need to arm them with tools and techniques so they can achieve their goals.
Provide regular training and coaching sessions with focus on improving FCR. This may involve a combination of group and individual engagements. Pinpoint each agent's strengths and areas for improvement so you can optimize these sessions. For example:
Improving communication so the customer is fully informed throughout the process.
How to use precise language and pacing so the customer doesn't feel overwhelmed with information.
Refreshing their product knowledge and/or service knowledge to better support the customer.
Placing focus on anticipating customer needs.
3. Help them understand their customers.
If you haven't developed customer profiles for your business, now's a good time to do so. The better your agents understand your customers, the better they can serve them.
Segment your customers into groups, such as location, average income, and most common products or services purchased. Then, analyze these customer profiles and come up with the best solutions to meet their needs. This will not only improve your FCR, but your entire customer experience!
4. Create an internal knowledge base.
This is a great way to further support your agents in their daily work. If they need a quick refresher or find themselves stuck solving a customer problem, they can search the database and get the information they need.
This knowledge base can be internal so only members of your contact center team can access it. Here are a few ideas for building yours:
Best practices when dealing with customers.
Frequently asked customer questions, and suggested agent responses.
An overview of your services and/or products, as well as important details.
5. Adopt call-back technology.
Having the right tools in your arsenal can make all the difference when tackling low FCR. Call-backs are a great place to start! This technology offers your customers the option of a call-back, so they don't have to wait on hold.
By eliminating hold time for your customer, you can defer calls to later in the day or week. This lowers the number of calls in the queue and alleviates pressure on your agents. They'll focus on their calls without rushing while providing better service and resolve customer issues the first time.
6. Implement Web Call-Backs
Like its name suggests, Web Call-Backs (formerly Visual IVR) allows your customers to navigate a visual interface on your website or mobile app. It collects information about their query such as their name, account number, and more.
This streamlines the process for your agents, saving them precious time from having to repeat or clarify information. Web Call-Backs can also work with call-back technology to schedule call-backs for your customers directly from their device.
7. Upgrade your skills-based routing.
Customers become frustrated when their issues aren't addressed and resolved quickly. Waiting on hold only to connect with the wrong agent or department only exacerbates the problem.
Ensure that your IVR channels are clearly marked, and your agents are categorized properly according to their skills and expertise. The longer your customers wait, the more likely it is that they'll abandon the call and reach out again later. This will directly impact your FCR and call resolution rate.
8. Review your policies.
Even the best agents can find themselves restricted by outdated or short-sighted policies. That's why it's important for management to conduct regular revisions and act on agent feedback.
Ask your agents which policies are blocking them from fully serving their customers. Then, create a system that empowers them to do so. Giving your agents more freedom and flexibility will help them resolve issues more easily and increase their overall FCR.
TIP:
Gather customer feedback! A survey goes a long way in pinpointing issues in your customer journey.
9. Reward improvement.
Are your agents motivated to provide outstanding service each day? Many call centers provide incentives tied to sales performance, but neglect to praise those who create excellent customer experiences.
Recognize agents who have improved their FCR and other KPI goals. This can come in the form of promotions, bonuses, awards, and more. By doing this, you'll build a culture that values customer service as much as sales and productivity.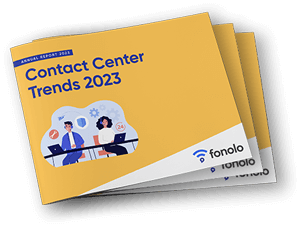 Trend Alert! Contact Center Industry Predictions for 2023
This report offers perspective on where the contact center industry stands today, plus our trend predictions for 2023.