Call centers have traditionally been seen as unprofitable, and a necessary cost for businesses. However, recent data has shown that creating exceptional customer experiences and providing quality service with a human touch has a direct effect on consumer loyalty and how much they spend.
With that said, call centers are expensive to run, so it's important to consider the financial costs involved. If you're thinking of launching your own call center, here's a guide to help you calculate the costs involved.
Types of call centers.
What are your goals for your call center? Your directives will help you determine the appropriate operation for your business.
Inbound call centers.
This type of call center manages incoming calls, most often from customers. They manage everything from technical support to complaints to order processing and everything in between.
Outbound call centers.
Like its name suggests, outbound call centers are used to make outgoing calls. Agents will perform phone outreach to create sales opportunities, verify information, conduct surveys, and much more.
Hybrid call centers.
You probably guessed it, but we'll tell you anyway. Hybrid call centers combine the functions of inbound and outbound to create one powerhouse operation. Agents are often separated in teams based on their assigned duties.
Once you establish the functions of your call center, you will be better able to anticipate costs involved.
Choose your location.
The next thing to consider is the location of your call center.
On-site, local.
It's great to have a team of local in-house call center agents who are familiar with the local culture and customer base. Having a physical location is also important for businesses that require extensive data security, such as medical patient information or financial records.
However, this approach is also the most expensive when you consider the cost of renting local space and agent salaries. If this is a challenge, an on-site offshore call center may be a better fit.
On-site, offshore.
Offshore call centers offer a lot of the same benefits as its local counterpart. However, these are considerably less expensive to launch and operate — most offshore call centers are located outside of the US in places like India or the Philippines.
Remote/virtual.
More call centers than ever have switched to a remote set-up, thanks to the pandemic. This option is great because it eliminates the costs that come with renting a physical space. However, consider that you will need to accommodate your agents with reliable internet, equipment, and other tools needed to complete their work reliably from home.
Hire a team of agents.
The key to a call center's success lies with its agents. In order to create a successful and profitable operation, you'll need to invest time, resources, and money into finding and retaining the best call center agents.
TIP:
Hiring your first team of agents? Consider hiring a combination of trainees and experienced agents — this way, your call center veterans can provide guidance and support to new recruits.
According to CloudTask, the average salary for a Customer Service Representative in the US is $30,688 (USD) + benefits and commission fees, if applicable. You'll also need a manager to oversee the operation — the average salary for that is $39,694 (USD) + benefits.
Here are some other call center roles you may consider hiring:
Trainers/coaches
Analysts
Quality assurance
IT support
To get an accurate reading on your expenses, you'll need to figure out how many individuals you need to hire. You can calculate this based on performance goals, sales and revenue targets, and other data. It's important not to skip this step — overstaffing will cost you unnecessary dollars, and understaffing leaves your call center open to call spikes and overwhelm.
Aside from salaries, you'll need to consider other upfront costs. For example, the onboarding and training period will require considerable investment. After all, you can't expect your team to become high performers on day one. Time spent sourcing and evaluating candidate should be taken into consideration as well.
Call center tools and technology.
Call centers require more than just a laptop and headset. Today, these operations are equipped with the latest technology to create seamless, high quality customer experiences.
The tools and resources you need will depend on the type of call center you are establishing. With that said, start your search with these three technologies:
Business phone system.
Phone systems involve different types of hardware, software, and processes to keep your call center operation running smoothly. It manages everything from call routing to the interface agents use to manage customer queries and/or accounts. Avaya is one of the most popular phone systems, but there are many options on the market.
CRM system.
If your phone system doesn't include a Customer Relationship Management (CRM) system, you should invest in one. These platforms allow your agents to access and manage customer information in one central hub. CRMs are essential for creating positive customer experiences and building customer loyalty.
Performance analytics tool.
The best decisions you can make for your business are supported by data. That's why you'll need a performance analytics tool to track key performance indicators (KPIs) and other metrics. This information will help you refine your processes, identify gaps in your operation, and make informed choices on how to improve your call center.
Additional tools to consider.
Call-back technology. This simple but powerful tool offers inbound callers a call-back, so they don't have to wait on hold, making call spikes more manageable for your agents.
Internal communication system. Give agents a way to communicate with one another, even with a customer on the line, so they can request support discreetly. This can be as simple as a chat system, such as Slack or Microsoft Teams.
Live chat system. The phone channel is great, but it can be costly to run. Consider providing customers an alternative way to reach you via live chat and free up your phone lines for more complex interactions.
Call center outsourcing: an alternative to in-house services.
Once you've accounted for the above expenses, you'll have a good sense of the costs associated with launching your call center. However, it's important to have some extra funds available for unforeseen circumstances, such as agent attrition, over/understaffing, and emergencies and crises.
For this reason, many businesses choose to outsource their call center operations. Outsourcing is often more cost effective, given that you don't need to account for staffing, infrastructure, and other expenses.
Is there anything else you'd add to this list? Share your thoughts with us @Fonolo on Facebook, Linkedin, or Twitter.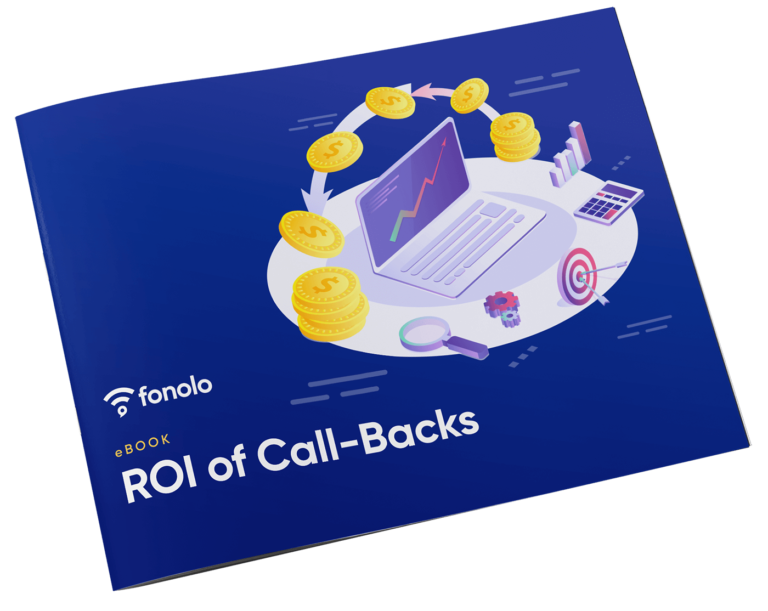 Find out the Real ROI of Call-Backs
Learn how you can build a business case for call-backs using this ROI eBook.