Don't let your business fall short when it comes to delighting customers with great customer service.
Every time a customer interacts with one of your sales associates or call center agents, the outcome will impact how shoppers perceive your retail brand. Here are 5 best practices for customer service to empower your associates.
1. Master the "FAB" Formula.
This technique is a great way to sell products to customers without sounding too 'salesy', and it is the cornerstone of a well-architected customer service approach. The "FAB" formula, which stands for "Features, Advantages and Benefits" helps your associates to easily remember how to present each product to customers.
The FAB formula is a technique that can helps your agents and associates remember how to present each product to customers. @shoppopdisplays #CustomerService #Retail
Click To Tweet
Features are the characteristics of a product while advantages concern what the features can do. The benefit is the most important element, telling customers what they can personally get out of the product and its features. It is always best to personalize the benefits to match the unique circumstances of each individual customer, and doing this well requires listening to customers and then matching the right product.
For example, let's say you're selling shampoo to an outdoor enthusiast. Features could include the fragrance, the ingredients it's made from, or the fact that it restores a scalp's pH balance. The advantages could be the dual cleansing plus conditioning action of the product. Finally, the unique benefit could be that it protects hair from the harmful UV rays in sunlight—something of particular benefit to this individual customer. Encourage your agents and sales associates to familiarize themselves with the top sellers in your store, as well as product trends, so they will always have these products in mind when customers ask for recommendations.
2. Upsell products that match a customer's need.
This shouldn't be about pushing products. On the contrary, upselling and cross-selling are natural next-level customer service boosters after a successful FAB presentation. Once you have explained the unique product benefits, and convinced the customer about the solution your product provides—why not introduce a logical add-on product?
Customers will appreciate your suggestion, since it follows logically from their original enquiry. In the example above, an outdoor enthusiast may also be interested in sunscreen, if your agent or sales associate presents the product right by tailoring the recommendation to the unique customer's needs. Start by encouraging your contact center agents and sales associates to practice active listening, and determine what other products may fulfill their unique requirements. Understanding customer needs combined with a knowledge of best-selling products is a sure-fire combination that will help you deliver excellent customer service and brisk sales.
3. Be readily available for your customers.
If your customers have questions about products or online orders, they need to be able to reach you quickly and easily. 60% of customers feel that long wait times are the most frustrating parts of a service experience. Your team must be equipped to quickly answer questions via phone, email, or even SMS to provide a good customer experience and increase brand loyalty.
Call-back technology is one of the best ways to tackle call queues and hold times. It's as simple as offering the customer a call-back as an alternative to waiting on hold. This way, your customers can go about their day knowing an agent will reach out to support them later. Learn more about call-backs here.
4. Find a way around stock-outs.
There will be times when products are not in stock or services are unavailable. This may be out of your team's direct control, but you can help your agents and associates create a positive experience using  customer service techniques.
Having a backup plan for stock-outs is key. When a customer asks you for a product that is not available, always be ready with substitutes so you don't lose the momentum of the sale. You can also try to find the item in another location or channel, and then have it shipped to the customer for free — for example, from your online store. Once you do this, don't forget to follow-up and make sure that your customer has received it on time. Agents and sales associates should have a tracking system that lets them keep an eye on the status of customer orders and shipments. This way, they can stay ahead of any situation and proactively reach out to customers when shipments go awry.
5. Appreciate repeat customers.
80% of retail profits are generated by the most loyal 20% of customers. These repeat customers are the life-blood of any successful business, and showing appreciation will encourage their loyalty. A sincere note of gratitude for making a second purchase is one way you can do this — however, it's important to be creative in your delivery.
Customer relationship management (CRM) software is one of the best tools to achieve this. It is so important to keep track of not only your customers' contact details, but also their purchase history. You can put that information to good use in your customer service strategy. For example, when you see an order from a customer who has already made a recent purchase, acknowledge them by sending a note of gratitude, or even a discount or free product.
6. Empower your associates with training.
The heart of great customer service is to be helpful, rather than hard-selling your products. But do you know how your agents and sales associates rank in terms of customer-centricity? Empathy is very important, which follows when sales associates listen to your customers' needs with humility. If regular reminders to listen and be empathetic are not working, training may be in order.
Take some time to investigate and identify any gaps in training, product knowledge, and/or processes. Is your team in touch with the needs of your customers? Do they know enough about your product line to make quick decisions and recommendations? When providing additional training and coaching, utilize tactics that will help instill confidence in your agents and associates and allow them to use their best judgement when service customers.
Retail consumers have more choices than ever before, so building lasting relationships with your customers is essential. Don't underestimate the value of agents and sales associates who are good at person-to-person customer service. Attitude is more important than skills here — as long as your team possesses the right values and service-based disposition, you'll have a strong foundation to provide winning customer service for your retail brand.
Ray Ko is the Senior Ecommerce Manager at ShopPOPDisplays. With years of experience in the retail space, Ray is an expert in formulating and implementing ecommerce strategies to increase revenue.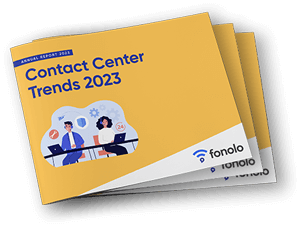 Trend Alert! Contact Center Industry Predictions for 2023
This report offers perspective on where the contact center industry stands today, plus our trend predictions for 2023.