Managing call spikes during peak periods in your call center can seem like an insurmountable challenge. Whether you're in retail, healthcare, or the financial industry, understaffed contact centers coupled with increased call volumes create stressful moments for you and your agents.
If this sounds familiar, never fear: call overflow handling is here. These services provide hands-on relief for call centers by helping them better negotiate call volume spikes during peak periods, whether those periods are related to seasonal shopping days (Black Friday, Cyber Monday), seasonal events (tax season, winterizing services, etc.), or widespread crises (pandemic, PR crises, etc.).
The big question is, does your call center need a call overflow handling service? Read on to learn all about what call overflow handling is, the benefits of using an overflow service, and the four main reasons why your business should consider this extremely useful and cost-effective option.
What is call overflow?
Call overflow refers to any inbound voice calls that your contact center agents are simply unable to answer. These excess calls may arise due to understaffing, peak period, product/service issues, or even an emergency or crisis situation.
What is call overflow handling?
Call overflow handling refers to a type of answering service that helps call centers deal with spikes in call volume. These services have trained call center professionals who manage incoming customer calls when primary contact center agents have reached their call handling capacity.
Why do call centers use overflow handling services?
Overflow services ensure no customer call goes unanswered, and no customer is kept waiting. This way, customers will have a more positive experience with your company which can a) encourage repeat business; and b) improve your business' bottom line.
An overflow service is easy to set up, and can offer your business:
The ability to offer 24/7 customer support to customers,
The capacity to answer every customer call, even during high-volume periods, and
Happier call center agents who can enjoy workload relief.
Most call centers employ a call overflow handling service when they know they will be facing spikes in call volume. This is often the most cost-effective approach, and it eases some of the challenges that come with staffing up during peak seasons where your business may see a high-saturation of inbound calls.
4 important benefits to call overflow handling.
Setting up a call overflow service is ultimately the more time and cost-efficient choice. When utilized strategically, it can also have a positive impact on your CSat scores and overall customer experience offerings.
Read on for the top four reasons your call center should be using a call overflow handling service.
1. Call overflow handling is cost-effective: it saves and earns profits for your business.
You may think that outsourcing overflow services is costly, but it has been known to save businesses customer service dollars in the long run. Employing a third party to handle hellish call volumes can save your business serious time and money by:
Lowering the cost of internal training of short or long-term agents.
Reducing the cost of hiring and maintaining new agents.
Saving significant training and HR time (setting up an overflow takes far fewer hours).
Boosting sales, simply by connecting with more customers on the phone line.
2. Using a call overflow handling service ensures you're always prepared for anything.
While you can predict and prepare for seasonal spikes by hiring more agents, sometimes it makes more sense to use a call overflow service. Why? Many call centers face call spikes due to unforeseen circumstances; they are then unable to meet or exceed their CX quotas during these periods because they simply do not have the right disaster recovery tools in place.
By outsourcing call overflow handling, then, your call center is better prepared to answer all calls during peak periods and maintain a steady customer service level during unforeseen moments of crisis.
3. Never lose another customer when you have a call overflow handling system in place.
One way to gauge the health of a call center is to look at its abandonment rate, or the volume of calls that are dropped before the customer is able to actually engage with an agent.
An overflow service can help you lower this rate and answer more calls, which turn could mean higher sales volumes and mightier customer service ratings. One thing is certain: an overflow service, coupled with a call-back service, ensures no customer will go unanswered.
4. Call overflow handling helps you maintain or improve the customer experience.
When you engage an overflow handling provider, you can rest assured that your customers are still interacting with trained call center agents who can professionally manage an excess number of inbound calls.
These trained professionals help to improve the overall quality of calls during crisis periods, and also help with your CX and CS metrics, including CSat and Average Time to Answer scores. It doesn't hurt that having more hands on deck to handle calls ultimately lowers your customer frustration levels and lightens your agents' stress levels — providing that piece of mind both to consumers and call center staff? That's priceless.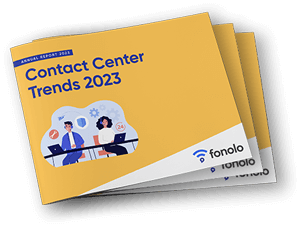 Trend Alert! Contact Center Industry Predictions for 2023
This report offers perspective on where the contact center industry stands today, plus our trend predictions for 2023.