With advances in online communication, and the court of public opinion that social media now provides, brands and their customer service faux pas are more exposed than ever. Underserved and angry customers can easily take to Twitter, Facebook, or any number of digital channels to publicly 'out' companies like yours for falling short, especially when it comes to your product or customer service offerings.
This is why setting and managing customer expectations and their perceptions is key. Setting expectations can ultimately protect your brand from online backlash. If your customer knows everything to expect early on, from return and exchange procedures to customer service wait times, there will be no surprises that will prompt them to 'out' your business online.
Here's a complete guide on how to set and improve upon customer expectations for your business, big or small.
What is customer expectation?
The phrase 'customer expectation' refers to anything and everything that a customer expects from a service, product, or brand. They can form this expectation from their own knowledge and experience, as well as research into your organization or product. They can also develop expectations on how a product or service will work or otherwise benefit their lives. This is just one reason why truth in advertising is so important!
Customer expectations are not uniform – there are different dynamics to consider, including interpersonal expectations (what your customers expect before engaging with your customer service team or other employees) and omnichannel expectations (what your customers expect in terms of the multiple channels they can engage with you on, from in-store to online). Whatever shape or size these expectations come in, it's important to invest in expectation management to protect your business up front.
Why is setting customer expectations important?
Your brand should care deeply about customer expectations. If they are not reasonable or aligned with the reality of your product or service, you will always fall short with customers. This will impact your brand reputation, your sales, and ultimately your bottom line.
Setting customer expectations so they convey the true value of your product, service, and customer experience will strengthen your brand perception, limit negative social media mentions, and help decrease logistical nightmares like unnecessary returns and refunds, and call surges on your customer service lines.
What influences customer expectations?
Customers approach your brand, and its products and services, with preconceptions in mind. They expect that your brand will work in a way that benefits them, their lifestyle, their work environment, or a particular project they are working on. These expectations are formed by several factors, including:
Marketing and advertising. Chances are the expectations customers bring to the table come directly from your marketing and advertising promises.
Lived experience. Most customers have had a previous experience with a product or service similar to yours, and thus have a working understanding of how things should work.
Other people. Word-of-mouth recommendations and online reviews by other customers go quite a long way in forming preconceptions of a brand and its customer service operations.
With all this in mind, what initial steps can your brand take to manage customer expectations? Read 5 tips to help set and improve upon them, and in doing so, ultimately save your customers and customer-facing staff a lot of headaches, confusion, and frustration.
5 tips to set customer expectations (and fast).
1. Communicate what to expect at every opportunity, on every channel.
Customers will be less likely to roast you online or combat one of your customer service professionals if they are made aware of what to expect in every place you can think of: Your website, your social media bios, your advertising, any recorded messaging on your phone tree, on your product pages, and at checkout.
Your customers will be far more understanding and loyal to you in future if you have made them aware of what they can expect from you from a product or customer service standpoint. This information can include things like customer wait times and response times, customer service channels, business hours, return and exchange policies, and more.
TIP:
Communicating estimated hold times can help manage customer expectations, but it doesn't relieve the frustration of having to wait on hold. Find out how call-back technology can help!
2. Scrutinize your customer's journey by putting yourself in their shoes.
If you're faced with an influx of bad social media mentions and you're unclear as to why, try putting yourself in the customer's position to understand their experience with your brand. Regularly reviewing every point of the customer journey can help you identify gaps, manage their expectations, and tweak your messaging.
Put on your analytical glasses and ask yourself: what does our customer journey look like? At what points can we better educate the customer on what to expect? Where can we collect customer feedback and reviews on a consistent basis, and how can we use that data to better position our brand?
3. Tell the truth: set realistic expectations with honest marketing tactics.
One of the most reliable ways to avoid unrealistic customer expectations is to communicate what your product or service does up front. The trick is to do so in the most clear, truthful, and compassionate way possible. Leveraging honest marketing and messaging around how your product works, and the minutia around hours, returns, and customer service levels, protects you from backlash and protects your customers from future frustration.
Avoid bold claims and embrace the truth – your honesty may be refreshing, and it will promote brand trust. If you're unsure of what constitutes honest marketing, check out these advertising and marketing basics care of the Federal Trade Commission, developed in order to protect American consumers from deceptive or unfair advertising. These ultimately can help you develop concrete and truthful customer expectations levels as well.
4. Be reliable and consistent in meeting customer expectations.
Consistently meeting and exceeding customer expectations is a huge part of building brand loyalty over time. In being consistent in your customer service offerings, or your overall product quality and function, you're encouraging repeat business and long-time customer loyalty. If you fall short here, and deliver an inconsistent experience, that is what you will become known for.
Make sure all of your departments, brands, and locations are aligned on:
What your company stands for.
Customer procedures.
How your product or service is meant to work.
The quality of service/product that is being promoted to the customer.
How to consistently meet those expectations.
5. Make setting customer expectations a big part of your employee training.
Another way to approach customer expectations is to ensure that you're actually meeting them. You can have all of the educational and truthful messaging in the world out there, but if your staff are not consistently meeting consumer expectations, that responsibility ultimately falls on you.
Managing customer expectations is largely about ensuring your employees can meet the established service levels. Training them on how to manage a customer, how all services and operations within your company work, and generally making them subject matter experts on your brand will improve your customer's opinion of you, your product, and your service.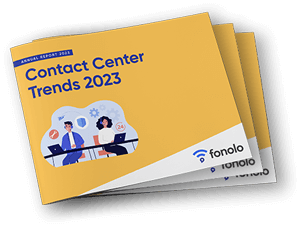 Trend Alert! Contact Center Industry Predictions for 2023
This report offers perspective on where the contact center industry stands today, plus our trend predictions for 2023.