Consumer expectation and channel preference have always dictated the direction of customer service and experience. The highly-coveted Millennial and Gen Z consumers expect and demand a certain quality of customer service across all channels. Many call center overseers are now realizing that they are technologically behind their more channel-savvy competitors.
The result? Budget-conscious center managers are struggling to up their CX game while managing the cost of upgrading their operations. If this sounds familiar, don't worry — it is possible to upgrade your call center infrastructure and reduce future contact center costs at the same time.
Read on to learn how to offset call center costs, and ensure that your customer service operations meet the needs of the 21st-Century customer.
1. Upgrade your call center software and infrastructure.
Many optimized contact centers are able to save on time, money, customer grief, and agent training thanks to their investment in better integrated call center technology, where each customer channel speaks to one another with ease in a truly omnichannel experience.
To reduce the cost of outdated tech, consider adopting high-quality call center softwares that include call-routing, cloud-based calling, and sophisticated reporting tools. This way, you can better serve customers and make actionable data-informed choices about how to further improve your call center.
2. Double-down on agent training and empowerment.
The equation is proven: effective call center agents equal lower call center costs and improved customer service quality. Investing in training and re-training your agents and expanding the knowledge base of existing contact center staff will result in fewer costly mistakes, an increase in the number of calls an individual agent can handle in a shift, faster resolutions, and an overall positive impact on your call center metrics.
3. Save dollars by nurturing happier, more engaged call center agents.
After hundreds or thousands of interactions on the phone line, customer service agents can experience emotional drainage or high levels of stress, which can lead to high turnover rates.
Constant hiring and training can drain your call center spend, so it's important to find ways to engage call center agents (think gamification or other work culture boosts). Providing psychological support for your team is not only healthy for them and your attrition rates, it's healthier for your budget.
4. Optimize your Average Speed to Answer (ASA) and reduce telco costs with call-backs.
One of the easiest ways to save money, reduce agent stress, and improve your customer experience is to invest in a solid call-back solution. Call-backs provide callers with an alternative to waiting on hold by saving their place in the phone queue. They can then confidently hang up, go about their day without having to listen to hold music, and receive a call-back when the next available agent is free.
If you calculate cost-per-call, you'll immediately see the cost-savings of call-backs. Not only do they save on hiring excess agents, they smooth out spikes in call volumes, reduce abandon rates, lower your telco costs, and generally contribute to a healthier and happier call center atmosphere.
5. Improve your self-service options.
Forbes recently declared self-service technology a top priority for contact centers, which isn't surprising considering the increased demand of all customer service channels during the pandemic. Invest in self-service features like chat, SMS, MMS, email, and website chatbots. This ensures that you're never leaving a customer, or a potential sale, behind.
6. Go remote (or go home).
The COVID-19 pandemic has encouraged businesses of all shapes, sizes, and industries to go big by going home. Call centers going fully or partially remote are seeing major savings on rental brick-and-mortar office buildings.
Even if you maintain agents onsite, hiring remote agents onto your team can help reduce labor costs, lower overhead, and provide a work-from-home environment that may contribute to a more positive agent attitude and reduced agent attrition.
7. Get a solid return on investment with a call overflow handling service.
Overflow handling services are a popular cost-cutting tactic for the modern customer service center. Having a plug-and-play overflow service ready to handle excess calls during call volume spikes means your call center agents are always prepared for peak periods, and that customers you would have otherwise lost on dropped calls are properly served. In addition to ensuring that all your potential inbound sales aren't lost on dropped calls, this kind of service can positively impact your CSat scores and overall CX metrics.
8. Leverage advances in AI to improve conversations and call resolutions.
An alternative to call center overflow handling services is call-center-centric AI. Artificial intelligence has quickly become a call center's best friend, ensuring that call overflow periods are easier to predict, and call volume patterns are simpler to forecast. It doesn't hurt that AI becomes more affordable year after year.
Another way to lower cost-per-call with AI? You can automate the voice channel with conversational natural language IVR (or Interactive Voice Response), an AI-powered feature that is becoming so effective that it is seeing success rates of about 85%.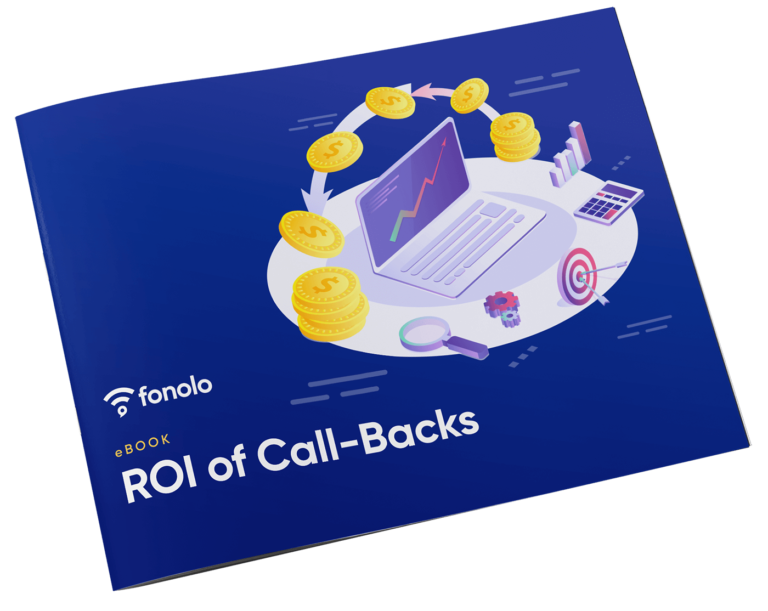 Find out the Real ROI of Call-Backs
Learn how you can build a business case for call-backs using this ROI eBook.