Call center managers are always on the lookout for ways to increase the productivity of their agents and the overall efficiency of their departments. However, these plans are usually put on hold due to high call volume periods and unexpected crises.
These peak periods in call volume can bring the voice channel to near breaking point. With customers clogging up the phone lines, your agents will be overwhelmed with increased customer frustration. So, when it comes to tackling these never-ending inbound calls on the voice channel, what's a call center manager to do?
Two words: call deflection. This powerful strategy takes the pressure off the phone lines by strategically diverting customer inquiries to other digital or messaging channels. It ultimately lightens the load for your agents and your larger call center infrastructure.
Caution: if done incorrectly, call deflection can damage KPIs, agent engagement, and your customer satisfaction (CSat) scores.
When done correctly, a call deflection strategy can change your business, and the lives of your customer support staff, for the better.
Read on to learn more about what call deflection is, how it can benefit a customer support program, and proven call deflection strategies that improve the overall health of a contact center.
What is Call Deflection in a Contact Center?
A simple definition of call deflection? It's the strategy of directing customers to a) not call you, but rather; b) use another channel to contact you instead (think virtual assistants, text messaging, or chatbots).
Moving customers to a different channel can happen at any stage of the customer support journey: pre-call, post-call, in-call. While it may seem like you're shunning customers, you're not: when done correctly, a customer who encounters call deflection should leave their customer support journey feeling taken care of, with their issue resolved quickly and painlessly.
How Does Call Deflection Benefit a Call Center?
When choreographed properly, a call deflection strategy can be hugely beneficial to your overall contact center operation. It can:
Free up your call center agents.
This way, they can answer more calls (and perhaps make more sales or solve more pressing issues as a result)
Speed up the resolution process for customers.
If they are deflected to another channel where information is readily available for them (say, an FAQ page), they may be able to get an answer faster, and not have to wait endlessly on hold for the next available agent.
Improve your metrics of success.
This includes your SLAs, your ASAs, and your CSat scores. It can also help you manage spikes in call volume in the long run.
Top Call Deflection Strategies
One of the golden rules of customer service: make the customer feel valued (and not an inconvenience) at all times.
When setting up your call deflection strategy, keep this rule top of mind and make sure you don't come across as shunning customers or make them feel bad for trying to phone you.
Frame any moment in your call deflection strategy as an alternative method that puts the customer and their needs first. And that shouldn't be hard to do, as 72% of US consumers prefer to use a website to get answers to their questions.
From an operational standpoint, there are several ways you can begin implementing call deflection into your contact center:
Set up self-service.
Especially for e-commerce or online-enabled businesses, having a smart user-friendly self-service function on your website can take the pressure off your phone lines. If you have regularly updated FAQ pages, chatbots with a good natural language function, pop-ups, and other methods of directing customers to a resolution, you're doing self-service right.
Recognize the value in Web Call-Backs.
Direct your customers to choose self-service options by letting them opt-in to communications from you via text or call-back. These Web Call-Backs (formerly called Visual IVR systems) fit snugly on your website, and make your high-tech call deflection strategy more visible to your customer-base.
Offer call-backs.
One sure-fire, cost-effective way to lower demand on your phone lines is to offer callers a call-back. Rather than waiting on hold, they leave their phone number and hang up to receive a call at a later time. This tidies up the voice channel, and improves your many call center metrics.
Enable online voice messaging.
To free up your phone lines, you might try implementing online voice messaging services like telbee. This kind of call deflection software gives consumers and agents the option to send voice messages to one another, rather than clogging up the customer service hotline. This can help save you time and telco costs.
Looking to Computer Vision AI.
This technology analyzes images and videos to quickly identify a customer's issue and take the necessary steps to resolve it. A new kid on the customer service tech block, Computer Vision AI is already proving to reduce call volumes, expedite customer issue identification, and encourage more and more customers to use self-service options.
Conclusion
It's 2021, a time when communications technology is purposely diverse enough to meet any customer on any of their preferred channels. We don't need to put constant pressure on our call center agents when better alternatives are available.
Take the pressure off your phone line by diverting traffic to your other channels. A smart call deflection strategy will be an absolute necessity for the contact center going forward. Now is the time to lay foundations and think deeply about how to improve CSat, lower call volumes, and create a fruitful customer experience.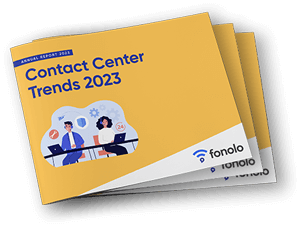 Trend Alert! Contact Center Industry Predictions for 2023
This report offers perspective on where the contact center industry stands today, plus our trend predictions for 2023.