Some companies have long contact pages, with hundred phone numbers linking to every department or important person. Imagine scrolling through that list, getting the wrong number, and having to try another one. How frustrating!
A call routing system is the industry standard solution to this. Also known as an automatic call distributor (ACD), this tool receives inbound calls and connects them to the department or representative that can best support them. To customers, this is known as your run-of-the-mill call center phone menu.
With call routing, customers can connect to the person they need all without having to use more than one phone number. It routes callers based on rules and criteria that a call center establishes, like the time of day, agent skill level, caller location, and more. But with so many ways to customize call routing, and potential complications from high call volumes, it can be tricky to figure out the right strategy and approach for your contact center.
Types of call routing.
Call routing is standard practice across the call center industry, but there are a few different types designed to address the different needs of customers:
Location-based and time-based call routing.
Location and time are the most common reasons for routing a call. Callers might be calling from all over the country, or world, and from different time zones. These calls can be routed to departments and call centers in different states or even countries, with specific business hours. Fonolo's smart routing supports call centers with multiple locations worldwide. Plus, our Web Call-Backs (formerly Visual IVR) supports multiple language preferences.
DID YOU KNOW?
61% of customers hate using traditional phone menus. Consider upgrading to a Visual IVR system.
Skills-based call routing.
Specific to sales, skill-based call routing routes a customer to an agent based on the agent's skill level or knowledge. For example, a caller might dial a number in an IVR that matches a certain department. Their call goes to an agent within that department. Call routing systems can direct customers to different agents based on their skill level.
Fixed order.
Fixed order call routing assigns calls to the next available agent, or adds the call to a queue if that agent is busy.
Percentage routing.
Percentage call routing sections off a percentage of calls to a specific team. For example, 75% of calls might be routed to one team, while the other 25% are routed to another.
What are the benefits?
Call routing improves your call center's efficiency and your customer and agent experience. Here are some more specific benefits of call routing:
Decreased call abandonment rate.
Quick issue resolution.
Decreased wait times.
Improved sales.
Maximized agent resources.
Improved customer satisfaction.
4 best practices for call routing.
When setting up call routing systems, consider using these strategies.
Conduct customer research.
You can't appeal to people when you don't know their expectations. Learn what your customer demographics are, and what their most common concerns are when they contact you. You can also apply your learnings to customer profiles for agent training sessions.
Track progress with the right metrics.
If you recently set up an IVR system, whether it's skill-based or location-based, track your progress. Examine metrics like abandonment rate, customer satisfaction, and average handle time (AHT) to assess your call routing system's efficiency. Poor metrics might indicate a need to change your distribution method.
Limit your menu options.
Does your phone IVR have options all the way to #9? Chances are, your customer might hang up. Limit menu options to prevent call abandonment, and to keep things simple. This goes for visual IVR as well!
Use Voice Call-Backs.
When your call center's dealing with high call volume, Voice Call-Backs give customers the option to receive a call-back instead of waiting. Sometimes, this option is more efficient than routing the call right away.
Call routing is essential in getting customers the information they need. Make sure to research your customers, track progress with metrics, limit menu options, and use voice call-backs to make the most out of #intelligentcallrouting.…
Click To Tweet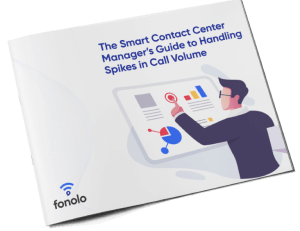 How to Manage Call Spikes in the Contact Center
Download this free guide to learn how to protect your contact center from call spikes.