When customers call your customer service line, greeting them with a friendly and easy-to-navigate interactive voice response system is a standard in call center software.
This is often the first stage in a customer service journey, so making your welcome greeting and routing accessible and intuitive is a key aspect to your call center functionality. It's also a chance to set the bar for overall customer satisfaction. With all that said, writing a strong call center IVR script doesn't need to feel like a mountainous task.
What is IVR?
Interactive Voice Response (IVR) is the process of routing callers to specific live agents or departments by asking for input based on pre-recorded messages. Modern IVR software functionality can require manual keypad input or voice response, which can steer the caller towards the best live agent or department to resolve their issue.
The most common first stage in any IVR system is commonly "Press 1 for service in English, Presione 2 para servicio en español", while additional menu options could help to clarify the reason that the customer is calling or account information. IVR systems can be completely customized to be as simple or as multi-layered as your business requires.
The benefits of IVR
Having an IVR menu that collects valuable information at every stage gives both the customer and your agent context on their call driver, leading to quicker response times; better first contact resolution; prioritized high-value callers; as well as the functionality of a self service experience so that customers can retrieve their account information and do basic tasks without needing to be routed to an agent.
DID YOU KNOW?
According to a recent Zendesk survey, around 42% of customers say their definition of bad support is when they get stuck in an automated system that makes it hard to reach an agent.
What makes a great call center IVR script?
You don't have to be a professional script writer to create a great call center IVR script, but you will want to know your customers inside and out to be sure that you're offering a call center menu that truly makes their customer experience easier. The below steps will ensure you can prevent frustration with an IVR menu that works for you.
It keeps the customer experience at the forefront.
A great IVR menu is easy-to-navigate, with logical steps in the process related to your product. For some companies, this means a multi-level IVR with many steps before accurately routing to the correct agent or department. However, a high number of levels in your IVR can also lead to abandonment rates or zeroing out, where callers smash the zero button to skip the IVR menu and speak to a live agent.
It collects valuable information.
Whether simply account information or authentication steps, getting these steps out of the way early before connecting to a live agent helps ensure that the customer can receive immediate support.
A word of warning: customers report having to repeat information is one of the most frustrating parts of a support experience. When writing your IVR script, be sure to consider the entire experience and remove unnecessary burden from your customers.
DID YOU KNOW?
Web Call-Backs (formerly Visual IVR) is a tool that connects your digital channels to your call center. It provides IVR menu options for users on your website or mobile app. Plus, businesses can set up pre-screening questions and escalate to a live agent before they connect with the user via scheduled call-back.
It's optimized for self-serve routing.
Self serve routing gives your customers the ability to access basic information on their own. This in usually in the form of pre-recorded information on commonly asked questions, like your locations, business hours, return policy, or even current promotions. This setup frees your agents to deal with more complex queries.
This is a great feature to have, so if you do, be sure your script indicates a clear pathway to self-serve options. Callers should be crystal clear on their options between self-serve and connecting with a support agent.
It includes call-back options.
Long wait times? Giving your customers the option to schedule a call-back instead of sitting on hold allows them to not only go about their day, but reduces the stress of waiting in the process. This is a great option to include in your IVR to prevent caller frustration while still keeping their place in the queue.
If your phone system has this feature, your IVR script should include an offer for a call-back to a customer during an appropriate time in their journey. If you don't have call-backs, consider a cloud-based solution like Fonolo, which is super quick to set up, scales easily with your business, and works with any existing phone system (no upgrades required!).
Tips for creating your IVR script
What are your main call drivers? What teams do you have established in your call center? Are some agents better suited to deal with specific calls, or do they work as generalists handling all inquiries?
The way that your customers interact with your team, and the way your team is set up will determine the flow of your call center IVR menu. While you'll want to consider the above functionalities in your call center script, there are some tips that you should also remember in order to get the most out of your menu and messaging:
Remember to have pre-recorded messages after each stage of menu selection. Any hold music you play should be quiet and inoffensive.
When recording your messages, consider opting for in-house recordings over automated voices for a more personalized experience. Use natural language in a conversational tone so customers feel more at ease.
Include answers to frequently asked questions right in your welcome greeting. Get feedback from your front-line team to make sure you've covered your bases.
Make sure to add KPIs around your IVR to your reporting & consistently check that your script remains easy to navigate and up-to-date by regularly testing numerous call flow scenarios yourself.
However you create your call center IVR script and menu, always keep your customers front of mind by putting yourself in their shoes to ensure that you're offering an intuitive customer journey and you'll have happy customers and therefore happy agents.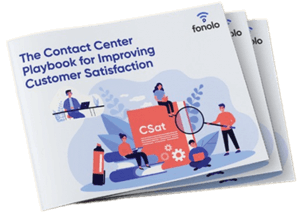 The Contact Center Playbook for Improving Customer Satisfaction
In this handy playbook, contact center leaders will learn the ins and outs of improving customer satisfaction.