Congratulations, call center manager! You're stepping into a world full of exciting challenges, impressive individuals, and constant evolution. There's never a dull moment in a call center with a myriad of opportunities for growth and success.
Of course, all new positions come with learning curves. To help start you off on the right foot, we've put together a guide about all things call center management, so you know exactly how to succeed and can teach your agents how to do the same. Whether you're a new manager or a seasoned pro brushing up on the fundamentals, this guide is for you.
Why strong call center management is important.
According to research from the Harvard Business Review, 71% of managers surveyed said employee engagement is an important factor in the overall success of a company.
In every industry, managers are the backbone of their workplace. They motivate employees through goal setting, help resolve conflicts, and play a large role in improving employee morale. Without proper management, call center agents could be left to handle overwhelming days on their own, lack incentive or structure to grow within their role, and become bored and burnt out fast, leading to high turnover and poor customer experiences.
According to the Harvard #Business Review, 71% of managers surveyed said #employeeengagement is an important factor in the overall success of a company. So #callcenter managers, be sure to keep your agents engaged!
Click To Tweet
7 steps to success as a call center manager.
Even though being a great manager sounds a bit overwhelming, there are a few things you can focus on from the get-go to ensure that your call center is as successful as possible.
1. Start by hiring the right call center agents.
When it comes to hiring call center agents, consider more than just their professional experience. Being an amazing agent takes a great deal of patience, empathy, and problem-solving.
Although you may not be able to tell if someone possesses these qualities strictly based on their CV, you can get a better idea if their personality is suited for the job by integrating a role-playing exercise into your call center interview process.
Have a situation in mind and act as if you were the customer on a phone call with the candidate. Pay close attention to how the candidate handles the conversation.
If they struggle to find the words to assist you or are unable to demonstrate empathy in their response, offer them feedback and try the exercise again. If they still aren't able to resolve the problem in a way that satisfies the needs of your call center, it could indicate that the candidate won't be a good fit.
TIP:
Develop an interview scorecard based on your company's needs and use it to rate potential candidates after their interview. The higher the score, the more likely they are to be a great fit.
2. Develop and implement a thorough training strategy.
Call center agents are only as good as the training they receive. Ensure you're prepared to welcome all new employees with a structured onboarding process. One single training strategy will ensure all of your agents are on the same page and will provide consistent service to all customers.
3. Set goals for agents individually and as a team.
Goal setting is an effective way to keep employees engaged, measure short-term and long-term success, and determine whether your management techniques are working. Remember the acronym S.M.A.R.T when it comes to setting goals (specific, measurable, attainable, relevant, time-bound). Some examples of individual agent goals might include:
Answer X number of phone calls per day.
Receive an average score of X on a customer satisfaction survey over 30 days.
Finish X number of training webinars in Q1.
Setting collective goals is also important as it helps motivate team members to work together collectively, fostering a sense of solidarity that can be especially tricky to develop remotely. Some examples of team goals might include:
Reduce average hold times by X% in Q2.
Respond to all social media customer complaints within X hours.
Receive an average score of X as a team on a customer satisfaction survey over 30 days.
4. Run reports and regularly review KPIs.
An essential part of managing a successful call center is regularly analyzing several different KPIs and finding areas for improvement. Ensure you're set up for success with software that puts all the information you need, right at your fingertips.
When you start digging into your reports, be sure to check these specific KPIs:
Average time in queue – the average duration customers wait on hold for assistance.
Service level – the percentage of calls answered within a specified time frame.
Average abandonment rate – the percentage of customers who hang up before interacting with an agent.
Average time of work after calls – the amount of time agents spend working on related tasks after they've hung up with the customer.
Average handle time – the amount of time agents spend on a call and working on related tasks after they've hung up with the customer.
First call resolution –the percentage of calls that are resolved without the need for transfers, escalations or call-returns.
Agent turnover rate – the percentage of agents who leave to work at another place of employment.
5. Use call volume forecasting for effective scheduling.
Scheduling an entire department of call center agents can be tricky to say the least. One way to ensure you always have enough coverage is to keep your eyes on daily call volumes and look for weekly trends. Note which times on which days are busiest and be sure to schedule your agents accordingly.
6. Focus on preventing employee burnout.
Effective scheduling is your first defense against agent burnout. Your second is employing technology that alleviates some stress from your agents. Voice call-backs are a great place to start. Basically, if a customer calls, they can choose whether they'd like to wait on the line or have an agent call them back.
Offering the option for a customer call-back gives agents some breathing room and takes a bit of pressure off them to race through calls and clear the queue. It also encourages more authentic agent interactions, as they have the time to really focus on the customer's needs.
Encouraging employee engagement is also a large piece of the puzzle when it comes to preventing agent burnout and creating a healthy work environment. Here are a few employee engagement ideas:
Set up competitions for agents based on daily numbers.
Encourage gatherings like virtual coffee talks or lunchtime group walks.
Provide snacks for in-person meetings or allow employees to expense a meal during a virtual event.
Host a virtual "matchmaking" event where a group of employees get to chat one-on-one with many different people.
Offer flexible work hours and scheduling to suit agents' individual needs.
7. Teach empathy by showing empathy.
One of the most effective tools a call center agent can use to handle any type of customer call is empathy. The best way to teach empathy is to lead by example. Be sure to set up one-on-ones with your agents where you not only set goals and chat about performance, but also lend an ear and ask them if there's anything they need to be happier at work. A happy agent is in turn a more patient agent and one who is able to deeply empathize with customers when they require support.
#Managers, set up one-on-ones with your #callcenter agents and ask them what they need to be their happiest at work. A happy agent is in turn a more patient agent, one who is able to deeply connect with #customers.
Click To Tweet
How do you know if your management techniques are effective?
Monitor agent performance, turnover rates, and overall satisfaction to determine whether your call center management techniques are effective. If your agents are accomplishing their goals and generally enjoy coming to work, that means your management skills are probably in pretty great shape.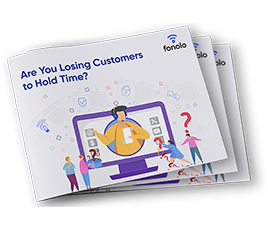 Are You Losing Customers to Hold Time?
Download our free whitepaper and learn about the best way to eliminate hold time and improve the customer experience.