A call routing system is an essential tool for a contact center. It helps customers reach the right representative in a timely manner, and supports contact centers with rushes of incoming calls at certain times of the day.
What is call routing, and how can you improve it? We'll cover that, as well as the benefits and types of call routing in this article.
What is call routing?
Call routing directs incoming calls to the right representative. The right representative depends on the types of call routing, which we'll discuss a bit later.
Call routing is usually integrated with Computer Telephone Systems (CTI) or Voice Over Internet Protocols (VOIP) to smoothly direct customers to the correct support agent. These systems allow contact centers to automatically answer customers' incoming calls and redirect them to different people through extensions or other criteria.
Even with hundreds of representatives, call routing makes it so the customer only has to dial one number to reach the correct support agent. The way the customer is directed though, depends on the type of call routing used.
Types of call routing.
Call routing directs inbound calls based on criteria that the contact center sets. Here are some of the most common industry methods:
Skill-based call routing.
Inbound calls are directed to agents based on their individual level of experience. For example, if the system indicates that the caller had reached out multiple times without reaching a resolution, call routing should direct them to an agent with more experience.
Time-based and location-based call routing.
This is most often used for large brands with international customers or clientele. The call routing system notes the geographical location or time zone of the caller, and directs them to the department nearest to them.
Caller ID.
With this method, calls are directed based on details such as their phone number or contact history. For example, a caller who has an unresolved issue from a previous support interaction may be forwarded to the last agent they spoke with to continue the conversation.
Interactive Voice Response (IVR).
Similar to a traditional phone IVR, Web Call-Backs (formerly Visual IVR) lets your customer navigate a menu from your website or mobile app. Pair it with call-back technology, and you can even let them schedule their own call-backs for a time that works for them.
Artificial Intelligence (AI).
Voice recognition software is capable of redirecting callers using voice biometric technology. This type of call routing can take your customer experience to the next level!
Benefits of call routing.
Call routing is not only beneficial — it's essential for a smooth call center operation and customer experience. Some key benefits include:
Improved agent productivity.
A strategy for directing calls optimizes workflows, which lets agents be more productive. Rather than spending time redirecting calls, they can focus on providing quality support to their customers.
Happier customers.
When done correctly, call routing can lower wait times. Less time on hold means happier customers – 67% of customers say positive customer experiences are a big factor when it comes to brand loyalty.
FACT:
67% of customers will maintain loyalty to a company if they've had positive experiences.
Tips for improving call routing.
Call routing is necessary for a contact center's profits and operations. However, you'll only reap the benefits if you take the time to optimize your processes. Here are a few tips to get you started:
Research your customers.
You can't optimize processes when you don't know who it's for. Call center KPIs like CSat and NPS are great for measuring what your customers like and don't like about your process. Conducting market research on your customers takes things one step further so you can better understand their needs and concerns and keep them in mind when planning your strategy.
Test different approaches.
We covered several different call routing tactics, all with their own strengths and challenges. If you use the queue type of call routing based on agent availability, spice things up a bit! Try out skill-based or time-based call routing and see if it changes your customer satisfaction scores.
TIP:
No type of call routing is the best match for every single call center. Try out different kinds, like caller ID, skills-based, and time-based to see what works best for your contact center.
Make your criteria specific.
If you've opted to use skill-based call routing, be sure you set very specific criteria. For instance, "Technical Support Agents" can be broken up into "AI technology", or "IT support". Here are some other criteria examples:
Strong customer satisfaction record;
5+ years experience in the contact center;
fluency in Spanish.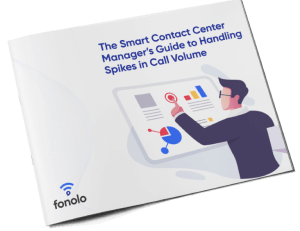 How to Manage Call Spikes in the Contact Center
Download this free guide to learn how to protect your contact center from call spikes.