With businesses reopening after COVID-19 closures, US economist Mark Zandi asserts that retailers benefited significantly from the reopening economy. Moreover, retail spending is expected to increase by 19% this year.
These predictions represent significant opportunity for retailers. That's why it's more important than ever to have a superior customer service strategy — that includes ensuring your retail contact center operations are optimized for a smooth customer experience.
Why retail call centers are so important.
Competition for retailers is fierce, both brick and mortar stores and online retailers. Retail customers have more options than ever to purchase a product — often even the same product!
When you have multiple retailers that sell a product at similar price points, the decision-making power goes to the consumer. We know that 75% of customers prefer a personalized shopping experience, so your retail call center needs to focus on developing a customer experience that is so good, they won't even think of leaving your brand.
Customers want solutions immediately, even when they're not shopping in-store. That's where your contact center needs to deliver — if your contact center experience falls short, you leave yourself open to negative reviews and poor service reputation, which can seriously hurt your sales. Quality customer service is essential for customer loyalty and satisfaction.
Today's biggest challenges for retail contact centers.
Staffing levels and agent attrition.
Contact centers are notorious for high turnover rates. Pair that with the great resignation of the post-COVID-19 pandemic, and you may find yourself with a serious staffing problem. With the rise of remote work, retail contact center leaders have to pivot their recruiting and hiring processes to accommodate this growing trend. With all this change, it's no wonder that 44% of operations leaders cited staffing as a challenge this year!
Technology to support remote work.
Staffing isn't the only thing that took a hit from the pandemic. Contact center leaders quickly realized their technology needed major upgrades as they shifted from in-person to virtual operations. Technology limits posed obstacles to business growth for 25.7% of retail contact center leaders.
Data security.
When dealing with customer data, security plays a critical part in the contact center space. The shift to virtual work posed new security risks for retail contact centers. 36.2% of contact centers cited security risks and fraud prevention as a challenge for 2021. It's more important now than ever for contact center leaders to invest in security to protect customer and company data.
Common challenges for retail contact center agents.
High customer expectations.
Customer expectations are higher than ever, especially when it comes to service and support. Without the proper procedures and training in place, retail contact center agents face higher levels of frustration with customers, especially during the holiday shopping season.
Limited tools and technology.
Although technology limits pose challenges for management teams, the impact is even greater for customer-facing agents. Without the proper tools to leverage, agent productivity and engagement will plummet, affecting customer satisfaction.
4 ways to survive working in a retail contact center.
With so many challenges looming this year for retail contact centers, it can be intimidating to lead your team with so many variables in play. Luckily, there are ways to overcome them:
Be customer-obsessed.
Customer-obsessed businesses grow revenue faster than their competitors. This entails having a special focus on retail customer experience. All your operations should be tailored to consider your customer's needs first.
For example, Fonolo's programmable call-backs empower customers to opt for a call-back instead of waiting on hold. This empowerment is especially valuable for retailers during the holiday shopping time, when call spikes are common.
Stay flexible and adaptable.
The COVID-19 pandemic taught businesses that innovation is key to survival. That means losing rigid processes and adapting to the changing landscape. For example, customer expectations continue to rise, as they expect retailers to be available to support them quickly, at all hours. Flexibility helps your retail contact center meet changing customer expectations to continue growth and make sales.
Explore tools and technology.
Retail contact centers must update their tools and technology to manage changing customer needs. For example, customers now expect immediate, real-time service. So, you might consider investing in a chatbot function or Fonolo's Web Call-Backs (formerly Visual IVR), to give customers around-the-clock access to service.
Invest in training.
As a contact center leader, you likely know that effective training is essential for agent performance. This is especially true for remote agents. Remote call center agent training might include a standardized virtual training program, with a special focus on fostering agent engagement.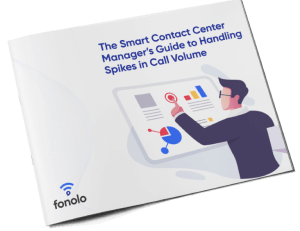 How to Manage Call Spikes in the Contact Center
Download this free guide to learn how to protect your contact center from call spikes.