Customers are the heart of every contact center. If customers don't interact with your business, you really don't have a business, which puts a well-strategized and successful customer service strategy at the forefront of contact center success.
Research from Salesforce states that 89% of consumers are more likely to purchase from a company again when they experience high-quality customer service—a percentage that's far too high to ignore. To ensure your contact center leaves customers with the best impression possible, it's necessary to implement a strategy that's dedicated to keeping your clients happy and coming back for more.
How to build a customer service strategy.
It takes time, knowledge, and dedication to develop a superior customer service strategy, but we're here to help you out! Simply follow these 6 steps to get started:
1. Establish a company brand guide that expresses a clearly defined mission and culture.
Company values and culture need to be defined from the get-go so contact center agents know what's most important when it comes to serving their customers. Customers who can relate to a company's mission or culture are more likely to be loyal to the brand and spread the word to others. Plus, this brand guide will help you to shape the way you hire, dictate the way management interacts with agents, and inform the culture of the contact center as a whole. A comprehensive brand guide is essential for any company in any field for success.
2. Train your agents to be customer-service experts.
There are a couple essentials you should write into your agent onboarding and training plan to ensure all your agents are on the same page and providing the best customer experience possible. Remember these two "E's" when developing your training plan:
Expectations.
Set your expectations about what superior customer service looks like at your contact center so all your agents know what they should be aiming for. Have new hires sit on calls alongside agents who excel at customer service, so they know what it looks and sounds like.
Empathy.
A successful agent's most valuable skill is empathy and being able to properly communicate it to customers on a call or via online chat. Don't worry, it can be taught! Be sure to equip your agents with empathy phrases like "I know this must be frustrating for you" and "I'm sorry to hear that you're experiencing this," and set up role playing training games to help them practice so they're ready for these interactions in real time.
TIP:
New hires shouldn't be the only agents receiving training. Ongoing opportunities for learning and growth should be provided to employees of all levels to promote agent engagement.
3. Track your most important customer satisfaction Key Performance Indicators (KPIs).
A few KPIs should be monitored on a regular basis to keep tabs on how your contact center is performing from a customer service standpoint. Your most important indicators of success in this area include:
High First-Call Resolution (FCR) rates.
A low Average Time in Queue.
A high Net Promoter Score (NPS).
Impressive Customer Experience Survey results.
4. Ensure your agents have the support they need.
As a manager, your role is not only to make sure everything is running smoothly, but also to provide support (emotional and otherwise) to agents in your contact center. That may look like bi-weekly or monthly one-on-ones, ongoing training initiatives, and facilitating connections between remote agents. A happy agent makes for positive customer interactions so do your best to ensure every agent feels like they have someone to turn to when the job gets tough.
Agent support may also include technology that helps with call load management. Voice Call-Backs and Programmable Call-Backs give callers the option to stop holding on the line and receive a call-back one it's their turn in the queue. This helps to smooth out call spikes, ultimately providing the customer with a more convenient experience and alleviating stress from agents.
5. Be ready to scale when the time is right.
Speaking of technology, it's essential that you invest in tech that allows for seamless growth. When customers realize how great your service is, they'll be in touch regularly and recommending their friends do the same. Utilizing cloud-based contact center technology like Fonolo means you can scale your business in a pinch, hassle-free.
A @Salesforce states 89% of consumers are more likely to purchase again when they experience high-quality customer service. That's why #contactcenters need a strong #customerservice strategy.
Click To Tweet
6. Turn your call center into an experience center.
Delivering products and services to customers via more than just phone calls is key to keeping up with the current contact center landscape. Even if your company solely focuses on inbound assistance and not sales, providing customers with a variety of options elevates the customer experience. Consider the following enhancements:
Introduce web-based chat functions if you haven't already.
Give your website "FAQ" section a refresh to empower customers to self-problem solve.
Retail call centers should invest in an e-commerce platform for online shopping convenience.
Enlist or appoint dedicated social media feedback agents who respond to customer feedback messages on platforms like Twitter, Instagram, and Facebook.
TIP:
According to a study by Vonage, the use of Instagram to message businesses increased by 75% in 2020.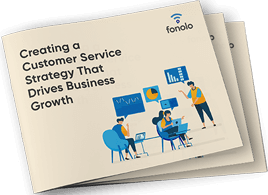 Creating a Customer Service Strategy That Drives Business Growth