Although fantastic customer support has always been at the forefront of contact center success, statistics are beginning to expose a new trend. Now, personalizing that support and providing a tailored customer journey is being touted as an effective way to give customer satisfaction (CSAT) survey scores a boost.
According to the 2021 Getting to Know Your Customers report from Khoros, 68% of customers will increase their spend with a company that they feel understands them and meets their individual needs—proof that it may be time for your customer service agents to make it personal.
What is personalized customer service?
Just as its name suggests, personalized customer service is all about providing the people who interact with your contact center an experience that is tailored specifically to their needs and wants. Personalized experiences for your customers start before they get in touch with your contact center, continue throughout their entire interaction with your company, and can even extend after their interaction is over.
Hey #contactcenter agents—don't be afraid to get a little personal! According to a survey commissioned by @Khoros, 68% of customers say they'll spend more with a company that understands them and their individual needs. #businesstips…
Click To Tweet
How do contact centers benefit from tailoring customer experiences?
Besides encouraging customers to spend more, personalized customer service will also:
Bolster customer loyalty, helping to reduce acquisition costs.
Turn customers into brand ambassadors who promote your business for you.
Encourage the collection of customer data that can lead to future business insights.
How can I implement personalized customer service into my contact center?
The benefits are well worth adding a personal touch to your company's customer interactions. Though starting to integrate personalization into your customer service strategy may feel a bit daunting, it's much easier to manage when you break it down. Here are 4 steps you can take to get started:
1. Know your audience.
Determining your main customer profiles can help you to tailor the customer support your contact center provides and the products or services you offer. Gather key analytics like age and location from your CRM software, customer surveys, and even social media channels. Then, use this information to create profiles and determine the best offerings for these specific segments. Making offers personalized in this way allows for large-scale businesses to help customers feel a bit more understood.
2. Keep communications personal.
In 2021, there are so many ways live agents might interact with customers. In every single one of these touchpoints, it's important to encourage customer service agents to engage with their clients in a way that feels personal.
On the phone? Agents should ask which name their customer prefers to go by and continue to use this name throughout their call.
Through online chat? It's important that agents ensure they clearly understand the issue the customer is facing as conversations can get lost in translation in chats more easily than via voice calls.
Over email? In every instance possible, agents should either avoid copy and pasting email subject lines and bodies, or at least edit them to include specific customer details. Emails with impersonal subject lines and content are more likely to be regarded as spam. Plus, it's also always worth it to send a follow up email after a negative interaction—it shows customers that the agent and company care.
Take advantage of technology.
The future is now—really. Machine learning and artificial intelligence are widely used by contact centers in the form of online chat bots. Leveraging these technologies provides another support channel to customers, while also alleviating pressure from live customer service agents who will have more time to spend on creating helpful and memorable interactions with customers. It's a win/win!
Empowering your customers by providing choices is a great way to make them feel as though their service is highly personalized. Conversation scheduling technology allows callers to choose whether they'd like to wait on hold or schedule a call-back in the future—they'll get a say in their journey and can select an option that works best for them and their personal schedule.
FACT:
Research from Accenture suggests that 91% of customers are more likely to make a purchase from a company which provides relevant offers and recommendations.
Connect all your channels.
Nothing is more frustrating for a customer than having to explain their situation over and over. Like we said, providing customers with choice throughout their journey is essential, but with the delivery of all these channels comes the responsibility of keeping them all connected for a seamless customer experience. Agents should have all the background they need to be able to assist a customer quickly and efficiently.
Follow up and ask for feedback.
The best way to know whether your personalized service is on point is to ask. Add questions to your CSAT survey that directly inquire about the level of personalization within the interaction and whether it positively impacted the customer's experience.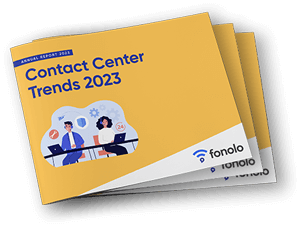 Trend Alert! Contact Center Industry Predictions for 2023
This report offers perspective on where the contact center industry stands today, plus our trend predictions for 2023.