A good call center leader understands the importance of customer service. So what if you have an incredible product or service? That means nothing if your customers are displeased with their experience with your brand.  
If social media part is not part of your contact center's customer service vision, you're missing out on valuable business opportunities, like: 
promoting sales; 
improving customer satisfaction; and 
enhancing your business processes. 
If you're not leveraging your social media channels to engage and support your customers, now is the time to start. Keep reading to discover the essential role this tool can play in your contact center's success.
Why every business needs a customer service strategy. 
Customer service strategies are a key contributor to your business' long-term revenue. A well thought-out customer experience will guide your users towards a purchase faster than good marketing. In fact, PwC reports 73% of customers cite customer experience as a top influence when making purchasing decisions.  
How social media fits in with customer service. 
Social media is one of the top communication tools for support  — in fact, 75% of customers use social media to engage with their favorite companies.
What's more, 47% of customers expect companies to use social media as well. If you're not responding to them, fair warning: they won't be satisfied with a one-sided conversation for long. 
FACT:
75% of customers use social media to communicate with businesses.

When it comes to building a customer service strategy, social media actually offers many benefits to call centers.
Cost savings.
In the US, the average cost per call is $6 USD, while the average cost per social media interaction is only $1 USD. This makes sense, as paying an agent to solve an issue one-on-one with a customer is more costly than hitting "reply" on a social media post.
However, it's important to remember that these free platforms have their limitations  — while they're great for addressing simple queries, complex issues will need to be escalated to the voice channel. With that said, social media is a great way to take pressure off your phone lines and reduce the cost of addressing basic customer questions.
Customer loyalty.
Call centers can use social media to engage with their audience and improve customer loyalty. These online platforms let you to have real time conversations with your users and humanizes their interactions with your brand.
By responding to their queries promptly in a friendly and professional manner, your customers will maintain a much more positive perception of your brand. Of course, this can backfire if your team doesn't respond in a timely manner — much like leaving them on hold. If you are able to keep your customers engaged on your social channels, you stand a much better chance of retaining them in the long run.
Be wary of negative customer feedback.
Despite all the benefits, social media can be a double-edged sword for businesses. Any customer service professional knows that given the opportunity, customers will take every chance to complain about a poor experience.
The public nature of social media brings the risk of negative word of mouth. On top of that, it's possible for your brand to go viral for all the wrong reasons. This risk alone should speak volumes to call centers: customer experience and satisfactions must always be a top priority!  
5 Tips For a Great Social Media Customer Service Strategy 
1. Use an omni-channel approach.  
Phone communication and instant messaging aren't enough for customers these days. 66% of customers prefer to shop at businesses that use multiple channels to provide customer service. 
A true omni-channel contact center incorporates the many different channels your customers use to contact your business and creates a seamless customer experience, regardless of any escalations or transfers that may occur during the interaction. Social media is one of those channels — others may include chat support, email, phone channel, etc.
Make sure you provide the same quality of customer support across all channels. Adopting tools like Scheduled Call-Backs and Web Call-Backs (formerly Visual IVR) can help you ease transitions during a customer interaction, bridging them to the voice channel if needed without risking call abandonment.
2. Seek and reward customer feedback.
Customer satisfaction surveys and customer satisfaction scores (CSat) are integral to the success and performance of your contact center. Customer feedback offers valuable insight into the state of your service, and can help your team identify successes and areas for improvement.
Contact centers should collect this information across all channels, and social media is no exception. Expand your efforts by sending customer surveys through direct messages, or sharing polls where customers can vote for a particular answer. This lets your customers know they are valued and that their opinions matter.  
TIP:
Psssst.
Voice Call-Backs
are another great way to show customers that you care. Don't leave them on hold during high call volume periods!
If you're not getting the level of engagement you need, consider promoting a reward program to encourage customer feedback. For example, you could offer a small discount on their next purchase over $50.
Report on social media activities.
What kind of metrics do you include in your call center reporting? Most call centers choose to focus on KPIs like abandon rate, average speed to answer, and first call resolution. 
But are you reporting on social media activity? Your customer service strategy should measure two areas: engagement data (views, clicks, comments, etc.) and customer behavior (what kind of messages they're posting, positive vs negative feedback, etc.). Using both quantitative and qualitative data will give you a more holistic view of your social media efforts and how your audience is responding to your efforts.
Compare with your competitors.
There's no need to reinvent the wheel. If you're stuck on your strategy, start looking at your most successful competitors' social media channels, and start taking notes. Here are some questions you can ask yourself as you explore their online presence:  
What kind of posts do their customers share with them?
What type of tone or language do their use when communicating with their customers?
How frequently do they post?
What do they do well, and what can you do differently? 
Business coach Elise Mongomery puts it nicely: "…By looking to other industries, we step out of old patterns and set new standards." 
Stay on top of customer activity.
When customers have an issue, they won't simply call your call center. More often, they'll go straight to social media to report their experiences and demand answers.
This is especially challenging because your agents will often need to address their issues in a public forum. As stated earlier, customer feedback is essential for your call center reporting. Not only should you collect it, but you should acknowledge it as well — especially if the feedback is negative.  
If a customer provides positive feedback online, be sure to thank them. If they provide negative feedback, apologize and communicate your plans to rectify the issue.  Close the loop by responding promptly and kindly, whether it's on a public thread or private message. Your public responses should not only satisfy your customer's need for attention or information, it should also promote your brand positively for all onlookers to see.  
Responding to customer inquiries and complaints on social media not only helps your customer — it also publicly demonstrates your strong brand values! #ContactCenterLife #CustomerServiceStrategy
Click To Tweet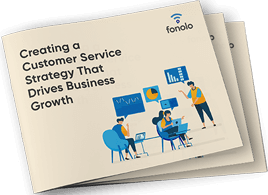 Creating a Customer Service Strategy That Drives Business Growth