What is call center management? It's exactly as it sounds — the daily management and care of a call center and all the employees who work there. Contact center managers have an incredibly important and robust role. They pave the way for the success of their call center agents, and by extension, the rest of the business.
From training and goal-setting to scheduling and supporting, a call center manager wears many different hats and must maintain a high level of flexibility in their day-to-day schedule. As problems arise on the fly, having the ability to stay calm in a crisis is an essential skill to have. Arming yourself with the right information and knowledge is one of the best ways to ensure you're ready to help your agents overcome daily obstacles.
To help you get there, we've compiled a list of what we deem the most helpful call center management books on the market. Whether you're new to the world of management or a seasoned pro, there's something here for everyone.
Our Top 7 Book Picks for Call Center Management:
We present to you the bread-and-butter book of modern-day call center management. Internationally renowned customer strategy and management expert Brad Cleveland shares his best advice on how to succeed in today's customer-focused contact center climate.
Many call center teams have made chapters in his book mandatory reading for managers and agents alike. Contact Center Management on Fast Forward is light, insightful, and chockfull of tips and guidance for managers at any level in their career.
Call center management software company SQM Group has released several books focused on different areas of the contact center world. One Contact Resolution features their top 10 best practices for the title KPI, which measures the number of customers who have their problem resolved within one contact center interaction. The book includes case studies from Canadian Tire Financial Services, MedSolutions, and VSP Vision Care, to help managers learn strategies that bolster call center performance.
Author Mike Desmarais, the founder and CEO of SQM Group, brings his 25+ years of experience in customer service and call center metrics to the pages of First Call Resolution and the rest of SQM Group's book lineup.
DID YOU KNOW?
Equipping your contact center with technology like Fonolo's Voice Call-Backs can help increase your First Call Resolution, reduce call volume, and decrease waiting time.
Though some of your call center agents may already have top tier communication skills, there will always be other team members who need some training and support on how to successfully interact with customers.
Renée Evenson's book contains hundreds of phrases and scripts that you can equip your agents with, so they're always ready to communicate with empathy, the magic sauce that leads to superior Customer Satisfaction survey scores.
Every successful manager needs a high level of awareness and understanding around workplace inclusivity and diversity. From hiring to promotions to training and onboarding, viewing your tasks through an inclusive lens and respecting people's differences not only protects your employees, but it can also add incredible insights to your call center and promotes an openness that enriches the experience of all team members.
Attorney and start-up advisor Bärí A. Williams has compiled 25 interviews of trailblazers in today's corporate world to showcase the breadth of experiences had by different types of people in a variety of companies. Each interview is followed up with key takeaways to help you think and act differently when it comes to diversity and inclusivity in the workplace.
Customer experience is at the forefront of every successful contact center, which means it needs to be at the forefront of your learning as a call center manager. You should integrate customer experience techniques into every aspect of your role, including your onboarding processes, training programs, and agent goal-setting exercises.
Annette Franz is the founder and CEO of CX Journey Inc, a customer experience consulting firm, so she really knows her stuff. In Customer Understanding, Franz outlines three approaches you can use to get to know your customers, how to create an action plan for customer service success, and so much more.
Expert @annettefranz goes in-depth on the importance of #customerexperience to the health of your #business in her #book "Customer Understanding: Three Ways to Put the "Customer" in Customer Experience and the Heart of Your Business".
Click To Tweet
If you've recently become a call center manager, you have big shoes to fill! Don't let that stress you out too much, though. No one is born the perfect manager—being a successful leader comes with practice and a great deal of trial and error.
Author and product design executive Julie Zhuo gives you the lay of the land in her Wall Street Journal bestseller, offering readers advice on everything from teambuilding to problem solving and all the tricky manager stuff in between.
With over 25 years of experience in developing and managing customer support businesses and organizations, Randy Rubingh brings loads to the table in Call Center Rocket Science. A naysayer once told him that call center management isn't rocket science, hence the tongue in cheek title. But there IS a science to effective call center management, and Rubingh boils down everything you need to know into digestible advice that is sure to help you become the best manager you can be—you'll be boosting agent performance and call center metrics in no time.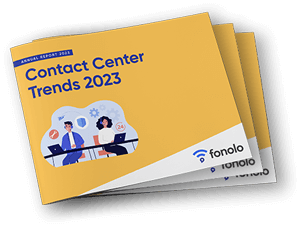 Trend Alert! Contact Center Industry Predictions for 2023
This report offers perspective on where the contact center industry stands today, plus our trend predictions for 2023.